Home team

Scotland

Pyrgos,
Penalty goals: Laidlaw,
Conversions: Laidlaw,

10 - 21

South Africa

Strauss (2),
Penalty goals: Lambie (3),
Conversions: Lambie,

International Match
17th Nov 2012
KO 14:30
Ground: Murrayfield, Edinburgh
Att: 58,893
Scotland coach Andy Robinson: South Africa "bullied" us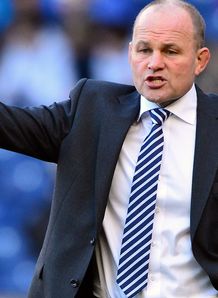 Related links
Teams
Also see
Scotland head coach Andy Robinson was forced to concede his side had been "bullied" out of the game by South Africa as they were beaten 21-10 at Murrayfield.
Springboks hooker Adriaan Strauss scored both of his country's tries and despite an improved second half performance and a first international try for Henry Pyrgos, the home side could not get back into the game.
"We've got a lot to learn in improving defence and also in attack, particularly physically. I felt they bullied us a little in the first half," said Robinson.
"I thought South Africa defended superbly well. If they hadn't defended as well as they had, it could have been a different story.
"But they didn't have to do a lot to win the game because we gave them field position from penalties."
Robinson warned his side they must improve when they face Tonga at Pittodrie next week, with the defeat to South Africa coming on the back of a 51-22 loss to New Zealand on 11 November.
"Next week against Tonga we need a performance to put together the lessons they've learned from the first two games," added Robinson.
"There's a lot for us to look at. The disappointing thing from our side is we allowed a side to get a lead again and that's something you can't afford to do."
South Africa head coach Heyneke Meyer agreed the strong performance by his defence was crucial to securing victory.
"All credit to Scotland, they played superbly and just great, great defence kept them out," he said. "It was not a great game but I'll take an ugly win.
"They came out and gave everything for their country. I think they can be proud of what they achieved today.
"We're in a learning curve and I thought the guys didn't panic. Our defence was awesome. To keep them out at the end, it really showed the character of this young team."

Read the thoughts and opinions of Phil Edwards with skysports.com