Home team

Australia

Giteau (2),
Penalty goals: Giteau (2),
Conversions: Giteau (2),

20 - 21

England

Ashton, Youngs,
Penalty goals: Wilkinson, Flood (2),
Conversions: Flood,

International Match
19th Jun 2010
KO 11:00
Att: 48,392
England bounce back
Johnson's men take huge leap forward with composed win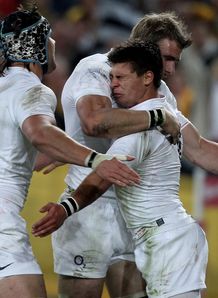 Related links
Teams
Also see
England returned to the scene of their 2003 World Cup triumph with a memorable 21-20 victory over Australia in the second Test in Sydney on Saturday.
England, without a Test win Down Under since that November night seven years ago, were barely recognisable from the team that was so soundly put in its place by the Wallabies in Perth last week.
In what was by far their finest performance under Martin Johnson, England played with intelligence and inventiveness throughout the 80 minutes and at the final whistle no-one could argue that they thoroughly deserved the win.
Tries from Ben Youngs and Chris Ashton, plus two penalties from Toby Flood and another from Jonny Wilkinson ensured Johnson's men of their single-point victory.
Despite Matt Giteau scoring all of his team's 20 points with two converted tries and two penalties, England stood firm and the Wallabies were unable to exorcise the ghosts of 2003 at Sydney's Olympic Staduim.
The first hints of England's transformation were immediately apparent, when they quickly worked themselves into a good attacking position from Aussie fly-half Quade Cooper's kick-off.
And when the Wallabies were penalised for not rolling away in the second minute, Toby Flood had no problem putting England into an early 3-0 lead.
Magnificent
Mat Giteau levelled the scores five minutes later though, after prop Tim Payne was given a talking to by referee Romain Poite for punching.
Giteau needed no encouragement either, when on 16 minutes Courtney Laws was caught off his feet at the ruck, putting his side in front with a 50m kick from the right touchline.
But just two minutes later England hit back with their first try, a magnificent effort by 20-year-old Youngs, who combined his blistering pace with sharp vision when he blasted through a gap at the back of a midfield line-out and jinked his way to the line.
Flood struck the conversion to put England into a 10-6 lead, but it would not last for long and on 23 minutes the brilliance of the Aussie backs at last shone through.
Ironically though, it was thanks to an unusually solid Wallaby scrum, which provided the platform for Digby Ioane to dart through the hole created as England's defence mistakenly targeted Cooper.
Giteau, whose decoy run had helped open the gap, collected the winger's pass back inside and skipped in under the sticks before converting to put his side back in front at 13-10.
Confidence
But this was nothing like the England who had so little to offer in Perth other than brute force.
This time England were showing both power and poise, this time they were playing with confidence and pace.
And within four minutes they had the Wallabies rocking again with a wonderfully worked first Test try for winger Chris Ashton.
Steve Thompson's pick up and drive saw the ball quickly out to Tom Palmer, who delivered a neat inside pass to Ashton for the winger to accelerate away for the try.
Flood missed the conversion to leave the scores on 15-13 to the visitors.
Giteau missed a penalty on the 30 minute mark when England were penalised at the breakdown and two minutes later the Wallaby centre saw another long range effort bounce off the upright.
On 38 minutes Australia were let off when Thompson broke into open space, only for his pass to be called forward to leave England with a two-point lead at half time.
Australia took just three minutes after the restart to regain the advantage, although England felt aggrieved at a missed knock-on by Will Genia at the start of the move.
Delight
A sweeping move to the right saw the Aussie scrum-half spread the ball wide to O'Connor, who used his pace down the touchline to open up a hole in England's defence before feeding Mitchell inside.
The supporting Giteau collected the offload and romped in for his second. Again the centre was on target with the conversion to take the score to 20-15.
Toby Flood closed the gap to two points on 46 minutes as England continued to take their attacking game to the Aussies.
Jonny Wilkinson entered the fray to replace Flood as the clock hit 52 minutes, much to the delight of the 48,000 strong Sydney crowd.
Within a minute, the breaker of Aussie hearts in 2003, who is both admired and feared in equal measures Down Under, had put England in front after Australia's increasingly ragged looking scrum gave up another penalty.
Giteau missed a touchline effort on 68 minutes, sending the ball well wide of the posts to leave the scores on 21-20 and the hosts still trailing by a single point.
The usually metronomic kicker missed again as the game entered its final ten minutes, this time an absolute howler from almost in front.
He was not alone with his poor targeting however, and with just three minutes to go, Wilkinson also missed an easily kickable penalty that would have left the hosts requiring a try.
But England maintained their composure as the clock ticked down to leave Giteau and the rest of his nation desperately regretting that missed penalty.
Sky Bet Odds:
Click Here for Your Free Bet
Comments (12)
Ben Barribal says...
Firstly, Tom Hardy - "....Its two tries came from individual touches of brilliance..." - Surely a try is a try? We select players like Youngs and Foden (as we did players like Jason Robinson 7 years ago) BECAUSE they can change a game in a heartbeat and display individual touches of brilliance. I also noticed the "...agonising situation a static Easter took a short pass from Youngs only to turn round and essentially give the ball to a static Payne...." but come on Tom, you can't expect EVERY single touch to be perfect, unfair to highlight probably the only poor piece of attacking play in the whole game? Secondly - Dan Cole. Inspirational to both the younger generations and more seasoned players/fans. It makes me cringe when I see these overpaid drama-queens in football go down after getting a knock on a SHIN PAD, thrashing around like they had received a red hot poker somewhere unwelcome - but here we had a young lad, in the infancy of his international career, battling through a nasty looking eye injury, having to go off TWICE to have it stitched/repaired, only to re-enter the fray and give his all. Well done Cole; brave, patriotic, passionate and inspirational. An excellent improvement all round chaps - long way to go yet, but a massive corner turned and heading in the right direction.
Posted 11:09 21st June 2010
John Taylor says...
Sorry Tom Hardy but your negative comments are well out of order Yes Englands tries were moments of individual skill but so were the Aussie tries you fool , tries quite often are . Also first Aussie try raised an issue that needs resolving soon in that decoy running is quite often crossing and should resulkt in a penalty as the tacklers are shielded from the man bursting through . However I share Tom's concerns about Nick Easter who is not dynamic enough to be a world class No 8
Posted 07:20 21st June 2010
Tom Hardy says...
A win is always a great outcome. However, this result has come at the wrong possible time. It will inject foolish belief in the RFU hierarchy that Johnson and his team are the best people for the job and to take England to next year's world cup. The reality of course is that England only just shaded a very close contest. Its two tries came from individual touches of brilliance but its attack strategy once again looked as if it had been cobbled together as an afterthought. In one agonising situation a static Easter took a short pass from Youngs only to turn round and essentially give the ball to a static Payne - no more than you would expect to see in mini-rugby on a Sunday morning. Equally worryingly was its defence which, once again, was horribly exposed on more than one occasion (not least Giteau's two tries). Frankly, Johnson and his team should be replaced now otherwise England run the increasing risk of enduring another torrid autumn international series, a miserable 6 nations and early exit from the World Cup. And player wise, is Easter really the only option for No 8? He is slow, ponderous of thought and has poor distribution. Yes, he had a better game than in Perth (frankly, he should have been dropped) but he is just not up to the standard of other international No 8s.
Posted 10:44 20th June 2010
Jayne Myers says...
Well done boys. At least we can still hold our heads up high with our Rugby boys who show the true passion of an Englishman!
Posted 07:30 20th June 2010
Chris Nolan says...
From an Irish fan, well done lads! You're a top class side and deserved a top class win especially after that bunch 'footballers' disgraced your nation yesterday. Great day for English Rugby. Ireland are still a step above...
Posted 06:30 20th June 2010
Michael Murphy says...
Its all been said adequately. Why can't our footballers have the same ' pride passion beilef"as an expat in a bar full of aussies this is what English sport should be all about. I'm still smiling now 24 hours later.
Posted 05:52 20th June 2010
Stephen Griffiths says...
Brilliant performance from the team. No one ever doubted their commitment but added now is style and power. Well done Johnno and team. Shame there aren't as many positive comments on this board this week as there was negative last week. It's turning round with aa well measured approach to blooding youth slowly and mixing with great experience.
Posted 02:48 20th June 2010
Si Callahan says...
about time well done.whos 4 a couple of tinies.
Posted 23:23 19th June 2010
Ali Reynolds says...
Well done England, this is more like it! Great win and great to watch.
Posted 19:08 19th June 2010
Neil Holland says...
Well done England ,brought pride back to our country.Real men unlike those overpaid idiots.
Posted 18:57 19th June 2010
Andy Beange says...
Great effort, style, speed, effort and guts. How we wish those gutless footballers had some of this. Well done Jonno et al
Posted 16:42 19th June 2010
Rich Field says...
Good to see THIS england team playing with intelligence, heart, passion, hunger, and the will to win. Unlike the national football team with its hideously over-paid stars, disgraceful smug attitude and shocking football ability. Well done lads. And the football team can hang their heads in shame. Don't even come back to the country unless you win it.
Posted 16:06 19th June 2010

Read the thoughts and opinions of Phil Edwards with skysports.com