Home team

Northampton

Tonga'uiha (2), Mujati,
Penalty goals: Myler, Geraghty,
Conversions: Myler (2), Geraghty,

27 - 19

Leicester

Tuilagi, Hamilton (2),
Conversions: Staunton, Flood,

Aviva Premiership
5th Sep 2010
KO 15:00
Ground: Franklin's Gardens
Att: 13,498
Tigers tamed at Northampton
Saints put in powerful display to beat champions in season opener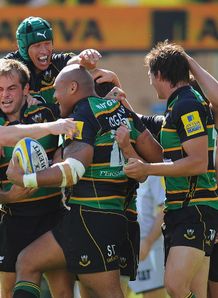 Related links
Teams
Players
Also see
Northampton made a bold statement of their Premiership intentions with a 27-19 win over champions Leicester at Franklin's Gardens on Sunday.
Leicester found themselves playing catch-up rugby for the entire match as, despite a slight wobble towards the end, Northampton stood firm to complete a convincing win.
Soane Tonga'uiha blasted Northampton off to a prefect start, touching down twice in the opening exchanges to leave Leicester rocking at 14-0 down within just five minutes.
The first try came after flanker Tom Wood collected at the back of a line out to set up a huge drive that put Saints within five metres of the Tigers' line.
Tonga'uiha picked up the recycled ball and bludgeoned his way over with an unstoppable drive from close range.
The score, only two minutes in, was confirmed by the television official and Stephen Myler added the extras to make it 7-0.
Saints' second came just two-and-half minutes later starting with a devastating precision run by Chris Ashton that sliced through Leicester's midfield.
Nightmare
Ashon might have gone for the line himself but up popped Tonga'uiha on his left shoulder to collect the offload and power away for his second. Myler added the extras to make it 14-0.
Scott Hamilton looked as though he might have regained some respect for the visitors when he crossed after 11 minutes, but the video ref found he had been held up by Northampton's defence.
Leicester continued to pile on the pressure and their efforts paid off with a penalty in the 15th minute, but Toby Flood saw his kick drift wide of the posts.
Myler missed one too five minutes later but, given another chance soon afterwards, he hit the target to take the hosts lead to 17-0.
Leicester's first points came after 25 minutes, thanks to a great burst of speed from Ben Youngs after the visitors whipped quick ball to their backs from the base of the scrum.
Alesana Tuilagi collected out wide and cut back in on a great line to cruise in for the try and Flood struck the conversion to make it 17-7.
A nightmare period for Myler saw Northampton fail to ram home their advantage as the intensity of the battle saw Leicester continue to give up penalties.
The fly-half's confidence seemed to career off the rails as he missed three kickable penalties in the space of five minutes that would otherwise have left Leicester in deep, deep trouble.
Beleaguered
But, instead of going into the break facing a hefty deficit, Leicester will have been thanking Myler's wayward boot for leaving them still in touch at half-time.
Jeremy Staunton, taking up kicking duties from the injured Flood, who had left the pitch shortly before the interval, also missed a 41 metre effort two minutes after the restart.
And four minutes later he saw his second attempt drift wide, going some way to cancel out the effects of his opposite number's dire kicking display.
Myler's terrible spell continued however, when the England Saxons star missed his fifth of the game soon after.
And on 51 minutes the beleaguered stand-off saw a drop-goal attempt skew horribly off-target, in what would be his last act of the match before Jim Mallinder ended his misery.
Myler's replacement Shane Geraghty wasted no time in making his presence felt when the ball was spun wide from the breakdown.
Gerahghty picked off Dan Cole before offloading to Dowson, who stepped neatly inside to draw two defenders and feed Brian Mujati outside.
The South African prop charged in on the right and Geraghty showed his team-mate how it was done, neatly slotting a tough kick from the right touchline to make it 24-7.
Scrambling
Given their advantage, Northampton strangely spurned the opportunity for a scrum under the posts when the visitors were penalised with 15 minutes to go, opting instead to take three points through the boot of Geraghty.
Leicester's second try came with ten minutes to go, Hamilton diving in at the corner after great hands from Giordan Murphy found the winger on the overlap. Staunton's touchline kick brought the score to 27-14.
Two minutes later Murphy and Hamilton were at it again, this time exploiting the overlap on the opposite side of the pitch.
Murphy sent the Saints defence scrambling with a neat sidestep before finding Hamilton alone on the left touchline with his pass.
Hamilton raced in on the left but Staunton could not add the extras, to close the opening game of the season out in the best possible way for the hosts.
Sky Bet Odds:
Click Here for Your Free Bet
Comments (3)
Nigel Foster says...
Northampton leicester fans stop the bickering, It was a top game(I am a tigers fan) Northampton were better. I believe they can give Leicester an headache again at welford road. Though a tiger fan. Northampton for me have the best first 15 in the country,and can have a 2-5 year run,but unlike leicester,I dont think they have depth.Dont forget yesterday neither Crane Croft or Parling were playing.Come the autumn internationals and six nations,saints perhaps will suffer more than the Tigers.Though I expect (yawn!!) Tigers to be in the top 4, I see the saints,wasps and Bath,being first contenders,But has a Tiger fan I have learnt,even when fans and staff dont believe,the Players prove everbody wrong. This season will be even better and will produce some great games.To all the league,when Tigers lose their first games they tend to win the title. to show I am not bias,Ashton and Foden ,lawes must be in the English 1st 15. Tigers are happy when the saint sgo marching in,Tigers are maneaters, and in the end claw,mawl,and show majestic beauty when they paw themselves through the premiership jungle...the saints their name says it all....
Posted 12:59 6th September 2010
A Lovett says...
The Tigers should be used to losing at Franklins Gardens by now! Not sure why the press seem suprised by our explosive forward presence & skilled backs, especially at the Gardens... Hopefully Jono can look past his beloved Leicester core of England players, your looking in wrong part of the East mids lad! Haha COYS!
Posted 09:45 6th September 2010
Rob Forsyth says...
Probably the only Northampton fan watching in Brussels but it felt good when the whistle blew to beat our local rivals. Having said that we got off too a dream start and the tigers must have been stunned.In all fairness they tried to get back and I could not relax as I have lots off respect for them even when they are down.I felt we could have killed the game early if myler had not missed so many kicks and when leicester got 2 quick trys as we did at the start I was starting to get nerrvous again.Anyway the Saints won this one and I am happy but the Tigers still look a formidable side and the season has just began.
Posted 22:54 5th September 2010

Read the thoughts and opinions of Phil Edwards with skysports.com