Home team

Clermont Auvergne

Cudmore, Malzieu, Vonowale-Nalaga,
Penalty goals: Parra (2),
Conversions: Parra (2),

25 - 10

Saracens

Strettle,
Penalty goals: Hougaard,
Conversions: Hougaard,

European Rugby Champions Cup
Pool 2
9th Oct 2010
KO 15:30
Sarries suffer at Clermont
French champions put ill-disciplined Saracens to sword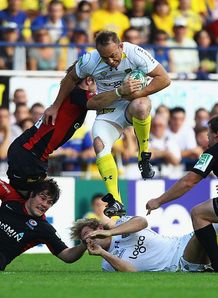 Related links
Teams
Players
Also see
Saracens crashed to a 25-10 defeat at the hands of Clermont Auvergne in their Heineken Cup opener in Clermont-Ferrand on Saturday.
The Londoners' game was marred by ill-discipline as they continued to give away penalties and turnover ball throughout the match.
The French champions did not create many chances, but neither did they need to as Saracens missed most of their own and remained unable to make their advantage pay when the hosts were twice reduced to 14 men.
Canadian lock Jamie Cudmore put the first points on the board when he crossed in the 10th minute after both sides had missed penalties in the opening exchanges.
The try came after a cheeky crossfield kick by fly half Derick Hougaard backfired spectacularly when Cudmore intercepted and charged in on the left.
Morgan Parra added the extras to make it 7-0, but ten minutes after his heroics Cudmore turned villain when he was sin-binned for throwing a punch.
Errors
Hougaard reduced the deficit by three with the resulting penalty but that would be the only reward the visitors would be able to reap from Cudmore's indiscretion.
To make matters worse for Sarries, Clermont's second try came just three minutes later, Julien Malzieu crossing to make it 12-3.
Parra missed the conversion but the visitors were still unable to drive home their advantage and continued to lose possession as more and more errors crept into their game.
Sarries were given another chance to close the deficit on the stroke of half-time when Davit Zirakashvili became the second Clermont player to be shown the yellow card, but Hougaard sent his penalty kick wide.
Saracens wasted no time in making their hosts pay after the restart when quick ball out to the backs found them with a man over on the wing.
David Strettle completed the move for a well-worked 43rd minute try and Hougaard converted.
But the mistakes kept coming and and within three minutes the French side had pushed the lead back out to five points after Sarries were pinged within Parra's range.
Damage
Parra made them pay again in the 65th minute to make it 18-10 with another penalty as the visitors seemed unable to pull their error-strewn game together.
Strettle went close to repairing some of the damage when he latched onto a dropped ball from Malzieu and set off for the line.
But winger Napolioni Nalaga somehow managed to get back and take his opposing number down with a crucial tackle to eliminate the danger.
As the clock ticked down, Sarries desperately tried to work themselves into a position to claim the three points that would secure them a losing bonus point.
But Hougaard missed a penalty with five minutes to go and then, with their final throw of the dice, gifted up possession in a manner that summed up their entire afternoon.
Aurelien Rougerie pounced on a loose ball and fed Nalaga for an easy try to seal the victory, while Parra converted with the last kick of the game to rub salt in the wound for Saracens.
Heineken Cup. Click here to bet.

Read the thoughts and opinions of Phil Edwards with skysports.com