Home team

Wales

Stoddart,
Penalty goals: Jones (3), Hook,
Conversions: Jones,

19 - 26

England

Ashton (2),
Penalty goals: Wilkinson, Flood (3),
Conversions: Flood (2),

RBS Six Nations
4th Feb 2011
KO 19:45
Ground: Millennium Stadium, Cardiff
Att: 74,276
Ashton double downs Wales
England start Six Nations with first Cardiff triumph for eight years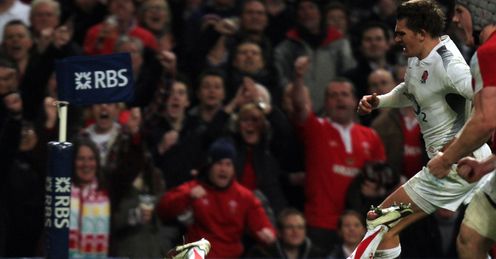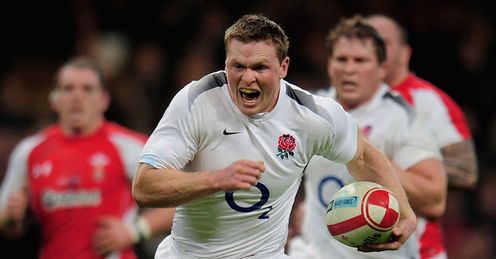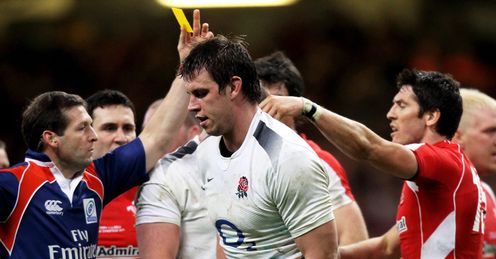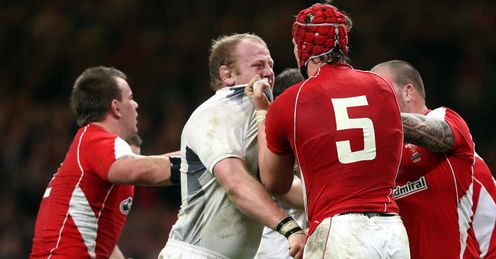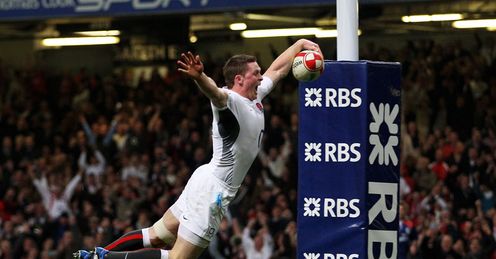 SKY SPORTS ON SKY
From football to fishing and everything in between, including cricket, rugby, golf and tennis - there's some amazing coverage coming up on the five Sky Sports channels. Plus, with the launch of
Sky Sports News HD
, all five channels are now available in stunning high definition, only with Sky. Click
here
for more
Related links
Teams
Players
Also see
Chris Ashton scored two tries as England opened the RBS Six Nations with their first victory over Wales in Cardiff since 2003.
The Northampton winger crossed once in each half and Toby Flood converted both tries and kicked three penalties, as the visitors built a 14-point lead midway through the second period.
Wales staged a valiant fightback, Morgan Stoddart's 59th-minute converted try and a James Hook penalty bringing them back within four points with 10 minutes to play.
But veteran stand-off Jonny Wilkinson, on as a substitute for Flood, sealed England's 26-19 triumph with a 75th-minute penalty.
Wales, whose coach Warren Gatland had been vocal during the build-up, are now without a win in their last eight Tests, a run that dates back more than 10 months.
And there might be worse to come ahead of next weekend's Murrayfield appointment with Scotland, as centre Jonathan Davies could be cited following a trip on Ashton that all the officials missed.
Gaping hole
Wales forced the early pace but failed to put any points on the board as Hook and Stephen Jones missed a penalty chance apiece.
The opening try came on 14 minutes after England's first sustained period of possession, although the score itself owed more to some inexplicable defending from the home side.
Taking the ball in his usual position at first receiver, Flood stepped left through a gaping hole and released Ashton on his inside shoulder to go in untouched under the posts.
Flood added the simplest of conversions and Wales, struggling at scrum time without injured Lions props Gethin Jenkins and Adam Jones, soon found themselves 10-0 down when number eight Andy Powell hung on in the tackle after he picked up at the base and was immediately swamped.
Wales got on the board with a 23rd-minute penalty from Jones, awarded when James Haskell killed the ball at a ruck, an offence that prompted referee Alain Rolland to place the visitors on a collective final warning.
Just five minutes later and Rolland was as good as his word, sending England lock Louis Deacon to the sin-bin for another transgression at the breakdown.
Wales had kept the ball alive through several phases and, as they closed in on the line, Deacon came from an off-side position to stop the attack - an obvious yellow card that prompted no complaints.
Jones slotted the resulting penalty to reduce Wales' deficit to 10-6 but it was England, through a Flood three pointer, who scored the only points during Deacon's 10-minute break to leave the visitors 13-6 up at half-time.
Wales suffered a injury blow shortly before the break, Powell being forced off and former skipper Ryan Jones entering the fray to a generous reception.
Exploited
Jones' third penalty got the hosts back within four points shortly after the restart but their cause was damaged when Rolland dipped into his pocket for a second time in the 46th minute.
On this occasion it was Wales prop Craig Mitchell who had drawn the ire of the eagle-eyed official for hands in the ruck.
And, in contrast to Deacon's absence, England were able to take advantage of the extra man, Wales surviving nine minutes before Mark Cueto exploited an overlap to put Ashton across from close range in the right corner.
Flood's conversion padded England's lead to 23-9 but any thoughts of easing through the final 20 minutes were soon erased as Wales hit straight back with a try of their own.
England centre Shontayne Hape was guilty of flying out of the defensive line, allowing opposite number Davies to round him, draw the last defender and release wing Stoddart, who had to pirouette to take the pass before touching down. Jones was on target with the extras from the right touchline to leave Wales trailing 23-16.
Martin Johnson opted to freshen up his half-backs by bringing on Danny Care and Jonny Wilkinson for Ben Youngs and Flood, while Wales withdrew Jones for Lee Byrne, who went to full-back to allow James Hook to take over at stand-off.
Hook landed a penalty after England were caught off-side in the 70th minute, leaving Wales needing to conjure a try to complete the turnaround.
But they never had the chance as Wilkinson closed out the result with a three pointer of his own in the closing stages.
Comments (16)
Etienne Groenewald says...
Wow, England beat Wales and then demolished Italy. They must be the best in the world now. Ha ha ha. The Southern Hemisphere is shaking in it's boots.
Posted 10:30 14th February 2011
Ian Zap says...
Whilst this was a closely contested game it was certainly was not impressive. You could read it like a book and it was the "same old". If England or for that matter Wales are to be competitive in the World Cup they need to start looking at more options, have more flair and look to using their backline more and more. Had England put on a performance like this against New Zealand they would have been pulverised.
Posted 07:15 7th February 2011
Tony Davies says...
All in all a competent performance.....atleast this time they didnt blow it in the last 20 like they have done against the welsh in the past. A few concerns like everybody else. Skivington in for Deacon......Hape is no longer the player he was and Tindall, an old warhorse, both out with a new crop coming in for some international blooding...maybe Twelvetrees and Simpson-daniel or even bring Johnny Wilkinson in at centre with Flood staying at fly-half. And someone needs to tell Ben Young that the referee doesnt care how long he stares at him.....he should just get on and be the scrum half he was against Australia at Twickenham.
Posted 20:36 6th February 2011
Simon Cross says...
I doubt the Australians are laughing, having been handed a good drubbing by the same team in November. With Lawes instead of Deacon (who wouldn't be anywhere near the side if he didn't play for a club in a shoe-manufacturing town in the East Midlands), Croft instead of Haskell, and any one of a huge number of excellent young centres (Barritt, Twelvetrees, Waldouck, etc etc) instead of Hape and Tindall, that looks a tasty side.
Posted 15:21 6th February 2011
Mick Collyer says...
A good result, but a couple of concerns about the line up of the team. Deacon was awful, his only contributions in the loose were to drop the ball in the red zone & get himself yellow carded, he was not missed when he was off of the park. He also did nothing at the line out, what is a 2nd row there for? Hape gave away 10 points, out of position for the try & a silly penalty, we need somebody who understands the game & has flair @ 12, bring back Berkley. The lineout was good, until they took off Hartley & we need a back up scrum half, Care is too erractic.
Posted 13:14 6th February 2011
Graham Marsh says...
I cannot be the only person who wonders what James Simpson-Daniel would have done to the Welsh in that game? Johnson's old boy's club continues - Tindall exposed going forwards and in defence. So, he can catch a kickoff? Last time I checked this isn't the NFL and we don't have a special teams unit. Get him off, he is slow, out of shape, and lateral. Also, what exactly does Tindall offer at centre that JW wouldn't? JW is quicker, better step, better kicker, bigger tackler, and as good of a leader, try him at 12 with Sinbad outside, that is something I'd like to see..... Hape again almost invisible. 11, 12, 13 all need changing for England. Front row solid but is Thompson really the best we can do at back-up hooker. At one point we had all the 2003 old boys on the park. Good first game for Wood and Palmer was immense in comparison to Deacon who is a class below. Ashton and Foden the future, lets see them get more ball! Someone tell the forwards not to get white line fever!! Seems Woodward was the last coach who actually picked on form instead of friendships....
Posted 11:03 6th February 2011
Ces Pritchard says...
How can anyone glorify that game? Two bunches of no-hopers, no contact, as if each team had just met up at a pub the night before. Passes going everywhere, players with ball-in-hand not knowing where to head, kickers kicking out at once instead of running another 20 metres and then booting, etc etc. Jonathan Davies summed-up the chaos! Antipodeans are laughing their heads off!
Posted 15:55 5th February 2011
Paul Smith says...
Good result and an ok performance - we still got problems with the centre pairing (too similar) and Deacon is not the answer - Shawsie did more in his 20 mins that Deacon did in his 60 - was concerned that Youngs spent too much time looking at the ref rather than getting the ball away as he usually does - but all in all ok.
Posted 15:45 5th February 2011
Old Kingsburian says...
Agree with Jason Holden, Deacon shouldn't be there.Must admit tho, I thought the same about about Palmer 2 years ago, but playing in France has turned him into a serious international player. My man of the match!!!. Elsewhere, good performances without completely dominating. Good start.
Posted 12:47 5th February 2011
Dave B says...
A very good start to the 6Ns. As other comments have said, room for improvement. I was impressed with the composure England showed and how clinical & efficient they were. Also they made far fewer silly errors than usual. The bench was a worry for me, with few impact players, but in the situation it worked well, to close out a game. Thought Wales contributed to a good game of rugby, and I don't agree they are weak (they still have several Lions in that side) but there tactics are wrong - too lateral. They look more dangerous playing 'on the hoof' rather than following a structure. But a good start for England, lets hope they build on it.
Posted 11:38 5th February 2011
Jason Holden says...
Great work from England, Flood was awesome, Foden certainly backed up his comments with some great runs (and knocking Jones on his backside). A few areas of concern though, our midfield were not very effective, Hape was invisible and Tindall was exposed a few times. Our forwards played very well, but again Johnson has a couple of changes to make, Louis Deacon is not an international class second row, he's had his chance and come up wanting. His yellow card aside, he spilled possession in the red zone on more than one occassion and really didn't add much to the England cause, maybe Johnson should swap one Leicester lock with another and give George Skivington a go, he's a far better player. We also didn't spark in the backrow, there were some good individual performances, but as a unit it wasn't that impressive. Johnson also has to realise that the bench is extremely important, having David Wilson as a front row replacement adds nothing to the team, his scrummaging isn't the best, he's not that mobile around the park and he also wasted a great try scoring opportunity, again in the red zone, by running laterally into opposition, isolating himself and getting turned over. Danny Care is also a weak link, Brian Moore made a very good observation, 'Youngs is a controlling scrum half and Care is a running scrum half', why would you take off a scrum half who is in full control of the game and bring on a loose cannon like Care. If Johnson wants to bring on a scrum half that can do both, he may want to consider Joe Simpson as a much better option than Care. Overall, very happy with the result, but lets not get carried away, Wales are not playing very well at the moment and we still have the likes of Ireland, Scotland and France to play...
Posted 10:21 5th February 2011
A Young says...
Wales certainly had all the right skills to match the England performance. They just couldnt get through the English deffence to put th points on the scoreboard. Missing the two early kicks unsettled the team and England capitalised on this. If the two kicks had gone over it would have been a different match.
Posted 07:47 5th February 2011
Steve Outram says...
Well done England but someone please tell Ashton not to celebrate before he has scored, it is a disaster waiting to happen and one day HE WILL drop the ball before touching down!! Holding the ball in 2 hands would also be good!!
Posted 06:07 5th February 2011
Ed Le-brun says...
Great to start with a win and always nice to outscore the opposition on the try front. No doubt there will be the usual talk of opposition weakness etc etc. But are the Welsh not the paragons of running rugby in Europe, along with the French (who shipped 59 pts in their last game) with amazing skills, blah blah blah (no offence to the players meant but as an Englishman it does bore me to hear how we are technically inferior yet still score trys??). England were clinical and finished their chances and have given themselves a shot at the championship but not the Slam, Dublin will be a game too far. Still as far as i'm concerned 4 losses won't bother me as it is always so sweet to beat the boys from across the Severn!!!
Posted 23:47 4th February 2011
Kevin Pritchard says...
Fantastic result by England. Many areas where we could improve but to go to Cardiff and win our first game was a brilliant result. Next three games at home should set us up for a Grand Slam. Come On!
Posted 22:18 4th February 2011
Owen Isaac says...
Must Congratulate England on a fairly clinical and set game! But its just typical Wales at the moment doing themselves absolutely no favours. I think the game also demonstrated the difference in the general depth of the two squads, Wales just dont have the impact off the bench once a couple of injuries hit whereas England still have strong players to call upon. Congrats England, Come on Italy next week!
Posted 22:04 4th February 2011

Read the thoughts and opinions of Phil Edwards with skysports.com