Home team

Leinster

Hines, Sexton (2),
Penalty goals: Sexton (4),
Conversions: Sexton (3),

33 - 22

Northampton

Dowson, Foden, Hartley,
Penalty goals: Myler,
Conversions: Myler (2),

European Rugby Champions Cup
Final
21st May 2011
KO 17:00
Ground: Millennium Stadium, Cardiff
Att: 72,456
Leinster stun Saints
Irish side come from 22-6 down to score second Cup success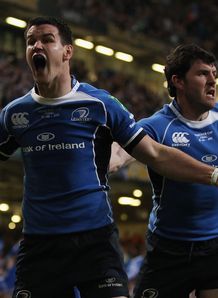 Related links
Teams
Also see
Leinster staged a remarkable second-half comeback to beat Northampton 33-22 and win the Heineken Cup at Cardiff's Millennium Stadium on Saturday.
The Irish side appeared on the ropes in the first half as their opponents romped into a 22-6 lead - Saints scoring almost at will through Phil Dowson, Ben Foden and Dylan Hartley.
Northampton's scrum was also well on top, while Leinster's woes were compounded by handling errors. However, they then proceeded to mount what is surely the finest fightback in cup final history.
Jonathan Sexton, who scored 28 points in all, crossed twice as his side moved back in front after 20 minutes of second-half play that left the Saints shell-shocked.
Nathan Hines then added another as Leinster added to their 2009 victory in European rugby's premier competition.
The first half was all about the Saints. They started putting together phases immediately but despite the bludgeoning efforts of the likes of Soane Tonga'uiha, their opponents initially stood firm.
However, the Northampton pack also quickly found itself dominant in the scrum and it was from the second of these that the Saints took the lead in the seventh minute.
After their forwards had given their side the required momentum, the ball was fed left, with Calum Clark making valuable headway by stepping inside - into space created by Roger Wilson holding on to Shane Horgan's ankle - before finding Dowson on the overlap.
Struggling
Stephen Myler converted for 7-0, with a sign that Leinster were struggling to get going coming moments later when Gordon D'Arcy fumbled Sexton's pass inside Northampton's 22.
Even so, the Ireland fly-half put his side's first points on the board with a penalty in the 14th minute, with Myler restoring Northampton's advantage with a long-range effort seven minutes later.
Leinster responded aggressively with two quick breaks, the second of which saw Horgan, Sean O'Brien and Brian O'Driscoll linking up, but the latter was tackled by Foden before Northampton's scrum superiority won out.
The Irish side were clearly struggling at this stage and even though Northampton lost Brian Mujati to the sin bin their persistent probing ended with Foden's 31st-minute score.
Myler converted again before Sexton kicked another for Leinster five minutes before half-time. However, they set Northampton up in prime territory once more with a handling error straight from the re-start.
The ball was eventually played right towards Chris Ashton and although the England wing could not cross, strength in numbers soon forced Hartley over, although Myler's conversion attempt on the stroke of the break hit the post.
Finding themselves 16 points down, all expectations were of an aggressive start to the second half by Leinster - and so it proved.
Although the first wave of attack ended after 11 phases when Northampton turned the ball over, a break inspired by O'Driscoll ended with Sexton crossing for five much-needed points.
Two more followed with the conversion, although hearts were in mouths as the ball bounced off the left-hand post before crossing.
The match was now all about Leinster and they were unlucky not to have scored a second when D'Arcy crossed in the 51st minute - the inside centre being denied by the lack of clear video evidence he had grounded the ball.
It came soon enough - less than two minutes later, in fact, when Sexton picked up Jamie Heaslip's roll-round ball and evaded several challenges to cross.
He then converted and suddenly, Leinster were just two points behind with 26 minutes still to play.
They were in the lead seconds later when their scrum got its act together and forced a penalty which Sexton duly dispatched.
Woes
Northampton's woes were compounded when Dowson was sin-binned for coming in at the side - sacrificing himself, really, as his intervention denied a likely try for Isa Nacewa.
Sexton kicked the resulting three points, and did so again in the 65th minute after his monopolisation of the points board was ended by Hines in the right-hand corner.
Finally a blemish for Sexton, whose penalty miss in the 69th minute denied him the points record for a Heineken Cup final.
Evidence that Saints' spirit was not quite broken came when Foden and Ashton made serious inroads with 10 minutes left, but the game was up five minutes later when nine phases of attack came to an end with Joe Ansbro's fumble.
World Cup. Click here to bet.
Comments (25)
Rory Denvir says...
Official stats from the IRB website: Total number of registered players in England = 2549196 Total number of registered players in Ireland = 153080 Ratio = 16.65 Total number of Senior male players registered in England = 166762. Total number of senior male players registered in Ireland = 25440. Ratio = 6.5 Number of clubs in the Aviva premiership = 12 Number of provinces in Ireland = 4 6.5 times the number of registered players in England, spread over 3 as many clubs, hardly makes English club versus an Irish province an unfair contest. The ratio is still 2:1 in favour England in terms of the pool of players available, before we include the International imports So any gripes about Club versus province are unjustified.
Posted 11:45 23rd May 2011
Brendan Stapleton says...
The debate about club v province is stupid, both are equal it is like saying toulous will all ways win cause they are a national team, Saints were great espially as no one gave them a chance, a good learning curve hard but good munster and leinster have had theirs, they will be back next year but leinster the team to beat next year again esp. as they beat the top teams in T14 and Prem on way including group
Posted 10:41 23rd May 2011
Stephen Osborne says...
Ah! Probably should have expected that response, rather than a hoped for balanced discussion. I asked to look at the strengths of the comparative squads, and whether it was a level playing field. I don't need to make excuses, Northampton are not my team and I am just a pssionate rugby man, who happened to thoroughly enjoy the final. I would also guess of those 50 million, not all of them play rugby! Those that do, I would imagine 99% play social rugby and are a million miles away from representative rugby. I would hazard a guess that those capable of playing international rugby would be similar in both countries?
Posted 09:00 23rd May 2011
Jonny Sexton says...
Steve Osborne making silly excuses! Province vs club? England has a population of 50 million compared to irelands 4...so there is obviously a bigger playin pool to choose from...
Posted 00:31 23rd May 2011
John Kelly says...
I hope our Munster neighbors who were wearing saints scarves over their jerseys didn't choke on them.
Posted 21:01 22nd May 2011
Ricardo Dorvilier says...
epic game, great performance from Sexton and Congratulations Leinster for this great and unexpected comeback
Posted 20:33 22nd May 2011
Shane Caulfield says...
Well yes it really was a game of 2 halves as they say..... as a dyed in the green Tigers fan I ask the question...... would Tigers have let such a lead slip away? I don't think so.........Naive comes to mind. Still a fabulous spectacle; especially if you're Irish.
Posted 19:50 22nd May 2011
Anton Phelan says...
the greatest comeback since lazarus
Posted 15:28 22nd May 2011
Ian Patrick says...
im sorry but alot of saints fans seem to be undermining the leinster comeback as the big bad regional team vs the small club. i think that is highly insensitive. for one, its not like we have masses of talent to choose from, its the 4th most played sport. there are 10times the players that play rugby in england. 2nd, most of these players are from dublin, which itself is a small population, and produced through the schools system.most of the players come this way. and 3rd we are being touted as having a bigger salry cap, but again most of these irish players were brought threw the academy, whereas there is like 1 player actually from northampton.
Posted 14:52 22nd May 2011
Fiona Graham says...
All about the scrum - because Leinster made so many unforced errors it played into Northhamptons hands because of the number of scrums in the first half - The saints drive up and push on - they tend to pop up first in the scrum and drive - hard to defend against - In second half Leinster scrummaged the exact same way ...smart tactical and intelligent rugby - experience showed in the end. The saints will learn from this...
Posted 13:49 22nd May 2011
Ger Hayes says...
Steve as a sky sports reporter said leinster beat all the best teams on the way to the final. Also take into account that ireland has about 6 million people england has 10 times that. Ireland as a nation are punching well above their weight in world rugby.
Posted 12:19 22nd May 2011
Richie Mulcahy says...
delighted for drico! icing on da cake!
Posted 12:07 22nd May 2011
Eamon O'beirne says...
what a game, cannot agree with earlier comments about Leinsters internationals most of the team are off the conveyer belt not bought in to do a job
Posted 10:58 22nd May 2011
Paul Smith says...
What a game - so proud of the SAINTS - most of us knew that we only had 40 mins left in the legs and so it proved - brilliant 1st half in which Ben Foden staked a claim as the best full back in Europe - our props were immense but having had to play virtually every game this season took it's toll - finally congrats to Leinster who were superb in the 2nd half and proved that they are the number 1 team in Europe - if we strengthen our squad we will be back next year - COME ON YOUR SAINTS!
Posted 10:37 22nd May 2011
Ronald Martin says...
As an Englishman I supported Northampton and thought they had it "done and dusted" at half time. However Leinster produced a remarkable 2nd half of attacking rugby which finally gave them a well deserved victory. Congratulations Leinster best in Europe
Posted 10:16 22nd May 2011
Mark Hemmings says...
great game a brilliant advert for rugby as a whole ,cardiff as usual were outstanding hosts.
Posted 09:41 22nd May 2011
Mark Mc cormick says...
heroes....irelands own super johny sexton.well done leinster
Posted 02:04 22nd May 2011
Alan Harte says...
that is the best come back i have ever seen!!!!!!!!!
Posted 01:32 22nd May 2011
John Ludgate says...
Congratulations Leinster. Amazing mental toughness plus a huge step up in skill application in the second half. Worthy champions having beaten thre very good teams in the knock out stages. A huge boust for Irish rugby too as now 4 of the last 6 EC finals have been won by an Irish team.
Posted 00:10 22nd May 2011
Rory O'neill says...
OMG what a game. Two aggressive, attacking sides giving it their all. After first half, I never thought even Leinster could recover enough having been dominated in the scrum. But what a turn around! Proud to be a Leinsterman!
Posted 21:57 21st May 2011

Read the thoughts and opinions of Phil Edwards with skysports.com