Home team

Wales

Hook,
Penalty goals: Hook (2), Priestland (2),
Conversions: Hook,

19 - 9

England


Penalty goals: Flood (3),

International Match
13th Aug 2011
KO 14:30
Ground: Millennium Stadium, Cardiff
Att: 72,898
Clueless England humbled
Visitors unable to turn dominance into points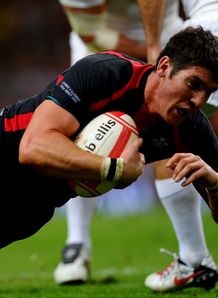 Related links
Teams
Also see
Wales beat England 19-9 at the Millennium Stadium in the old rivals' World Cup warm-up re-match.
James Hook scored the only try of the game as Wales avoided back-to-back defeats, but it was England's hapless attacking play which caught the eye.
The visitors dominated set-pieces, possession and territory but were unable to pierce the Welsh defence.
It was almost inconceivable that England could not turn countless chances into points, yet somehow they contrived to keep Wales in the game and Hook, with a second-half try, a conversion and two penalties, made them pay.
England's midfield combination of Mike Tindall and Shontayne Hape was exposed as desperately slow and one-dimensional, while Matt Banahan failed to finish England's best chance on the right wing, which the injured Chris Ashton would surely have taken.
There was nothing in England's display to worry any of the Tri-Nations sides in the slightest - when they watch the tape of this display, they are probably in more danger of injuring themselves laughing.
Both teams set out their stall by performing at a furious tempo from the start, with Rhys Priestland and Toby Flood exchanging early penalties before a second Priestland strike nudged Wales 6-3 ahead.
Much of Wales' front-foot play was created by the offensive work of Gavin Henson and his midfield partner Jamie Roberts, who relished the physical nature of their tussle with Mike Tindall and Shontayne Hape.
Up-front, though, it was a different story as England exerted plenty of pressure.
After successive scrum penalties, Alain Rolland looked set to award England a penalty try, but Wales escaped when Henson ankle-tapped Hape and then hoofed the ball downfield.
Pressure
A second Flood penalty levelled things up and England began to enjoy consistent territorial pressure.
Scrum-half Richard Wigglesworth, who had taken a knock, was then replaced by Danny Care, before Henson - who appeared to be holding his arm - made way for Scott Williams nine minutes before the break.
England kept battering away inside the Wales 22, but their lack of craft and guile behind the scrum was exposed, and Wales held out.
Even after Care made a scorching 40-metre break, and then Tindall ran free, England could not finish off, somehow turning quick ball into slow ball, while also continuing to concede penalties at the breakdown.
Priestland did not reappear for the second period, being replaced by Aled Brew. Hook moved to fly-half and Shane Williams took on full-back duties.
But before Wales could settle into their new formation, Flood kicked England in front after Roberts was sin-binned for killing the ball.
Rolland was rapidly running out of patience, and Banahan received a ticking-off after further technical indiscipline, although he avoided seeing yellow.
Wales, perhaps not quite believing England's profligacy in attack, rallied well as the third quarter neared its conclusion, and a spell of pressure resulted in Hook darting over by the sticks after the ball was quickly recycled.
England still had plenty of pressure in the closing 15 minutes, not least because Mike Phillips was sin-binned for the final 10 for going over the top.
But they continued to waste it - the final chance disappearing when Courtney Lawes failed to hold on to an England lineout ball 10 metres out.
Wales cleared and closed out the game after England were yet again pinged at the breakdown and Hook fired over his second penalty from halfway.
Sky Bet Odds:
Click Here for Your Free Bet
Comments (37)
Old Kingsburian says...
Yes England were poor, very poor !!! but what does that say about the Welsh forwards who were well beaten( Warburton excepted) If I was Welsh I wouldn't get too excited, because any of the Tri sides would have destroyed them with that much posession. The fact that England have two Red buses for centres ( are they really the best in England !!) and a fly half devoid of any natural flair, doesn't mean the cup is coming to the valleys. In Hook, Byrne, Williams, Henson they have supremely gifted players, bit without 8 forwards who can dominate, it doesn't mean much. Well done for the win, but I do think England have the players, Jonno just has to pick the right ones !!!!. PS will someone tell the Welsh forwards that if you have a ridiculous hairstyle you had better be really good!!!!!!!!!!
Posted 09:43 15th August 2011
Stuart Pickles says...
Looks like England peaked before the Irish game in the 6 nations.They were taken apart by the Paddys when a grand slam was on the table,sqeezed past an ordinary Welsh team at Twickenham and now lose embarrassingly against a weakened Taffy side weeks before the World Cup. Wonder what Johnson is going to do in Dublin?
Posted 00:17 15th August 2011
Chris Liptrot says...
Went to the game on Saturday. England were dreadful and Wales weren't much better. Can't see either making the semis of the world cup. Would like to see Johnson go - great player, poor coach.
Posted 22:28 14th August 2011
Tony Jones says...
Steve Baker, you must have been watching different game!! if england hadn`t knock on at five yard scrum would proberbly had penalty try, as for the ref cheating wales had 2 yellow cards!! england lost not from wales or the ref cheating but by englands lack of game management and inept backs who were to slow and ponderous, as for wales a win is a win but will still struggle to get out of pool at RWC
Posted 21:58 14th August 2011
Andy Pickett says...
Wales beat the England team put in front of them you cannot argue against that. As for match referee Alain Rolland, I have to applaud him for doing his homework. When about to yellow card George North for deliberately knocking the ball into touch he remembered that George was born in England and let him off with a stern talking to!
Posted 19:55 14th August 2011
Stephen Goodall says...
excellent today wales. When you play England, you know that chances are they are going to beat you up. Well i"m sorry, but you have to have a plan be, Wales fought like tigers to cling on at times but finished the stronger and were so much more enterprising. And as one of the correspondents said, it is Wales who can significantly strenghthen from the sides that were out there yesterday!!
Posted 18:56 14th August 2011
Jeff Lloyd says...
Steve Baker, are you a Man u supporter ? . Oh the ref this , oh the ref that .England soundly beaten man up ! lol
Posted 17:51 14th August 2011
Rob Cooke says...
Its funny how when England lose its always their 2nd string! Anyway none of the southern hemisphere teams will be losing any sleep over yesterdays performance, as for some of the comments Wales cheating its called being streetwise obviously another armchair supporter! The southern hemisphere teams been doing it for years as well as England yes the ref was very poor. Fitness wise the English players looked very tired as they did last weekend, as for wales the players seem to be able to last 80 mins plus as did last week which they havent in the past. The likes of Tindall shouldnt be on the plane to NZ and i thought banahan was pretty bad too.
Posted 17:22 14th August 2011
Neil Bright says...
@ steve baker, wales cheated, ALOT? firstly, learn how to spell, then learn how to type, then proof read your work. Second, at half time dean ryan showed us how cole was boring in at every scrum (as opposed to the rest of the england team who were just 'boring') you really should go to specsavers along with allain rolland, the guys been an idiot of a ref for 10years at least! he couldnt ref a scrum properly with tv replays to help him!
Posted 16:21 14th August 2011
Heath Purvis says...
When are the welshies going to accept that you were as poor as England and stop talking about players missing, you had the same problems for the last 2 years. No physical presence up front, this is as important as skillfull quick passing backs, which I accept you are miles ahead of England. Lets be honest apart from Ashton and Youngs, which would be a shoe in no one else would automatically make your side, Fodens would possibly make your squad, maybe. But this is the point if your backs are all David campeses or Dan carters without the ball you wont win many. The winners of all the world cups so far have had at least parity upfront, even the 91 wallabies who maligned Englands approach were a physical side, they just had really good backs as well. I am not disputing that Wales are far better to watch, easier on the eye etc. But your recent record does not make you any better than us, if you do not get the ball and hold your own you will lose against the southern hemisphere sides by more than England. Ask any club coach what they work on first, gain parity upfront then work on moving the ball. International Rugby is no different except that you can allegedly claim the morale high ground because you are unfancied and pretty. Hogwash Welshies you have less chance of winning the world cup than England because your worse upfront than we are in the backs. Heres a reality check, eversince the six nations has started you have only finished above England twice, your 2 Slams, and not at all in the last 3. 2 out of eleven is no basis for claiming superiority in any shape or form. If I was welsh I would keep my mouth shut because when it matters you cant perform better than the worst English squad for decades.
Posted 14:41 14th August 2011
Darren Wigham says...
Credit to Wales for their outstanding display of doggedness and defence but they weren't exactly stretched were they. Foden apart England looked like what they were, creatively bereft, dynamically lacking (have you ever seen a slower back row than Wood Easter and Haskell) tactically naive and noticably unfit. But we can't be suprised tho' The premiership stifles creativity due to it's need to win over all else, our coaches simply aren't good enough (the performances get worse the more time the players spend with them). England will struggle to get out of their group with this lack of wit. Wales must be encouraged but that must be tempered by the fact that that was the worst England have played since Murrayfield 2010, they had very little to beat.
Posted 12:28 14th August 2011
Paul Butler says...
steve baker claims Wales cheated alot what an idiot that man is lol .cymru am byth
Posted 12:16 14th August 2011
Dave Short says...
After the recent games i dont think England will win the RWC .Quater finals are the best we can look forward to ,but after when we start building for 2015 it looks very promising.We need to start blooding the wave of very good youngsters ,we have players who have performed in the last 2 JWCs finishing runners up to the jounier ABs.Barring injury and with real test experiance given England could be the best .I remember a certain C.WOODWARD taking a chance on a certain 18 yr old in 1998 and i think that worked out really well .Oh by the way the 18 yr old was a certain J.WI iLKINSON lol.iI hope im wrong and that England and the other home nations exceed my expedtations at the RWC we can only hope though.New Zealand / Australia still look the 2 sides to beat and France seem to have finally discovered a squad from whats been said from the Ireland game the return match in Dublin will be interesting to say the least
Posted 11:44 14th August 2011
Paul Anthony says...
As ana avid Englan fan can I just add to the frustration in seeing a performance like England gave yesterday. We supposed to be up with the best in the world, on the past 2 performances I would rank us well below that. If this was a second team then who played last week and gave us a dull and lifeless performance last week. I am going to the world cup and it has cost me a lot of hard earned cash to get there, on the back of these two perfromaces I wished I had not bothered. To the man who says Wales cheated I disagree. they have moved forward like the tri nations teams have and know how to play the rules and the ref. Engalnd are cluless. Wales had an excellent defence and over the two games deserve the credit and came out on top. they should have won last week to be honest. I am a proud englishman bit at the millenuim stadium yesterday I watched a game that looked like the England of the early 80's. Just shocking. Look at the age of the Welsh team and look at the young guys they are blooding, in a few years they will be a major force to reckon with and will still be digging up the old guns as we call them. Clear the decks after the world cup, retire a lot of the over the hill players and bring the you kidds thru as Wales have done. Wales were without a number of the best players due to injury etc and even with the problems they humbled a once mighty rugby nation. I now fear for an Irish backlash in a few weeks. What a way for ne to leave for a world cup that has just cost me thousands to attand knowing that we are in a complete shambles and on the perfrmances I have seen we will not make the quarters never mind the final. MARTIN JOHNSON THIS IS JUST AWFUL!!
Posted 11:16 14th August 2011
Ian Mortimer says...
Wales lack of strength in the front row is a major concern. We won't keep the Boks out....Its also the front 5 and set peices that make the better teams win comfortably against Samoa and Fiji. Our No 8 is still very young...Will not be able to drive the Boks or the south islanders off the back of rucks and scrums without pack parity/dominance. Fiji and Samoa would be a threat to any team with enough possession. i.e The Fiji team that beat Wales in the last world cup, were neck and neck with the boks (winners) after 60 Mins.. It the front 5 that took the ball and game away from Fiji that day. Without or Lions front 3..Wales are looking lightweight. As a Welsh fan..It must be clear to management that Hook is the class 10 in the Northern Hemisphere. Preistland has done well to ehnace his reputation..But Hook is a special talent..If we get him the ball.Our backs look Very dangerous, would be a challenge for anybody.
Posted 11:07 14th August 2011
Will Burnham says...
I have to echo other comments from England supporters. I'm tired of all this rubbish we have to read to the effect that England have 'a great set-piece'. And a fat lot of good it was against a very ordinary Wales team who have absolutely no chance of winning the RWC and will be lucky to get out of their group. Quite apart from a series of unforced schoolboy errors we had the spectacle of an England back division with the collective pace of a front row c 1970. How on earth do Flood, Hape and Tindall get anywhere near the team? Flood wouldn't make 3rd choice No 10 for Wales and every broken field attack breaks down when Tindall is in possession because (a) he is terminally slow and (b) one of the worst passers of a ball I've ever seen at international level. Hape just isn't good enough in any facet of the game and is also extremely slow. Why not try Armitage or Foden at 13 if Tuilagi isn't considered ready ? And I would have thought that any specialist 12 eligible for England would be an improvement on Hape. Dismal peformance and dismal selection.
Posted 10:37 14th August 2011
Smudge Smith says...
Last Week MJ said we turned over too much ball; this week I watched with disbelief as not only did England not not comit enough men to the breakdown they produced too slow ball and as a resut turned over ball. Flood for me was too static one dimensinal and incapable of bossing a game despite the forward power England had
Posted 10:33 14th August 2011
Tam Bam says...
The Welsh were cheating? What? LOLOLOLOLOLOL What about the two yellow cards the ref somehow just didn't fancy giving England? Silly silly English.
Posted 10:23 14th August 2011
George Buck says...
Yet another demonstration of why not to have Hape and Tindall as a starting centre partnership! The two just cannot create with one another. Tindall is not what he was - he should now be considered a bench player to provide a solid platform in defense and see a game through to its conclusion when we are home and dry. For me Tuilagi has to start, but Johnson has taken an age to select him and he is not one to put unproven international players forward for big games. He has to start him against Ireland! It is now evident that we desperately need Ashton back in the frey from a creativity standpoint. Thankfully we still have Foden playing well and Armitage is finding some form again. Cueto is still a good intelligent player but he has lost a lot of pace. Banahan is big, makes yards but is very one dimensional. Tindall is slow, his passing is poor and he only offers something in defense. Hape has yet to impress, but he may partner better with someone other than Tindall. Flutey needs to have another start and I fully believe that Johnson needs to start auditioning for centres to play alongside Tuilagi now. I still have lot's of belief in England looking at the dominance of our possession and territory last weekend. We just need some flair in our midfield play to put teams away. Start with Hape and Tindall for the World Cup and against Ireland - we won't have a chicken's chance! They'll just look at our one dimensional play and line us up again!
Posted 08:43 14th August 2011
Alan Churchill says...
I have no doubt that we will see comments on here about this being an England 2nd team. Ha but it was according to last weeks comments an England 2nd team that Wales played at Twickenam. So, do England actualy have a 1st team? We have seen the best players England have to offer in the last two games, and in all honesty there is not much there. You could say what about Chris Ashton, but what difference is a winger going to make if your backs play at the pace of turtles. Wales over the two legs won this encounter comfortably, more tries and more points. If any team suffered due to players not being available it was Wales who can recall thier entire front row, Stephen Jones, Lee Byrne & Leigh Halfpenny who are all British Lions and except for Halfpenny were starters in the tests.
Posted 06:06 14th August 2011

Read the thoughts and opinions of Phil Edwards with skysports.com