Home team

Wales

Phillips,
Penalty goals: Hook,

8 - 9

France


Penalty goals: Parra (3),

World Cup
Semi Final
15th Oct 2011
KO 09:00
Ground: Eden Park, Auckland
Att: 50,000
Wales see red in Auckland
Captain Warburton red-carded after just 18 minutes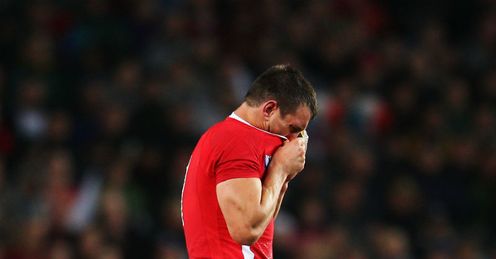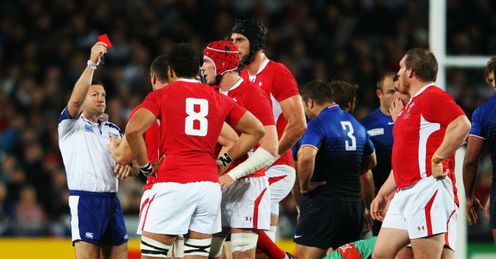 Related links
Teams
Also see
The controversial sending off of Sam Warburton proved decisive as Wales crashed out of the Rugby World Cup 9-8 to France.
Warburton saw red after 18 minutes of an enthralling semi-final at Eden Park after referee Alain Rolland adjudged the Wales skipper had dangerously tackled Vincent Clerc.
The tackle, though, was clumsy at worst - and worth maybe a yellow card. However Rolland ruled that it was a dismissal, much to the dismay of Warburton and his team-mates.
Despite the decision, Wales fought tooth and nail for a place in the final - and they even had chances to win it, with France seemingly unable to take full advantage of the extra man in their ranks.
A brilliant try from Mike Phillips and a penalty from James Hook, combined with some hard-running from Jamie Roberts, kept Wales in the contest.
But the accuracy of Morgan Parra, who added nine points, ensured it would be France who would be returning to Eden Park for the final next Sunday.
Hook, in for the injured Rhys Priestland, had curled over a superb penalty after seven minutes to get Wales off to the perfect start - with the fly-half just off-target with a second attempt four minutes later.
However the game erupted on 18 minutes when Warburton was sent off for the tackle on Clerc. He lifted his man but had released him just after Clerc's legs went past the horizontal.
Bemused
The decision might have bemused many but Les Bleus were not complaining and they wasted little time in levelling the scores with a penalty from Parra.
Only great scrambling defence prevented a try after Hook's clearance had been charged down, while Maxime Medard missed with a drop-goal effort.
Fortunately for Wales, though, a combination of spirited tackling and a lack of ideas from France in attack ensured the floodgates remained shut.
And Wales had a chance to restore their lead but Hook's penalty slid wide.
However it was France who moved 6-3 up as Parra added his second penalty of the game.
Parra should have done better with a drop-goal attempt just after the break, while the fly-half cut through the Wales defence before the cover managed to get across.
Parra did extend the lend with a third penalty on 50 minutes - however a moment of brilliance from Phillips gave Wales hope.
The scrum-half picked up at the base of a ruck, handed off Pascal Pape on the blindside and sprinted away to score. Stephen Jones, though, missed the conversion.
And Wales really should have taken the lead with nine minutes left, but despite having worked the position in the France 22 they failed to go for the drop-goal and ultimately coughed up possession.
They went agonisingly close three minutes later, with Leigh Halfpenny's long-range penalty from just inside the French half dropping just short.
And dogged French defence at the death ensured there would be no heroic comeback for Wales.
Comments (26)
Frank Tae says...
Read the rule book! The fact of the matter is Warburton raised the players legs above the horizontal and didn't control his landing. I don't think it was intentional, he didn't drive him into the ground, this being said, just because he let go doesn't constitute controlling the landing. Yes it majorly handicapped wales but the still had the chances to put the french away. missed conversions and penalties. There's about as much validity in blaming Rollaind for losing the game as blaming the ball for the missed kicks. The antics from welsh management and players was a bit disappointing, I would have a lot more sympathy for them if they just accepted the failed to convert their chances. In spite of the sending off wales had ample opportunity to win the game. Instead of bashing Rollaind, I think he should be commended. All too often we see refs buckle making hard decisions in big games then when a referee makes the CORRECT call he gets abuse. I accept that similar tackles have gone unpunished in previous games, but they're not the benchmark. These blas'e remarks about how mild the tackle was is pure idiocy, the player was scarily close to landing on his neck. Anyone that reckons the equivalent of dropping 100kg on your head isn't dangerous, please go out an try it!
Posted 06:54 17th October 2011
Geraint Owen says...
world cup semi final?irish/french,ref.come on.wales should be like new zealand and insist that monsiour reland never ref a welsh game again of any kind.we missed chances to win ok but monsiour roland could'nt seem able to see beyond a french win i hope he is proud of himself,
Posted 13:00 16th October 2011
Graham Meikle says...
What can I say... I'm a South African and know just how you Welsh fans are waking up this morning with a 'hangover' of feeling cheated and hard done by. Your team played superbly throughout the tournament and were the better side on the day against our 'Boks'. You deserved to be in the final and it should have been a Wales vs SA final. If only Mike Phillips had dotted the ball down closer to the uprights (and he could have) it would have been a different outcome. I trust you will be meeting the Aussies in the play-off for 3rd place and I'm sure most of us 'Saffas' will be behind you guy's. Stick it to em.
Posted 08:02 16th October 2011
Al Lewis says...
great to see wales out they did not take the chances on offer basically they bottled it! blame the referree but great teams still find a way to win. dangerous tackle and in a split second the ref has to make a call. i hope all of you taffs that were in sydney in 2003 in your gold shirts are celebrating today
Posted 01:38 16th October 2011
Eddie Stephens says...
There are some people who have commented on this site who obviously have no idea (ala mr rolland) what the game of rugby is all about.The tackle was 10mins in the sin bin at the very most,there were several tackles during this competition that were far worse but were let off with either 10mins or just a penalty,alot of the top refs have no idea wot the game is all about,most of them have never played the game before,they have no idea of the emotions a rugby player goes through,he showed no common sense at all and it ruined the game,SHAME ON YOU ALAIN
Posted 00:58 16th October 2011
Pat Evans says...
Ref should be ashamed - giving the game away to France. An impartial referee should have been in charge of the game. France did not win at all they were given the game. To all the Welsh team, especially Sam Warburton for his leadership and dignity, you were maginifcent, hold your heads up high, Wales is so proud of you ALL!
Posted 22:32 15th October 2011
John Greenfield says...
was it a case of sour grapes cos wales beat ireland and the ref has french connections.Me being an englishman still feels the best team at the world cup have been denied a place in the final which they richly deserve as they have played the best rugby and how can a team that loses 2 pool games be in the final. The scoring system should be changed cos without the bonus points france would be on their way home and good riddance,they have been appalling.I feel so sorry for the welsh,they have been by far the best team and i hope the ref never has to referee a game at the millenium stadium cos he will get crucified.He should never be allowed to ref again.If the international rugby commitee had any bottle they should insist the game be replayed because i genuinely believe the ref was waiting for a chance to punish the welsh because they beat ireland.And whoever faces france in the final i hope they beat them by a record score because they inflamed the situation by their reactions.The welsh nation should be very proud of your boys, they played with passion and thoroughly deserved to be in the final
Posted 21:40 15th October 2011
Richard Hiault says...
I'm french. And i'm ashamed by the french team which do not deserve his place in the final. This is the worst team i have ever seen. But, i must add one thing : Wales have had the opportunity to win this semi final. 3 penalties missed. French tram were lucky. Hope it Will be the case against New Zealand or Australia. Otherwise, the french Will suffer a huge defeat
Posted 20:39 15th October 2011
George Staples says...
I wonder if the suits at Twickenham's snake pit, had circularised all the England squad with an order to WATCH the gam,e today. They woould have noted there were no prima donnas, that commitment, passion and skill were high on the Welsh priority list.. England please note. Wales to win the six nations Gee Wales will walk away with the Six Nations
Posted 20:14 15th October 2011
George Staples says...
I wonder if the suits at Twickenham's snake pit, had circularised all the England squad with an order to WATCH the gam,e today. They woould have noted there were no prima donnas, that commitment, passion and skill were high on the Welsh priority list.. England please note. Wales to win the six nations Gee Wales will walk away with the Six Nations
Posted 20:14 15th October 2011
Brendan Walsh says...
The referee was wrong, which is not uncommon, how many times have refs missed forward passes, knock-on's, etc. Nothing that significant, but when a ref decides to red card a player as a knee-jerk reaction from all of the French players protesting (as Pierre the ref speaks fluent French), it not only ruins a great game, but brings into question how referees interpret the tackle throughout the game. It was a good solid hit, the winger was knocked back and the player should have had a stern word (worse case scenario - yellow card), but sending off a player so early in the game for such a nothing offence is ridiculous. Some of the other comments say that the ref was right, some say he was wrong, whatever way you look at it, a great game of rugby was ruined by a very poor decision. I don't think we need to hang him out to dry for this, but someone up high should have a word with him...
Posted 20:13 15th October 2011
Vincent Obrien says...
Bottom line is France were poor and Wales still couldn't finish them off just like the South Africa game This team had no balls and will never win aanything big How many chances had ye today to win the match ... TOO MANY
Posted 19:04 15th October 2011
Jean Pierre says...
Wales has today the best team in the world. Like France in 2003 or 1991 ... Yet they will end the third. At this level of competition, you must score on all opportunities. This is not the referee who missed three penalties. France has lost a lot of matches by producing the best game. It is the opposite today. But the All Blacks will not feel relax meet France next sunday.
Posted 18:09 15th October 2011
Andy Smith says...
once again a great sporting event ruined by aterribble decision by an irish man with a french father bit dodgy dont you think should never ref again it was a yellow card at best feel so sorry for wales lit up the tournament for me and im english , wont watch the final now asi think wales were the only team capable of beating the other semi finalists.
Posted 17:10 15th October 2011
Alex Tagger says...
tackle was clumsy at worst? Did you see the game? It was a dangerous play and warburton deserved ten minutes in the bin. I agree it was not a red but according to the letter of the law Rolland was well in his rights to send him off. It was not a clumsy tackle - it was adangerous. wales had their chances to win the game and just like South Africa last week, failed to do that.
Posted 15:53 15th October 2011
Rafael Davila says...
As I say in an other post you don't have to blame the ref. because he did exactly the same with Florian Fritz from Toulouse in the last H Cup. I think the problem is the lost of 11 points at least (3 missed penalties and 1 conversion) maybe due to a lack of experience at this level. Anyway very good game from the Welsh, they could be proud. Congratulations to Wales.
Posted 15:16 15th October 2011
Jason Claridge says...
Terrible decision by the referee. Why they do not use the technology available to them, and in particular the numerous camera angles to make sure that such an important decision is the right one. Clearly it was not. It is a professional game. I suspect a lot of these players will not have such a chance again due to the normal problems of form, illness, injury etc. The game was made pretty difficult by the injury to Adam Jones. Would Wales have won with 15 men on the pitch. I think you would put a lot of money on that bet. France look pretty poor against England. They looked pretty poor again today. On both occasions they have faded badly. I can see them losing heavily in the final, by 20 points or so, and Wales woudl have been a far better team to be in the final. Still until the game makers change their approach to how Referees are trained and the fact that they ought to be forced to view the replays on all crucial decision such major games are always liable to be marred by this sort of mistake. Bad luck to Wales. It was not the fault of the French but they do need to step up several levels to make it a contest next week end. The referee needs to hang his head in shame. Awful mistake to make and it ruined what was likely to be a game where this Welsh finally did their supporters proud and got to the final with a decent chance of winning it. The referees need to realise that fans do not want to talk about them and if they used some common sense these sorts of problems can be easily avoided.
Posted 14:42 15th October 2011
Sam Lindsay-smith says...
Alain Rolland got it right. Dropping or driving is dangerous play and the refs were told to look at this area throughout the world cup. The red card could be seen as a little harsh, but you can see why he gave it a red.
Posted 13:56 15th October 2011
Paul Bowden says...
About time rules re penalties were changed i.e you get possession of ball not kick at goal, surely the object of the game is to carry the ball over your opponents line, so the team that scores more tries win. Also I played rugby at school back in the 60's and was taught to tackle by grabbing the opposing players legs, our teachers (both players for the City's rugby club) instilled on us "hold his legs and he can't run" anywhere else and he keeps going so why do the modern day professionals mostly tackle high, something going amiss at the training ground I think.
Posted 13:00 15th October 2011
Patrick Walsh says...
I feel so sorry for Wales having lost to France today, the whole of Ireland were behind them and hoping for a win. Bad decision by the ref, I felt he stuck to the letter of the law to much and made a very hasty decision when the incident occured, he should have waited and taken time to judge the outcome of the tackle before making his decision, i also believe he was was influenced too much by the protests of the french players, this additional pressure put upon the referee had an influence on his decision, however, experienced referees should be have the ability to handle it which he failed to do, so, im giving him the thumbs down for not being able to draw on his experience in light of the importance of the match, and, the outcome of the tackle... Well done Wales, you held you head high today ... Patrick Walsh
Posted 12:45 15th October 2011

Read the thoughts and opinions of Phil Edwards with skysports.com