Elise Christie enjoyed the perfect preparation ahead of next month's Winter Olympics as she won 1000m gold at the ISU European Short Track speed skating Championships in Dresden on Sunday.
Christie went into the event as the defending champion but ahead a testing first two days at the championships, the 23-year-old from Livingston admitted she didn't expect to bounce back so impressively.
Technical difficulties in Friday's 1500m meant the Sky Academy Sports Scholar was forced to settle for a very creditable fourth place in the final before a collision in the 500m the following day resulted in a heavy fall for Christie, after which she was still able to reach the semi-finals.
It was a different story on the final day of the championships, however, as Christie was in top form as she coasted into the final of her favoured distance.
In the medal race, the Scot's main competition came from 1500m champion Jorien Ter Mors of the Netherlands who had also secured bronze in the 500m.
As last year's overall 1000m World Cup champion though, Christie has proven herself capable of beating the best and ultimately had too much for her Dutch rival as she powered her way to gold in 1.29.811, more than half a second clear of Ter Mors.
Difficulties
"I had a hard first few days," admitted Christie. "I skated well in the 1500m, but had a few technical difficulties that hindered my performance.
"Then I fell over in the 500m and that was a hard fall, so I didn't really expect to make a comeback like I did today.
"Overall it was all good preparation for Sochi, and getting this practice on my racing will really help me at the Games."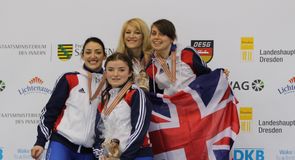 Christie's performances over the weekend were also enough to earn her the overall silver medal, behind Ter Mors, and indicate that the British skater is finding top form at just the right time ahead of the Games - an ominous sign for her rivals.
There was further success for Christie and Great Britain in the 3000m relay, as they went some way to easing the disappointment of not qualifying for Sochi by taking the silver medal in Germany.
The timing of the European Championships has been questioned in some quarters, with the Winter Olympics following so quickly afterwards, but for Christie and the Great Britain squad they have proven to be the perfect way to sign off before the Games.