Olivia Breen set her sights on long jump success at the European Championships and Commonwealth Games despite having only taken up the event in the past few months.
The Sky Academy Sports Scholar was part of Great Britain's bronze medal winning 4x100m T38 relay team at the London Paralympics and won individual bronze in both the T38 100m and 200m at the European Championships the same year.
However, with the T38 200m being scrapped from major tournaments in future, Breen has decided to switch her focus to the pit ahead of the 2014 season and has been happy with how it has gone so far.
"Training's going really well. I had an annoying term last term because I had in-growing toenails shaved off and that was frustrating because my training got messed up," said Breen.
"I was hoping to train really hard over Christmas but then I got a cold. I went to Tenerife after Christmas and that made me a lot better so since I've come back training has been going really well, long jump has been going well. So I'm really happy."
The 17-year-old from Guildford has been helped by the fact that any changes to her training have been minimal with her time now split between sprinting and the long jump.
"It's (the training) not much different actually. It's just getting more springy and getting more bounce," Breen remarked.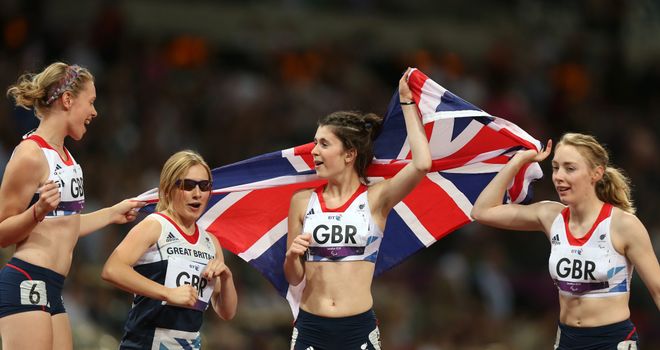 "I've changed my jumping foot because I used to take off on my left foot and now I've changed to my right because my right foot is quite a lot stronger. It doesn't really make a lot of difference but it's going really well. I'm really happy with my coach and we're working really well together.
"I'm still running but, for example, last night I did long jump drills. Normally in training I'll do jumping and then I'll run so I share it really. I take in turns which I'll do. I'm also hoping to go warm weather training for three or four weeks at Easter which should be really beneficial too."
With the signs in training all appearing positive, Breen is aiming to make an impact at the season's two major competitions - the Commonwealth Games in Glasgow and the European Championships in Swansea.
"I'm just hoping to get to the Commonwealth Games and the Europeans. I just want to jump well, I'd love to do well at the Commonwealth Games and do Wales proud," added Breen.
"That's what I want to do - and get selected for the European Championships which are in Swansea at the end of August."
Indeed, as a result as being so new to the discipline, Breen looks unlikely to compete too much ahead of the summer's major championships as she looks to make the improvements to see her become a genuine medal contender.
"I've been talking to my coach about it, indoor competitions, and he said that he wants me to stay focused on the Commonwealth Games and the European Championships," she explained. "The main focus now is just to stay healthy and train really hard."