This summer will mark 20 years since Rob Denmark claimed the 5000m gold medal for England at the Commonwealth Games in Canada.
Now, more than a decade after retiring, Denmark could once again play a role in helping to deliver a medal to England, this time as coach of middle distance prodigy Jessica Judd.
If I improve my knowledge base and apply critical thinking around Jess then Jess will become better so it's very much a double whammy
Having been plagued by injury during the latter part of the 2013 season and over the winter, it would take an incredible effort for Judd, 19, to win a medal at either the Commonwealth Games or the European Championships. However, given her undoubted talent, such a feat should not be ruled out.
Indeed, Denmark was delighted with the strides she made last season and having joined the Sky Academy Sports Scholarships Coaching Development Programme he believes he is in an even better position to get the most out of Judd.
"Jess's progress last year was pretty remarkable," he told Sky Sports. "It was curtailed somewhat by the injuries (and) that's why the coach development programme is so important, so that I can understand what these issues are so that hopefully we can avoid sleepwalking into them next time.
"She dealt very well with some very high pressured situations and there was a lot of media interest as well, which wasn't new to me, but it took a lot of management."
Whilst media interest in the Canvey Island athlete has been high and on-track expectations look set to grow year on year, Denmark is refusing to get carried away.
"In the short term we are just looking to understand what Jess needs to do and then things won't be compromised," he said.
"We want to give her the full complement of skills for an 800m runner because I believe that that's her best event.
"So we will be looking to build and construct the required strengths and they take time. Hopefully within a few years she can be someone who challenges to get into World finals and Olympic finals. That's what we want to achieve but we are under no illusions how hard that is."
Denmark's route into coaching was not straightforward, with a break of 10 years between his retirement as an athlete in 2002 and taking up coaching seriously two years ago.
"It's been a bit of a strange pathway really, it's been a bit of a slow burner," pondered Denmark. "I think that within a couple of years of retiring I was back down at the track just sort of playing with coaching and also running recreationally and I enjoyed that."
"But that came to a halt when I got my first serious 'proper job' with UK Athletics as a talent manager and I was very busy with the performance management of the young athletes.
"I was at Lee Valley and there were lots of very good coaches there and I was just watching them and understanding how they did it, the different kind of idiosyncrasies of the different coaches and I found it fascinating.
"A couple of people came to me in 2011 and asked me to coach them and it snowballed from there, but it wasn't until Jess asked me to coach her in 2012 that things really began to take off and last year it became a really full-time occupation for me."
Having found his way into the field though, the 45-year-old from Billericay is now determined to do all he can to succeed and is confident that, with the help of the coaching development programme, he can do just that.
"I think I'm already reaping the benefits through my association with Tony Lycholat, my mentor on the Coach Development Programme," Denmark added.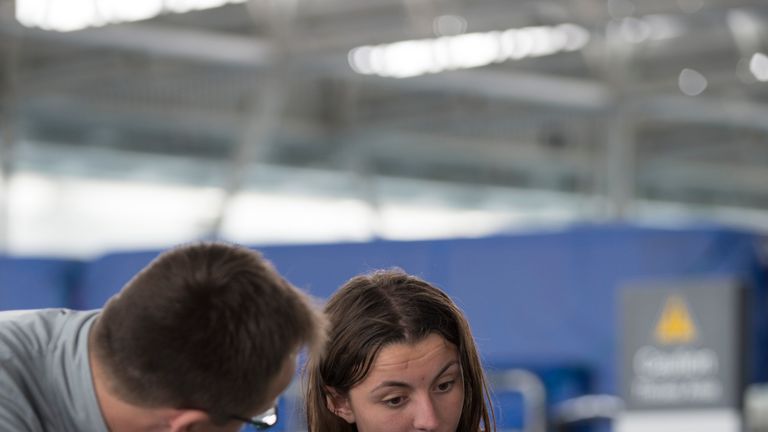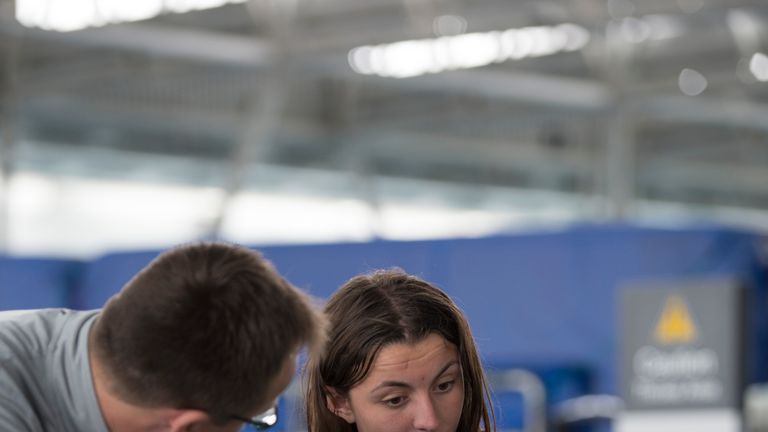 "I've met up with him a few times and bounced around ideas of what we can do to develop my understanding in areas that I feel Jess needs improving.
"We've looked at biomechanics of Jess and are beginning to take it back to a very simple level of understanding anatomy and movement and looking at ways of improving her biomechanics so that she can produce more force and become a better runner. I would say that there is a big benefit already."
"I think with the resources that Sky can offer me when I have an issue or if I'm dumfounded by something, I can go and search out an answer to a gap that I have in my knowledge based on applied understanding of Jess.
"So that's what all this is centred around. So if I improve my knowledge base and apply critical thinking around Jess then Jess will become better so it's very much a double whammy."