The newly created Sky Academy Sports Scholarships coaching development programme will see three coaches given additional support to help them develop their own skills as they aim to get the best out of their athletes, three Sports Scholars included.
One such coach is Jonas Tawiah Dodoo, who coaches, amongst others, Sky Academy Sports Scholar and Paralympic bronze medallist Olivia Breen.
As the athletics season starts to really heat up, we spoke with Tawiah Dodoo to discuss the programme and how he feels it can help both him and his athletes.
Firstly Jonas, how do you think the coaching development programme will benefit you?
I think the Sky network is obvious a strong network, a strong brand, and what they've done is bring in Tony Lester and Tony Lycholat. Tony Lester has been in this sport almost as long as I've been alive, to be honest and Tony Lycholat has been involved in almost all of the different guises that you can be in sport.
He's performed to a high level, he's coached, he's been involved very, very extensively in sports science. All of this means that he's got all the different experiences. My goal as a coach is not just to coach really well and manage my athletes but it's to manage the staff that support my athletes and to be one step ahead in terms of knowing what my athletes need and having someone like Tony Lycholat really gives me the ability to pick his brains and better understand what really is elite.
Tony's exposure to up-to-date sports science, as well, means that if I continually network with him and ask him questions, he can just keep me up-to-date with what's changing in sports science, new ways of thinking and new ways of applying what I already know. I think it is immeasurable just having those two as mentors as they have both been successful in areas that I am working in and I'm trying to gain as much success as they have.
The second thing is obviously the budget and the financial support I have to continue my learning. I can spend time with both Tony's, figure out what I need to know, where I need to go to learn, find out more and then the Sky budget can facilitate me doing it.
Throughout my whole career from doing my masters to working with UKA and the UK Sport apprenticeship programme, I've continually been given the opportunities to go out and find the best in the world and find out what they know on a certain subject or a certain area. That means that I'm constantly in front, I'm not waiting. I'm constantly learning, I'm constantly building on what I'm doing.
There's a phrase on outside of a £2 coin, a quote that reads 'standing on the shoulders of giants' and that's a big thing for me as all of my mentors throughout my career have been experts in their field. I still make mistakes in my career but I feel that instead of making seven mistakes in a year and learning from them for the following year, maybe I make two or three and because I've had my mentors there are mistakes that I could've made, that I don't make and instead I apply things to my training straight away and it pays dividends straight away.
I definitely feel that the Sky programme is going to allow me to continue to learn at an exponential rate, which means we will hopefully get more performances like we have seen recently from Olivia and Chijindu (Ujah).
When you see one of your athletes perform as well as Chijundu Ujah did in running under 10 seconds in the 100m, do you see that almost as a justification of your training methods?
Definitely, it gives me confidence and makes me think 'keep doing what you're doing' but I think even before Chijindu ran the time, last Saturday we had other athletes running very fast. It definitely makes me firm in my beliefs but what it does maybe more so is it confirms to the other athletes that they're doing the right thing, they're in the right place.
They look at Chijindu's progression and look at the barriers that have been in front of him in terms of injuries, lifestyle and application to training and they realise that if they really buy in and they're patient that it will come. It's good for me and my confidence but it's even better for the other athletes and their confidence. If they stick to the process then they will get what they deserve.
Obviously now you're coaching some really high level athletes but how did you first get in to coaching?
Every athlete brings a different puzzle to the table and in the next 10 or 15 years I will start to really understand which puzzle it is and figure it out much quicker
I started coaching women's rugby at university. Alongside that I was doing the power work with the men's rugby team. What that did for me was give me exposure to lots of different types of athletes. Loads of athletes with different abilities and trying to deal with all that factors that come with trying to be strong, powerful and fast for rugby and also deal with the injuries that rugby usually presents.
That's how I started and that was in my last year at university and when I was doing my masters. Really from the age of about 20 until I was 23 I was coaching for free alongside my personal training, which was what was paying the bills, and just learning through loads and loads of athletes.
Then when I finished university I started up a youth group in Battersea and I started out with a number of athletes who weren't even fast enough to go on our national ranking and I started off applying exactly what I learnt from Dan Pfaff (coach of 49 Olympians including nine medallists) and in some instances it worked and in some instances it didn't.
So that was really good because I spent years learning Dan's system and then I took it in to a group of athletes it didn't work for everybody, but it helped me realise why it didn't work. It helped me realise that even though I knew Dan's system on paper, it was bigger than just seeing the sets of reps written down. So that period of four or five years of just coaching as a volunteer just gave me the ability to learn.
They talk about the 10,000 hour rule, you just need that time in the trenches paying your dues and figuring it out in real terms. But over that period I got some successes and then I was employed as an apprentice coach for UK Athletics. That was the next step where I didn't have to do my personal training, I was employed as a full-time coach, I was exposed to better athletes, I was assisting Dan with the likes of Marlon Devonish, Christian Malcolm and Goldie Sayers and Greg Rutherford. So at an early stage in my career I was exposed to what is meant to be elite, I was also exposed to the barriers to being elite, the barriers to taking the really good athletes forward.
Again I don't think you can progress or learn really well unless you have some issues, unless you have some negatives because as a coach it's great when things are going well but 70% of the time things aren't going well. 70% of the time you're having to figure it out on the fly, you're having to get people to buy in to the process because if people are hurt or people aren't progressing you need to find a way, you're always looking to find a way.
That was the second stage being an apprentice under Dan Pfaff which meant I had to coach my athletes alongside his athletes, which meant I could make mistakes and then I would have him right there telling me if it was a mistake and how to fix it. So rather than coaching in isolation I was surrounded by good coaches – and it wasn't just Dan Pfaff.
I spent some time out in the States and looking at all the best coaches out there and how they did what they did. They had a variety of philosophies along a whole continuum and what I like to think is that those initial stages allowed me to see the whole continuum of coaching systems and figure out where I sit on that continuum. As a developing coach that's probably the biggest thing as we get exposed to really good mentors and lots of good people but, at the end of the day, we need to figure out our own philosophy.
They talk about the 10,000 hour rule, you just need that time in the trenches paying your dues and figuring it out in real terms
That process has probably taken the last six or seven years and it wasn't until last year that I felt quite solid in my goals, the stages throughout the year and how I'm actually going to get to the fruit of my labour which I think we're starting to see with the young athletes who are progressing at the moment.
So how much of coaching comes down to problem solving then?
I think that if that isn't what you enjoy then you'll never be good at coaching. Athletes are humans and humans are complex, every day we bring a different issue to the table from inside or outside the sport. I do believe that I'm a problem solver, my master's thesis on Dan Pfaff was based on expert decision making, my whole career a part of my passion has been around how experts make decisions and how do you make quick precise decisions based on the information given to you.
The majority of athletics is looking at really talented athletes who produce a lot of power but their bodies aren't ready to deal with that power. I would summarise that the development of most athletes is getting them prepared with the technical and the physical skills to deal with the talent that they have. So really that is the problem that they bring to the table – they are too talented – I basically spend time getting them in tune with their bodies and getting them to understand.
Every athlete brings a different puzzle to the table and in the next 10 or 15 years I will start to really understand which puzzle it is and figure it out much quicker, because what I'm finding is that the more years I coach, the more athletes I'm exposed to, the quicker I can figure out the puzzle and the quicker I can give them the solution to the puzzle.
And finally, what have you made of Olivia Breen season so far and the progress she has made?
I think Olivia had an up and down winter, she was brand new to the system, brand new to how we train, the loads and intensities and she came with an injury from last year which was to do with an ingrown toenail and how her running gait is.
She came with issues but we've started to address them with basic conditioning and basic awareness of her body, some palates and some yoga and we're already seeing the benefit. At the Paralympic Games in 2012, the 100m was won in 13.50 with a world record and she's already ran 13.47 so she's already made a massive progression and the issues that she brings to the table, the majority of them, are the same issues that most athletes bring to the table.
Her cerebral palsy affects her more with her recovery than it does with her ability to train and learn skills. With most athletes we have to figure out how they learn and adapt our coaching and our programmes to them and their ability to learn. Cerebral palsy does present issues with retaining information and retaining movement patterns so we're just finding ways to give Olivia more opportunities to practice those movement patterns and give her the right processes within competitions to make sure that the movement patterns retain.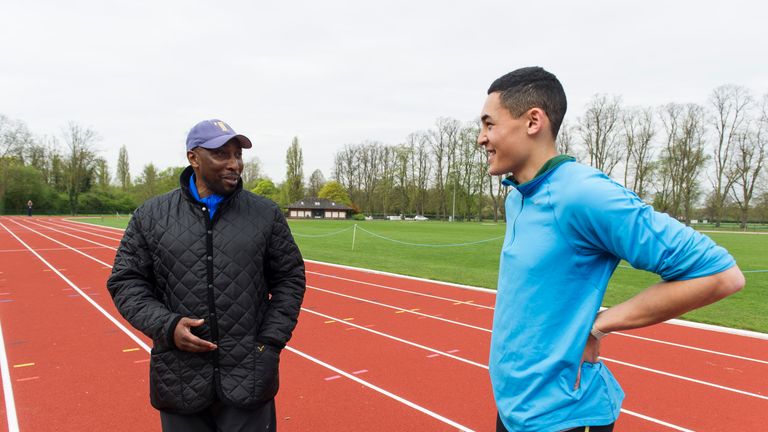 For example, most long jumpers in a competition might do some skipping or some running in between jumps and we're finding that we're having to do a lot more of that between jumps and more of that stuff prior to the day and within the week to get her ready. If I'm honest, that may apply to two or three out of ten of the able bodied athletes as well.
I would love to spend some time with someone like Sir Dave Brailsford and the Sky Cycling team because his philosophy and processes inspire me, I like the way he looks at things, he breaks things down, he looks at the minutiae and then puts it back together. That is basically my philosophy but he has done it in another sport and at a higher level so I would really like to see how he does it and how he manages his team.
Further to that, the amount of investment and time that they have put into their Paralympic team, and they definitely will have learnt a lot of lessons up from that. The Paralympic team, the cycling, the cerebral palsy side – I'd love to learn their lessons because I'm sure some of the key things they figured out about recovery, on loading, on monitoring stress for cerebral palsy athletes, on nutrition and supplementation those are the key lessons I would like to take and apply straight to Olivia. So that is at the forefront of my thoughts about using the programme and that's how I think we can make big jumps and big progress.