With two weeks until the Commonwealth Games begin, we spoke to swimmer Siobhan-Marie O'Connor about her medal chances.
I've definitely got times that I want to achieve – and previously they would have put me amongst the medals
A member of the GB team at the Olympics in 2012, Siobhan-Marie O'Connor has come on immeasurably since then and even in the past six months she appears to have found a higher level.
Since picking up a silver and a bronze medal at the European Short Course Championships at the end of 2013, O'Connor has hit a rich vein of form winning medals aplenty and setting new personal bests at almost every competition she has entered.
The 18-year-old from Bath has been showcasing her talent in a number of disciplines but it is the 200m individual medley where she really excels. Indeed, she set a championship record and another personal best of 2:09.63 at the Mare Nostrum Tour in Barcelona in June. That it was the second fastest time in the world this year shows that she will be a real medal contender in Glasgow.
O'Connor on...
Glasgow 2014: "I'm really looking forward to it. I've got another few days of hard training and then on Thursday, which is two weeks out from when I start racing, I start my taper. I start resting and just bringing the volume down in training which is something all swimmers look forward to, because it is when you start to feel good and you start to feel fresh.
"Then on Sunday we go to the holding camp in London and we're based at the Aquatic Centre, so that'll be really cool. It's the first time I've been there since the Games so I'm excited to see it. We're there for a week and then we travel up to Glasgow a few days before the start, so there're a couple of busy weeks ahead but I'm looking forward to the races now, it's been a really good build up."
Her events: "I'm definitely doing the 200m freestyle, the 200m individual medley, the 100m fly and the 4x200m relay. The 4x100m relay, I'm pretty sure I'll be swimming that but that won't be confirmed until we get there. Then, depending on how I swim in the 100m fly, I'll potentially have the 4x100m medley relay and I'd quite like to qualify for that relay so those would ideally be the events I'll be swimming."
Targets: "Me and my coach sat down and discussed what I wanted to do this year so I've definitely got times that I want to achieve and that I think I'm capable of achieving – and previously they would have put me amongst the medals. It's hard to think or plan medals, it's about what happens on the day but it would be good to come away with some results and I'd be over the moon with a medal."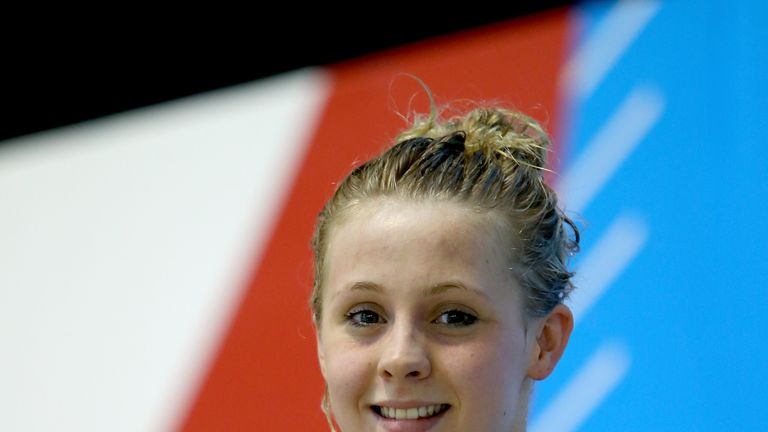 Form: "I'm really pleased, I've been surprising myself recently with how I've swum midseason. Trials went really well for me and that was a massive stepping stone for me really and I hit times that I'd wanted to do for a while. I dipped under the 2:10 mark in the 200m individual medley and I was really, really happy with that.
"Since then I've just been in really, really hard training but I've still swum good times pretty consistently and that's been a real confidence boost because although I've been knackered I've been able to pull out good swims and I think that is just through the gains I've made in training recently.
"We've tweaked a lot of stuff in my programme this year and that has really helped me to push on and this end of season has gone really well and I just hope I can continue it through the summer because that's where it matters."
Fans: "It is almost a home Games, it's nice to know I've got a big support group coming up with me this year – my mum, dad, brother, grandma, granddad and nan – to watch me. I'm looking forward to having what is pretty much a home advantage.
"They'll be more English supporters, British supporters there than any other. The support in London was absolutely unbelievable and to get that again would be incredible. This is what they call the 'Friendly Games' so that will be really exciting and I love the Games environment."
The road to Rio: "Although it's all about the Commonwealth Games this year, for swimmers there is always that four-year plan in place which started after the Olympics in London, and we're halfway now. This is sort of the halfway stepping stone, it's a big point in the cycle and it would be good to get the result that want and to see if I'm on track for what I want to achieve in Rio."