Six days, six medals. As Commonwealth Games go, Siobhan-Marie O'Connor's takes some beating. Indeed, if you look at back through the record books, before Glasgow, no one had enjoyed a more successful Games than the 18-year-old swimmer.
O'Connor's haul matched the best at a Commonwealth Games prior to 2014 and remains the most successful, in terms of medals, for any female athlete. Chad le Clos' remarkable seven medals in Glasgow means it is the South African swimmer who holds the overall record but his feat should take nothing away from O'Connor's stunning achievement.
I could never have dreamt of winning six medals, I was genuinely hoping to come away with one
Coming in to the Games, O'Connor was very much an athlete in form. The Sky Academy Sports Scholar had spent the preceding months recording personal bests in almost every event she swims. However, despite that she admitted to reasonably modest targets for Glasgow.
"I could never have dreamt of winning six medals, I was genuinely hoping to come away with one," she said. "It definitely surpassed my own expectations.
"My 200m medley, that was the one I was going for, that was the one I thought I had the best chance in and that was my strongest event."
As it turned out, the Bath swimmer had already taken her place on the podium four times before the 200m individual medley even came around, including two medals on the opening evening of competition in the pool.
"That was massive, swimming is all about confidence," O'Connor remarked. "You can do everything right in training but then you're relying on your body.
"When I got the first races out of the way I just felt so much better, more relaxed. The first two days to get three medals showed I was swimming well and that gave me a massive confidence boost for the rest of the week."
O'Connor revealed that there were still plenty of nerves when it came to the 200IM though, as a result of the expectations she placed on herself for the event. A gruelling schedule also meant that she went in to her heat not feeling at her best, something she put down to a lack of sleep after competing late in the evening on a number of occasions.
"I think just the late nights had caught up with me and I hadn't got enough sleep," O'Connor admitted. "The races were quite late, I don't think we raced until about quarter to 10 at night, I mean everyone else had the same problems but it was just a tough race.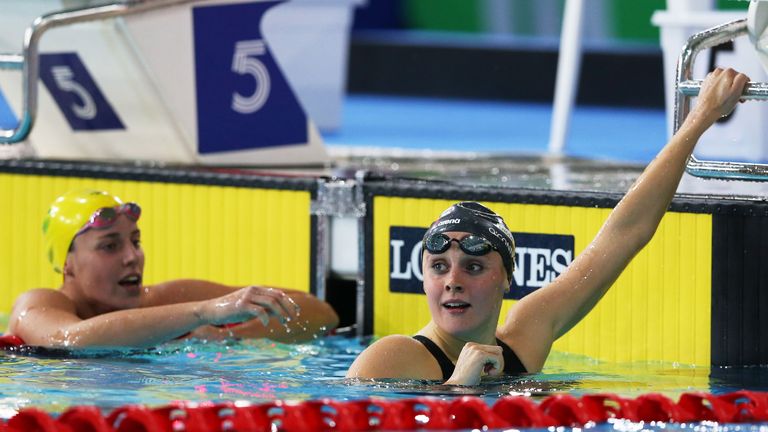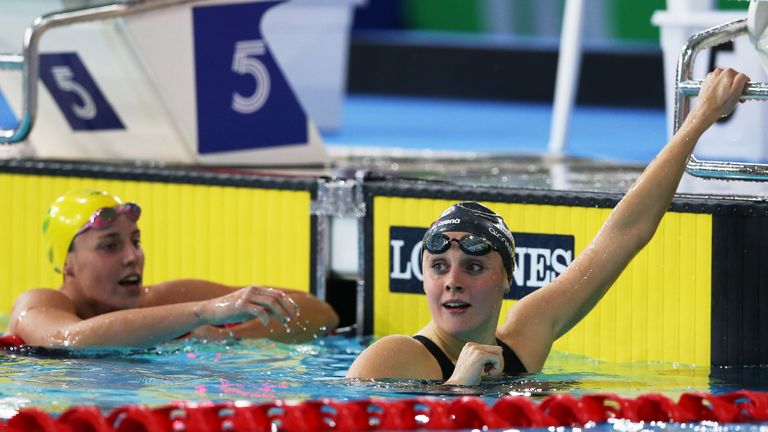 "I didn't feel good and so I was really, really nervous for my 200IM heat. I just wanted to post a good heat and for it to feel comfortable. Thankfully I was able to relax again and then I just had to hold my nerve for the final.
"The medley is the event that is closest to my heart, it's my favourite event, it's the one I love to do and, if I'm honest, it's the one that I'm best at - certainly world ranking wise and with my times and stuff. I knew I was swimming well and I was confident but I just wanted to swim well and I knew I was never going to get an opportunity like that again."
It was an opportunity that O'Connor grasped with both hands as she decimated the field in the 200IM final having set a relentless pace from the off.
After impressing through the meet, O'Connor was the favourite for the final but with the likes of Olympic silver medallist Alicia Coutts and home favourite Hannah Miley for competition, no one could have expected the teenager to win in such a dominant fashion.
O'Connor finished well clear of Coutts in second place having recorded a time of 2:08.21 to break the Commonwealth Games and British records. It was a memorable performance for those who saw it, but the swimmer herself only has vague recollections of the race that saw her claim her first major championships gold medal.
"Sometimes I can't even remember the races. I knew that I couldn't get carried away in the first 100m and just (had to) relax with the backstroke," she said.
"There were some incredible swimmers in that event, Alicia Coutts, Hannah Miley. I know Alicia didn't have the best meet but she's one of the best in the world, an Olympic silver medallist and I knew she was capable of doing something good.
"Hannah was having an incredible meet, she was swimming well, so I knew when I was ahead after 150m that I was on for a good time but anything can happen in the last 50m. Luckily enough I had the back end there and when I was coming down the last 50 and I could see clear water around me I thought I was on for a good time. But you don't know until you touch the wall."
I've made a lot of progress this year, I'm happy with how things are going. I hope I can carry on that progression and give myself the best chance that I can of swimming well in Rio
Having rounded off an astonishing Games with a sixth medal, this time in the 4x100m medley relay, another major championship was already the topic of conversation among pundits after a fantastic showing from all the home nations in the pool. The Rio Olympics may still be two years away but it appears that things are beginning to take shape for Team GB after an underwhelming display at London 2012.
For her part, O'Connor is delighted with her progress to this point, the halfway stage in this Olympic cycle. However, she refused to get carried away about her chances of repeating her Commonwealth Games success at the Olympics.
"I definitely am really happy with where I am now," she added. "This is definitely where I want to be and I've made a lot of progress this year, I'm happy with how things are going. I'm chuffed to bits.
"I hope I can carry on that progression and give myself the best chance that I can of swimming well in Rio. I'm sure they'll be lots of ups and downs along the way, it's a long journey, but I can't control what other people are going to do and what times they're going to do.
"I'm happy with how things are going for me and if I can keep the progression going then I feel I'll be in a good place."