It's been a busy few weeks for me.
Training has been moving in the right direction, I've moved house and I was at the launch of the Sky Academy.
I was reporting for Game Changers so I was lucky enough to meet some big names like Sky Academy Ambassador David Beckham, Jess Ennis-Hill, Darren Campbell and Johnny Nelson. It was a new experience but loads of fun and it's a privilege to be a part of the Academy.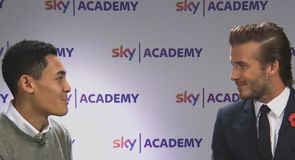 I'm off to Dallas in a couple of weeks to visit the Michael Johnson Performance Center. Thanks to my scholarship I've been able to fund the trip and I'm very, very excited.
The main purpose is to have an assessment of everything to do with me as an athlete, from my medical history to my biomechanics. If all goes to plan, once I return I'll be back running and then I can really get down to the business of training for 2014.