As part of my final preparations for Glasgow I have recently been away on a three-week trip competing and training.
We started our trip with the first round of the Mare Nostrum series in Monaco. I had never been to Monaco before, and was not only really excited to race there but also hoped that I would get chance to look around.
It was a great competition with some of the best swimmers from around the world. There were big teams from Japan and America and the atmosphere was great. The warm-ups were extremely busy as they only allotted a small amount of time for everyone to swim but the racing was really good.
In the 200IM I set a new PB time, which was a new meet record and an English record too
We knew that it was going to be incredibly tough as we were in very hard training and because the standard was so high. I swam well and was just off my PBs in my 100m and 200m freestyle and the 100m butterfly. Unfortunately I got disqualified in my 200IM heat which meant I couldn't swim the final. This was really frustrating but something I had to learn from as I deserved the DQ with a really lazy turn.
After the swimming finished on the Sunday we were able to explore Monaco for a few hours. It was incredible and one of the most amazing places I have ever been to. We had dinner just off Casino Square in a little pizzeria that was more in our price range than some of the restaurants in the square! It was so cool to see all the amazing cars and the beautiful hotels and I really enjoyed having the opportunity to go there.
The morning after Monaco we flew to Palma, Mallorca. This is where we were based for a two-week training camp. We stayed in a beautiful hotel that we have been returning to for a couple of years which is just a two-minute walk away from the BEST training centre.
The BEST centre is a beautiful, 10-lane, 50m outdoor pool and one of my favourite pools to train in. The hotel is a lovely resort for holidaymakers so we are very lucky to stay there and use their facilities, and even more importantly, enjoy the food!
Really tough
We had a really tough few days training from Monday to Friday and stuck to our normal strict training regime, but it was made easier with the lovely weather and being able to swim outdoors in the fresh air.
That Friday we flew to Barcelona for the final round of the Mare Nostrum Series and met up with the rest of the GB team who had been selected to compete at this competition. The standard of racing in Barcelona was even higher than it was in Monaco and it was another great meet.
I was really happy with how I swam. I was just off my PB again in the 200 free but slightly quicker than Monaco, and in the 200IM I set a new PB time, which was a new meet record and an English record too. This was a massive shock as I definitely didn't expect to swim that quickly whilst still in hard training and unrested, but it was a great confidence boost and nice to see that I was in good shape.
After Barcelona, which was only a two-day competition over the weekend, we flew back to our base in Mallorca for another two weeks of hard training in the sunshine.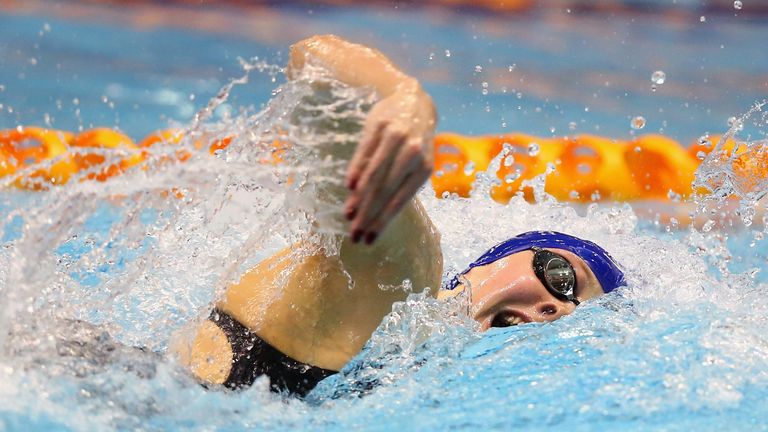 After our trip away, we had a few days back in Bath before we travelled to Manchester to compete in our last competition before the Commonwealth Games, the British Gas International Meet. The competition lasted a week but we needed to keep training hard so we only competed for two days so we could go straight back to training and have it as uninterrupted as possible.
This meet was very tough because they had scheduled heats for the evenings and finals in the mornings, which is the opposite way round to normal. This was to push us out of our comfort zones and to get us used to racing tough in the mornings, which is what we will need to be good at when we go to international competitions where it is much more difficult to make it out the heats.
I was really happy with how I swam. I competed in four races and won three golds, I also set a PB in my 100m freestyle. I surprised myself with my times and again it gave me a massive confidence boost to know I was in a good place.
This is my last blog before the Commonwealth Games. I leave for the holding camp on Sunday 13 July that is taking place in London. We are training in the aquatic centre and this will be my first time back there since the Olympics. I'm really looking forward to seeing the pool again, and hopefully it will bring back lots of amazing memories!
I start competing on Thursday 24 July which is the first day of the swimming.  I will be back shortly after we finish to let you know how I got on!