Sky Academy Sports Scholarships are delighted to announce the creation of a coaching development programme which will support the existing athletes' scheme.
The aim of the coaching development programme is to develop three coaches already involved in the Sports Scholarships programme so that they in turn can help our Sports Scholars to fulfil their full potential.
The coaches involved are Mark Bateson, father and coach of boxer Jack Bateson, Rob Denmark, a former Commonwealth Games gold medallist and Jessica Judd's coach, and lastly Jonas Tawiah Dodoo who coaches Olivia Breen, having previously worked with the likes of Greg Rutherford and Jonnie Peacock.
The programme is designed to help the coach develop and, equally, improve the athlete
The coaches selected for the programme have been chosen as, unlike the other Scholars' coaches, Mark, Jonas and Rob sit outside of their sports governing bodies and as such development opportunities can sometimes be limited.
They will be supported as they look to develop their knowledge of a number of different areas such as strength and conditioning training, biomechanics and performance monitoring.
That knowledge will then be put to practical use as the coaches put their athletes through their paces in training and ensure that they look after themselves as best they can both before and after competition.
The main objective of the Sky Academy Sports Scholarships programme is to give our eleven Scholars the very best opportunities in order to realise their potential. The Coach Development Programme can certainly play a key part in helping Jack, Jess and Olivia by encouraging the coaches to undergo a development programme specific to their athletes' needs.
"In simple terms, the programme is designed to help the coach develop and, equally, improve the athlete," said Head of the Sky Academy Sports Scholarships, Tony Lester.
Consultant
Working closely with the coaches to deliver the programme will be sports science consultant, Tony Lycholat, who has been brought in by Lester.
Lycholat is an applied sports scientist and sports rehabilitation specialist who has worked with numerous elite athletes across a multitude of sports for over 25 years.
"Here at Sky, we see supporting the coaches as being as important as supporting the athletes they coach," he said.
"Through this programme each coach is being helped to become an even better problem solver and the athlete will benefit as a consequence."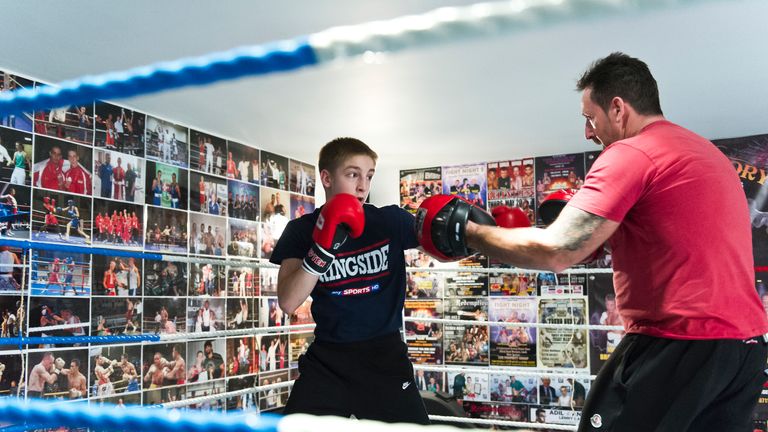 Indeed, as much as the programme stands to benefit them, all three coaches are in agreement that the extra support it will allow them to give to their athletes is the key benefit of the programme.
"Every gym does something different and every coach does something different and it would be nice to pick up different tactics, a different way of coaching altogether," said Bateson. "I'll think it'll be a massive benefit to Jack."
Denmark echoed that sentiment and felt that the programme has already had a positive impact.
"I think I'm already reaping the benefits through my association with Tony Lycholat," he said. "I met up with him a few times and we've bounced around some ideas about what we can do so I can develop my understanding and in areas that I feel that Jess Judd needs improving."
Tawiah Dodoo was similarly enthusiastic about the impact the programme could have on both himself as a coach and, consequently, Olivia Breen as an athlete.
"The skills I will learn and the equipment I will have access to will enable me to better prescribe the training, nutritional and recovery interventions specific to Olivia," he explained. "Hopefully the skills I learn will also increase my all round productivity as a coach."
You can keep up to date with the progress of our coaches, as well as the Sports Scholars, at www.skysports.com/scholarships.