Punchlines
Nick Parkinson with the latest boxing news and gossip in a big week for the British fight game.
By Nick Parkinson
Last Updated: 17/07/12 10:57am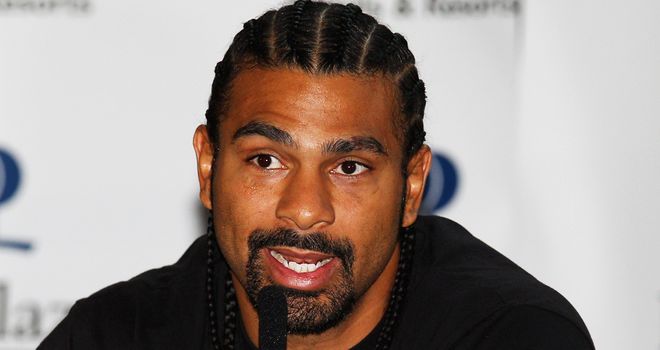 Dereck Chisora's trainer Don Charles claims he will take legal action against David Haye after Saturday's all-British heavyweight fight.
The clash at Upton Park, which the British Boxing Board of Control tried to ban, is expected to attract a crowd of 30,000 and there is plenty of nationwide interest in the showdown after Haye and Chisora brawled at a press conference in Germany last February.
During the mayhem in Munich, which followed Chisora's valiant points defeat to WBC world champion Vitali Klitschko, Charles claims he was struck by Haye.
Former world champion Haye, 31, has since claimed he broke Charles' jaw with the punches he caught him with, and also called the trainer an 'idiot'.
Charles, 51, says he will not shake Haye's hand after the fight and intends to then launch a legal battle against the London boxer.
He told Punchlines: "I have dealt with it in a legal way. He is proud of what has happened and he has gloated about it, but he will be judged.
"I'm going to deal with it legally and I have now got constant headaches because of what he has done.
"I wasn't in a fight with him. All I did was separate him from fighting Dereck and he gave me a vicious left hook and tried to hit me with a camera tripod.
"We have got a case pending and if we activate that he could go to jail.
"I won't shake his hand after the fight because he's an arrogant individual. It's very personal - but he is the one who has made it personal."
As for the fight itself, Chisora is counting on his incessant pressure to give Haye problems.
Chisora, 28, said: "He best be prepared because I'm going to tango. I'm going to be all over him like a baby's rash. David has always been a backfoot fighter and there's no way he's going to change his ways.
"A fighter never changes. Just like when Ricky Hatton changed trainers, he was still a front foot fighter. His hands will be down because that's his style. He will try to lure me in there but I have got that covered."
But Haye has been promising a fast start and says Chisora will fall right into his trap.
The Hayemaker, who lost on points to Wladimir Klitschko last year, told Punchlines: "He a come forward puncher but he won't be walking forward for too long, he will be going downwards. He's a pressure fighter, a bit like John Ruiz was, and I put him on his ass in 25 seconds."
Chisora and trainer Don Charles came to blows during one training session last month, but Haye does not see that as evidence that his fellow Londoner has prepared poorly.
He told Punchlines: "Him and Don Charles have had their difference but myself and my trainer Adam Booth have had our bust-ups in the past. When tensions are running high in the training camp and there's so much at stake, money and pride, it wouldn't be right if it didn't boil over sometimes.
"There's no advantage for me that they rowed, if anything it will Chisora stronger. Me and Adam have had tiffs... but I have to say he's never hit me."
Quick Hits
Amir Khan expects Saturday's world title unification fight with Danny Garcia to be his last at the ten-stone light-welterweight division.
Khan, 25, had planned to step up a division after December's fight with American Lamont Peterson, but then made a rematch following his points defeat. When Peterson tested positive for drugs, the rematch was scrapped and a fight with unbeaten American Garcia was hastily arranged.
Khan can win back his old WBA belt and take Garcia's WBC strap with victory, but he admits he may never defend the titles.
He said: "Yeah, it could be one of the last fights. It just depends on how it all goes, but yeah, I think it's maybe time after this fight to move up to the next weight category and go for the new challenges.
"It's like I said it's just taking one fight step at a time. I've not really thought about it just yet. I want to think about it after the fight when we know exactly what happens.
"My ambition and my goals are to hopefully get through this fight, win this, and then move up to the next weight category and ace the big names in that division.
"My ambition is to fight the best and one day when I leave the sport of boxing I want to recognize Amir Khan for the best and for everyone who was out there."
Fury date
Manchester 6ft 9in heavyweight Tyson Fury, who smashed American Vinny Maddalone in five rounds on Saturday, is expected to box again in October. Poland's former two-weight world champion Tomasz Adamek was mentioned as a possible opponent, but he has been linked to a September 8 return against James Toney instead. Another possible opponent for Fury is former European champion and British rival Audley Harrison.
Hatton-Witter
The Hatton-Witter rivalry is back on - nearly 12 years after Junior Witter gate-crashed a Sky Sports interview after Ricky Hatton's win over Jon Thaxton. Years of bad-mouthing each other followed without the pair ever meeting despite them holding different versions of the world light-welterweight title.
Witter, a former world champion and now British welterweight title holder aged 38, has now switched his target to Ricky's younger brother Matthew, 31. He said: "The family rivalry has been going on for so long and that will stir Matthew up. His mum will fire him up. The mother is the one in the family who's got that bit of fire and will drive him forward. She hates me..."