A break of 147 gave Ronnie O'Sullivan the Welsh Open title
Ronnie O'Sullivan won the Welsh Open in sensational fashion, making a maximum break in the final frame.
Last Updated: 03/03/14 12:36pm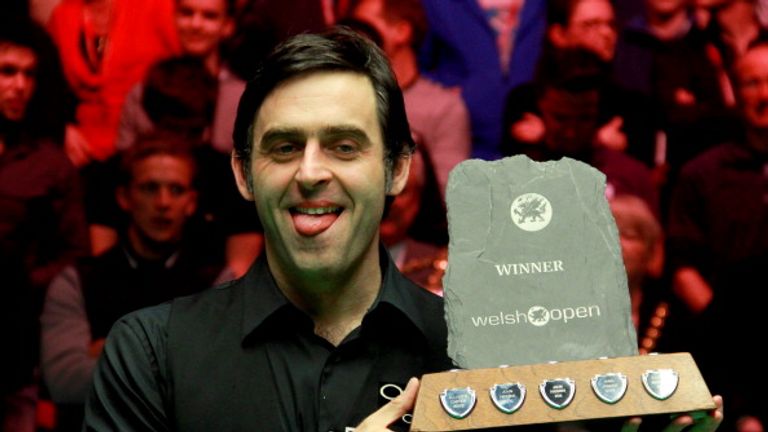 It was a record 12th competitive 147 for the 38-year-old, who has been in rampant form all week in Newport and was securing a third Welsh Open triumph.
O'Sullivan dominated the opening session to open up a 7-1 lead but Ding made a superb start to the evening's play with breaks of 109 and 121.
But O'Sullivan won the next frame with breaks of 48 and 49, before completing victory in great style.
It looked like the 147 might not happen when O'Sullivan got a kick on the final blue but he potted a good pink and then delighted the crowd by switching to sink the final black left-handed.
Congratulations
O'Sullivan said: "I've made 11 (maximums) right-handed but that one counts as a left-handed 147 because, if I missed that, it wouldn't have counted!
"At first I thought 'no, just get the match won', but, on about 60 or 70, I thought 'I've got to go for it'.
"I want to congratulate Ding. He's won four (ranking events) this season and, if he'd won this, he would have equalled (Stephen) Hendry's record.
"He's got three or four more events to go and I still fancy he'll do it.
"I hope when I slow down, he can win plenty more. You should enjoy him, he's very special."
Having made three centuries in his 6-2 semi-final win over Barry Hawkins, O'Sullivan picked up where he left off in the final, breaks of 91 and 70 helping him into a 3-0 lead.
Ding then pulled one back but lost the next despite a break of 55 and went almost 42 minutes without potting a ball at one point as O'Sullivan surged clear, to set the stage for a dramatic evening session.