World Championship: Ronnie O'Sullivan makes short work of Barry Hawkins in semi-finals
Last Updated: 02/05/14 10:44pm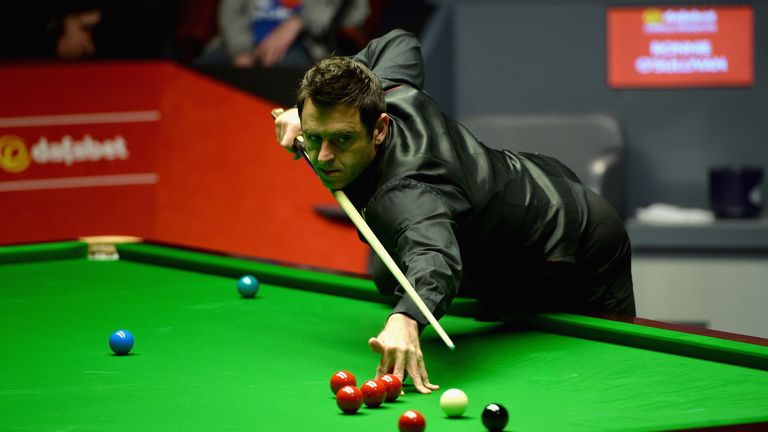 Ronnie O'Sullivan booked his place in the final of the World Championship by beating Barry Hawkins 17-7 with a session to spare.
Defending champion O'Sullivan had stretched his semi-final lead to 11-5 on Friday morning, leaving Hawkins needing to win at least three of the eight frames in the evening to extend the best-of-33 contest into Saturday's deciding session.
O'Sullivan managed to get the job done and earn himself a day off, recording breaks of 76, 55, 103 and 84 to set up a final against either Neil Robertson or Mark Selby.
He will be contesting his sixth World Championship final and has won all five of his previous appearances, including in each of the last two years.
At one stage it seemed to be becoming a formality for O'Sullivan to win a second match in a row with the added humiliation for his opponent of failing to go the distance, as he burned to a 10-2 lead after breaks of 83, 53, 112 and 106.
Shaun Murphy had suffered a snooker annihilation at the hands of O'Sullivan in the quarter-finals, taking a 13-3 pasting.
Hawkins finished for lunch with a terrific 106 break but could only take two frames in the evening session, one with a break of 67, as he again struggled to find the groove.
Against O'Sullivan, the man who beat him in the final last May, the 35-year-old Kent potter needed to pull out his best form, but in the end his opponent had too much for him and came through with a session to spare.
Hawkins was out of sorts as they began the morning, gifting O'Sullivan openings and having to stay seated while the five-time world champion scoffed down the chances.
O'Sullivan, remarkably, had potted his first 100 balls of the morning in the time it took Hawkins to sink just five.
The 20-minute mid-session interval allowed Hawkins to regroup, and he took two of the next three frames before making it three from four with the century break as O'Sullivan lost some of his sparkle.
Yet with Robertson and Selby contesting the other semi-final - a match that is guaranteed to finish on Saturday - the chance to take a day-long breather between matches was appealing and in the end achievable for the man chasing a hat-trick of consecutive titles in Sheffield, as he claimed the six frames he needed to progress.
Selby stays ahead
World No1 Robertson and 2007 Crucible runner-up Selby were engaged in a gripping contest and their second session came with a late twist.
Having looked like remaining close all the way through to Saturday evening's scheduled final session, Selby pulled away from 7-6 and appeared certain to seize an overnight 10-6 advantage.
But having reached 53 on a brisk visit in the 16th frame, Selby missed an easy black and presented Robertson with a chance he could not afford to refuse. Duly the Australian rifled in a break of 61 that meant he halved the session and will resume in the morning just 9-7 adrift.
The session had begun rich in promise for Robertson, as he buzzed from 5-3 behind at the start to 5-5, reaching parity with a break of 113, the 102nd century of his record-breaking season.
Robertson had fought from 5-1 behind to beat Selby in the final of December's UK Championship, but this time the Leicester potter was not proving so easy to swat aside.
Out went Selby's lead to two frames again at 7-5, and despite Robertson punching in a break of 72 to cut the gap, the 2010 world champion soon found himself staring at a probable four-frame deficit.
From his seat Robertson would have feared the worst as Selby piled on the points, but the blunder on the black allowed the 32-year-old back in, and his clearance to the pink brought a satisfying reward.
They return at 10am on Saturday, before playing to a finish at night.