See what our experts have been saying about the big issues in this week's Talk of Sky Sports
See what has got the Sky Sports experts' tongues wagging over a busy seven days in sport.
Last Updated: 04/01/13 4:06pm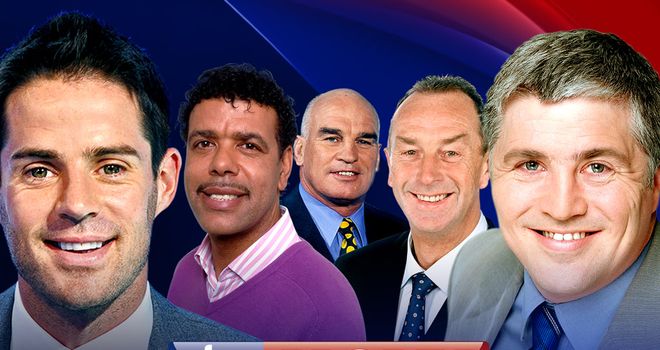 Whatever your sport, our team of pundits, columnists and bloggers are here every week to bring you the sharpest views and the shrewdest comments on the latest developments.
Some of the most respected names in the business, including Jamie Redknapp, Stuart Barnes, Stevo and Paul Merson deliver their views with their expert columns, while we also have blogs from the likes of David Lloyd and Jeff Stelling.
Here's a snapshot of what the experts have been saying over the last seven days...
" I was terribly sad to hear the news about Tony Greig and Christopher Martin-Jenkins; two really good pals. The game will be much worse off without the pair of them. As commentators they were both AAA+, although at different ends of the spectrum. One was very traditional and old school, while Greigy was one of the vibrant new breed who got things across in his own way. ! was with Greigy a few months ago for the t20 World Cup in Sri Lanka. We shared a place together up in Kandy and travelled to games in his sponsored Hyundai. He never really changed from the early 1970s when I first came across him and was fabulous company."
Bumble says cricket is worse off for the loss of Tony Greig and Christopher Martin-Jenkins.
Taken from 'Real raconteurs'
"I've no doubt that a sizeable Toon Army will travel to the Amex and I think Alan Pardew will feel obliged to play a pretty strong side. After all, Newcastle are not 'a wee club'; they're a huge, huge one even if they haven't won anything for so long. It's a pretty difficult balancing act for Pardew because Premier League survival is a must but fans have had to wait for silverware for far too long. While Newcastle are still in the Europa League, the FA Cup represents their best chance of winning a trophy. If they are to achieve that, they'll have to do so without Demba Ba, whose move to Chelsea is a desperate blow for Newcastle."
Jeff Stelling blogs on the tough FA Cup choice facing bosses of the Premier League's struggling teams.
Taken from 'The Cup conundrum'
"So as a director of the PDC, I sent an email to the PDC CEO Matt Porter and Sky Sports' Executive Producer Rory Hopkins to discuss it - and then I sent an email to Barry Hearn suggesting increasing the field to 10. It gives the spectators two more players to watch - and therefore an extra game each week - which is better value for them. We'll also bring the match format down a bit, probably best of 12 legs, because a shorter format is more exciting to watch. Plus if you end up with a bad game the crowd won't get bored because they're not up there for long. Sky were happy with the idea, Matt Porter was happy with the idea and we were just waiting to hear from Barry. He straight away agreed."
Rod Harrington explains why having 10 players in Premier League Darts will give fans better value.
Taken from 'Ten out of ten'
"Following the 2-1 win at Newcastle, Everton have both scored and conceded in 18 of their 21 Premier League games this season. They kept a clean sheet at home to Manchester United and away at Swansea and they failed to score at West Brom, but otherwise there have been no shutouts at either end in any Everton Premier League games this term. There have been goals at both ends in 85 per cent of their games and if that continues until the end of the season they would reach 32 games - and that WOULD be a new record for the number of games in which a team has both scored and conceded."
Martin Tyler explains why if it's goals you're after, you could do worse than watch Everton...
Taken from 'New year Blues'
"Morgan has been the cornerstone of one of the meanest defences in the Championship, revelling in captaining one of the sides expected to fight for automatic promotion or, at the very least, the play-offs. Quick, aggressive and brave, Morgan has led by example at the Foxes and has also improved his distribution, often stepping out from the back and controlling possession. Finally, I would also like to mention three young guns who have lit up the second tier: Nathaniel Chalobah (Watford), Will Hughes (Derby) and Zaha (Crystal Palace)."
With half of the season gone, Peter Beagrie names his Football League star performers.
Taken from 'Halfway heroes'
"When we met up at Spurs training ground ahead of the Christmas fixture programme, Caulker was clearly enjoying his surroundings back at the club he joined as a 15-year-old. He is displaying a maturity beyond his years. That much was in evidence by the way he handled himself in the aftermath of the England Under 21 match in Serbia earlier this season. Handed a two-match ban by UEFA for his part in the brawl his response has been dignified. While those close to the set up believe Caulker was amongst the playing victims of intolerable abuse on the day, the player has held his counsel.
Tottenham's Steven Caulker is displaying a maturity beyond his years, says Johnny Phillips.
Taken from 'Caulker's a corker'
" We're past the halfway stage now and there can be no let up. At the top the deposed champions Manchester United, inspired by the goals of Robin Van Persie, will take some shifting. But Manchester City have too much class to go quietly and the challenge from London could grow from Tottenham and Chelsea. Arsenal, as ever, and Everton are also in the hunt for a top-four finish and both may look to the January window to aid their cause. Liverpool surely will, and their most optimistic supporters will consider a five-point deficit on their Merseyside rivals easily surmountable."
The Christmas football was pulsating, says David Jones, but there will be no let-up in 2013.
Taken from 'New year, same story'