Higgins hails Crucible
John Higgins talked to Sky Sports his love for the Crucible and the first-match nerves that will kick in on Saturday.
Last Updated: 13/04/12 12:26pm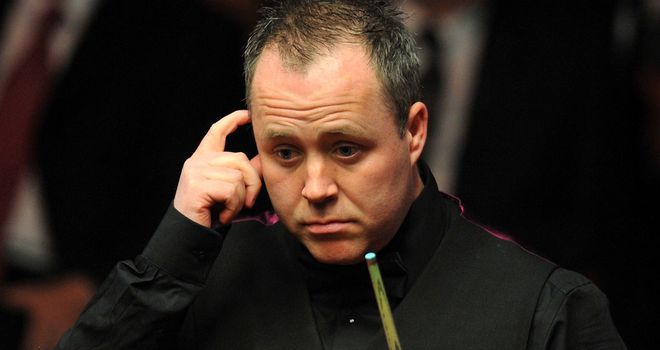 John Higgins told Sky Sports he will be sick with nerves before he walks out at the Crucible to defend his World Snooker Championship title, but insisted there was nowhere that could match the Sheffield stage.
Higgins has won three of the last five world titles and is again amongst the big favourites to lift the trophy when the Betfred.com World Championship gets underway on April 21.
The Wizard of Wishaw will bring the curtain up on this year's tournament as he plays a qualifier on the opening morning of the event, and he admits he will be full of nerves.
"The nerves are really there just before you walk out at the Crucible, you'll probably feel physically sick, but once the match gets underway there's no better place to be than playing in the World Championship," Higgins said on Sky Sports News Radio.
"I'm just concentrating on winning that first match, once that's out the way you feel like you're in the tournament and you can see where you go from there."
Form
Higgins admits he is not in the best of form, and although he has a great record at the Crucible he is wary of the amount of players who are capable of winning this year.
"My form's not been the best this year, I've not played anywhere near as well as I can do so I've got ten days to try and rectify that on the practice table, and then hopefully when I go to Sheffield next Friday I can get ready to try and play well on the Saturday," he added.
"You know there's so many great players out there they've all got their own pressures on their shoulders, you just get yourself as ready as you possibly can and hope you do well.
"I think you could maybe pick another ten players who've got a genuine chance of winning it this season.
"It's all the usual suspects who you think will win it, one of them probably will win it.
"You'll all have your favourites, some people will want Judd Trump to come back and try go one better and win it but some people will want Ronnie O'Sullivan to win it for a fourth time.
"There are so many players out there capable of winning it."
Atmosphere
And once the early rounds are out of the way, Higgins says the real magic of the Crucible comes when it goes down to just a one table set-up.
"It's an arena where it just changes, when it's a two-table set up it's very small and you can hear everything going on, then when you get down to the semi-final or the final and it's just one table it changes totally.
"It becomes like a bear pit, you're just thrown in there and then that's when the nerves really start to kick in,
"There's no other place that comes close to matching the atmosphere that you've got at the World Championships."