Magical maximum for Hendry
Stephen Hendry knocked in a superb maximum 147 break on the opening day of the World Championship at the Crucible.
Last Updated: 22/04/12 4:11pm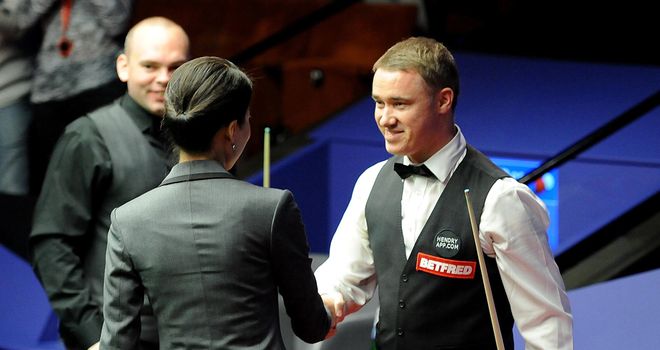 Stephen Hendry showed he is still at the top of his game as he knocked in a superb maximum 147 break on the opening day of the Betfred.com World Championship, where defending champion John Higgins survived an lmighty fright to progress.
43-year-old Scot Hendry only arrived back in the country on Friday after a long-haul business trip to China, which began on Monday, a day after he won a qualifying match to reach the Crucible.
He had joked last Sunday that playing with jet lag might help his game, after a difficult season in which he has struggled for results.
But Hendry cannot have dreamed he would play so well today, as he opened up an 8-1 lead over Stuart Bingham, needing just two more frames tomorrow to reach the second round, where John Higgins will be waiting for him.
The maximum came in the seventh frame and was the third Hendry has managed at the Sheffield venue, after previous efforts in 1995 and 2009. Ronnie O'Sullivan is the only other player with three Crucible maximums.
Best break
"I have a match still to win, but the 147 was probably one of my best, position-wise, and it was absolutely fantastic to make a third maximum at the World Championship," said Hendry.
"I felt really good out there, and the jet lag - well, sleep is for wimps. It's the new way, fly in to Sheffield the day before with no practice!
"That ties with me with Ronnie to have made three here, and I don't care what Mark Williams says about the Crucible, there is no better feeling than to make one here."
Ken Doherty and Neil Robertson, former world champions playing on the other side of the arena, stopped playing as Hendry moved close to the magical mark, and together with Bingham they offered their congratulations.
Robertson, champion two years ago, sped to a 7-2 lead over 1997 winner Doherty. In the second frame Doherty threatened a 147 but missed the 14th red after taking 13 reds and blacks, breaking down on 104.
Doherty was 3-2 behind at one stage, but Robertson stepped up the pace and surged clear with centuries in each of the final three frames - 106, 108 and 100.
Higgins fright
Defending champion Higgins survived a major fright as he set up what seems certain to be a battle of Scotland against Hendry in the second round.
Higgins trailed 52-44 in the deciding frame against Chinese qualifier Liang Wenbo, and pulled through when his opponent failed with a daring double but instead left a chance for the defending champion to clear up.
Earlier in the frame, Liang had called a foul on himself in a outstanding show of sportsmanship.
A 10-9 win carries Higgins into the last 16, and with Hendry so far ahead it seems certain they will clash for surprisingly the first time ever at the World Championship.
Earlier, 30-year-old former potato farmer David Gilbert surged 6-3 ahead of Martin Gould.