Allen shocked by Cao
Mark Allen became the first major casualty of the World Championship when he lost 10-6 to qualifier Cao Yupeng.
Last Updated: 22/04/12 9:45pm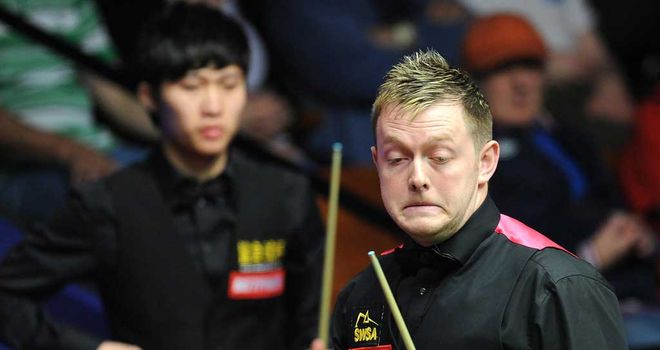 Mark Allen became the first major casualty of the Betfred.com World Championship when he lost 10-6 to Chinese qualifier Cao Yupeng in the opening round.
The 26-year-old world No 11 from Northern Ireland had reached the semi-finals at the Crucible in 2009 and the last eight in the last two years.
But he fell at the first hurdle as Asian U21 champion Cao, 20, bridged a gap of 70 places in the world rankings to ensure he will earn at least double his previous career winnings.
Cao was 5-4 up overnight following breaks of 70, 69 and 51, and a pair of classy centuries - 108 and 113 - steered him to the brink of a place in the last 16 at 9-5.
Allen responded with 101 to close the gap, and looked to have made it 9-7 when he cleared from blue to black.
There was a wicked twist in the 16th frame though when Allen celebrated at potting an apparent frame ball, only for the white to drop into a corner pocket to hand the victory to Cao.
Allen admitted he was "completely outplayed", but the outspoken 26-year-old suggested at his post-match press conference that Cao should have called a foul on himself during the opening frame of the concluding session, at a time when the match was finely poised with Allen just 5-4 behind.
He said the incident came when Cao was on a break of eight, which became a break of 33. Cao denied any knowledge of the incident.
Allen said: "I thought the big turning point in the match was at 5-4 when he was in the balls and Paul Collier, the referee, missed a blatant push.
"It was quite obvious to me and anyone who was watching at home would have been able to see it no problem."
Allen felt he was denied what should have been a chance to come to the table and make a substantial break himself.
Big stage
"It was a big stage of the match," Allen said. "If the referee rightfully called a foul there I'd have had a chance of going to 5-5 and the match would have been different but he went on to pull away.
"It seems to be a bit of a trait for the Chinese players because there've been instances in the past, of fouls and blatant cheating going on. It needs to be corrected.
"He's a good enough player and he doesn't have to do that. He looked at the referee as soon as he did it, as if to say, 'Are you not calling a foul here?'.
"I was pretty confident at the time it was a foul, and he pretty much confirmed it to me at the interval.
"It's very, very sad the state of snooker if it has to be down to that, but it's not the first time.
"I'm disgusted that it happened. It shouldn't happen in professional sport. Cao looked at the referee too so I'm very confident on where I stand on that."
Allen went on to name two players from the Far East whom he claimed had cheated in the past.
A World Snooker spokesman confirmed the comments from Allen would be examined by the World Professional Billiards and Snooker Association.