O'Sullivan eases past Ebdon
Ronnie O'Sullivan wrapped up a 10-4 victory over old adversary Peter Ebdon to reach the second round at the Crucible.
Last Updated: 24/04/12 5:36pm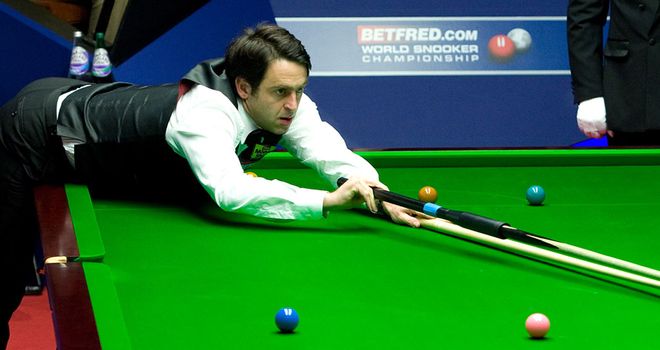 Ronnie O'Sullivan wrapped up a 10-4 victory over old adversary Peter Ebdon to reach the second round of the Betfred.com World Championship on Tuesday afternoon.
'The Rocket', leading 7-2 overnight, wasted little time booking a last 16 date with either Mark Williams or Liu Chuang, as both he and Ebdon shared the four frames played when play resumed at the Crucible.
O'Sullivan avoided the fate which befell him in 2005 against the same opponent, when Ebdon came from 8-2 behind to win their quarter-final 13-11.
Despite winning the China Open at the start of the month, the 41-year-old Ebdon barely troubled O'Sullivan at any stage as he suffered a fourth successive first-round exit at the Crucible.
Since their famous match in Sheffield seven years ago, O'Sullivan has now won five consecutive meetings with the 2002 world champion.
O'Sullivan powered in breaks of 80 and 68 to seal his comfortable success.
O'Sullivan was pleased to be through his first test, saying: "I knew it was going to be tough and I expected a tough game. That's what you get with Peter.
"You just have to be solid. I tried to take my chances and even if I missed a few balls I didn't get down on myself.
"I was just hoping that the next time I got to the table I was able to do something and get some points on the board."
Pleased
He added: "My game's not brilliant, but at least my mind is allowing me to give 110% and get what I can out of matches, so I'm pleased with that side of things.
"Whatever happens now is a bonus for me. If I win, then great, but if I don't it's not the be-all and end-all. I'll just enjoy this one."
Also on Tuesday, last year's runner-up Judd Trump withstood a bout of suspected food poisoning to edge ahead of Wales' Dominic Dale.
The 22-year-old English potter was unusually subdued in the early stages of his World Championship opener, and when he trailed 3-1 at the mid-session interval it seemed he was in trouble.
At that stage, Trump might have taken a 5-4 deficit, but instead he leads by that scoreline overnight, an ideal state of play considering his ill health at the start of play.
Trump finished the session in style with a rapid 68 break, doubling in the black in thrilling style.
Trump's management believe he became sick after eating chicken, and he continued to feel ill after the session was over.
Trump wrote on Twitter: "Not a good day led in bed, tryna get better for tommorow. 1st time iv had food poisoning and hopefully the last."