Perry downs Dott, bad Day for Ding
Joe Perry sent Graeme Dott tumbling out of the World Championship following a comprehensive 10-1 victory over the 2006 champion.
Last Updated: 25/04/12 8:23pm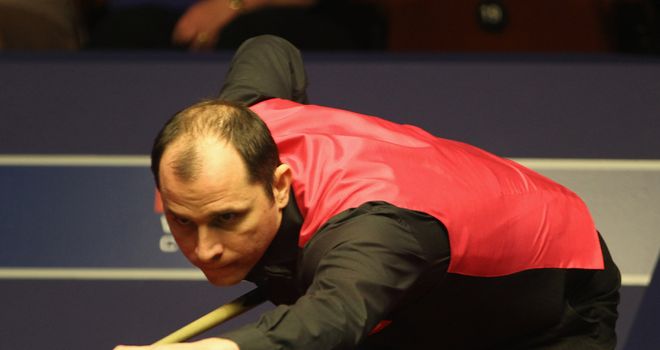 Joe Perry sent Graeme Dott tumbling out of the Betfred.com World Championship following a comprehensive 10-1 victory over the 2006 champion on Wednesday.
Trailing 8-1 after a disastrous opening session, Dott's fate was swiftly sealed the following morning as the Scot slumped to his heaviest ever Crucible defeat.
'The Gentleman' Perry will next play Stephen Maguire in the last 16.
Dott was frank about his performance, admitting it was a 'terrible' display.
"I played terrible. I don't think I've played worse, not only at the Crucible but as a professional. I just couldn't pot a ball," the three-time finalist said.
Rubbish
"I've not really played well all season. But normally when I come here I play pretty well, but you can't rely on playing well here all the time. You're eventually due a stinker. But to play as bad as that is hard to understand, it's demoralising.
"I couldn't have cared less if it was a whitewash, what difference would it make? Ten-nil or 10-1, it's still a drubbing. I lost 10-7 to Joe Perry here once and he played fantastic, I couldn't give him any more high praise.
"But he's beaten me 10-1 there and he's played rubbish. Joe's not played well at all there. I'm sure he'll say he needs to play a lot better to win his next match."
Perry, ranked 26th, accepted he had not played well - his highest break was just 59.
The Cambridgeshire player said: "It is the worst I have ever seen Graeme play, we all know what a good player he is and one who won't throw the towel in.
"I wasn't happy with my own game, and was just trying not to feel sorry for my opponent. As a professional sportsman you can't do that but it was tough.
"I wouldn't have particularly wanted to whitewash Graeme."
Superb
Also on Wednesday, Ding Junhui relinquished a 9-6 lead to lose 10-9 to Wales' Ryan Day, becoming the seventh seed to lose inside the tournament's opening five days.
China's big hope for world title glory trailed 5-4 overnight and fell a further frame behind immediately, before Ding reeled off five in a row to lead 9-6.
Day battled back superbly to force a deciding frame, but the 32-year-old from Bridgend seemed to have thrown away all his good work with one shot, taking on a long pot but missing it by a margin and scattering the reds.
That left Ding a golden chance to make a match-winning break but the Sheffield-based 25-year-old missed a red with the rest after reaching 48. It was a battle of nerves and Ding's had failed him.
After world number 35 Day had completed the win, Ding was left furious with not only his own game but also the conditions at the Crucible.
Ding said: "It was all rubbish. I don't think I played well. I don't think the table's right. I don't think the fans are right. All rubbish. Rubbish fans.
"I was concentrating on the game and they kept shouting out. How can they do that?"