Trump battles on
Judd Trump overcame sickness to beat Dominic Dale at the Crucible, where world number one Mark Selby wasthe big casualty.
Last Updated: 25/04/12 10:11pm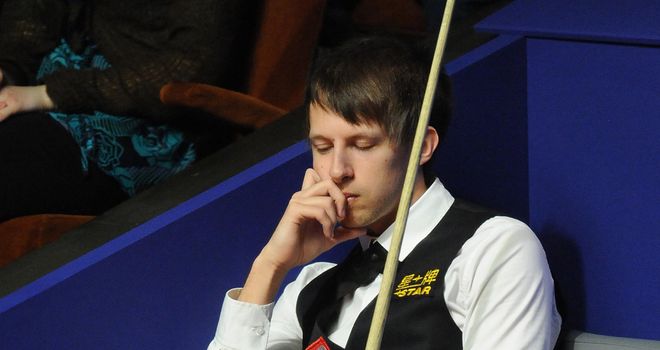 Betfred.com World Championship favourite Judd Trump overcame sickness to scrap his way to a 10-7 success over Dominic Dale at the Crucible, where world number one Mark Selby was also dumped out.
Perhaps the most predictable defeat for a world number one arrived when Mark Selby lost 10-3 to Barry Hawkins.
Selby, from Leicester, came to Sheffield with little practice behind him after suffering a neck injury which caused him to pull out of the China Open last month.
Selby said: "I'm happy I managed to get here and give myself a chance."
Despite apparent food poisoning, 22-year-old Trump showed why he is favourite to go one better than last year with his battling success against Welshman Dale.
Seeds losing
With the seeds scattering in Sheffield, where Ding Junhui and Graeme Dott joined the list of casualties on Wednesday, Trump's prospects of justifying his pre-tournament status as the title favourite look to be improving by the day.
So too is his health, with Trump reporting he felt "a hundred times better" than he was in the opening session.
"It started on Monday night, about an hour after I ate. And then I woke up sweating in the middle of the night, and I was being sick at eight in the morning, until half past nine," Trump said.
"If it was a smaller event I maybe wouldn't have played. I haven't eaten properly for two days now. I tried to have some soup last night but other than that it's just been bread. I'm struggling today so was just glad to get out of there.
"I feel a hundred times better today but still nowhere near my best."
Last year's runner-up is back in action on Saturday evening against Mark Davis or Ali Carter, by which time he could be back to his usual attacking self.
"Early on in my career I would have got down on myself because I wasn't putting on a show for the crowd," he added. "But I wasn't bothered how I played at all, I just had to get through to the next round.
Williams booed
Two-time former champion Williams felt the wrath of the Sheffield crowd following his foul-mouthed criticism of the Crucible as he began his own campaign.
Welsh 37-year-old Williams was booed by hundreds of spectators before his match against Liu Chuang, in which he built up a 6-3 lead, aided by breaks of 72 and 111 in the final two frames.
Williams, world champion in 2000 and 2003, blasted the Sheffield theatre in a series of Twitter comments on the eve of the tournament last Friday, for which he is certain to be fined. Williams also said he hoped the tournament would move to China.
His comments were described as "absolute lunacy" by World Snooker chairman Barry Hearn, and a good quarter of the audience expressed their disgust when Williams strode out.
Referee Olivier Marteel had to hush the crowd to allow the player introductions to continue.