Williams sets up Rocket clash
Mark Williams completed a routine 10-6 victory over Liu Chuang to set-up a huge second round clash with Ronnie O'Sullivan.
Last Updated: 26/04/12 11:18pm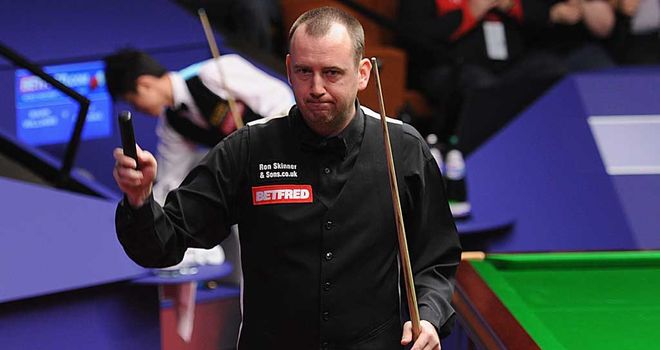 Mark Williams was still not the Curcible crowd's favourite as he completed a routine 10-6 victory over Liu Chuang to set-up a huge second round clash with Ronnie O'Sullivan.
Welshman Williams received more jeers from the crowd as he started the second session of his match 6-3 ahead - following his recent derogatory remarks about the Betfred.com World Championship venue.
Williams moved 9-3 in front of the 21-year-old Chinese star, who then threatened a remarkable comeback by taking three frames in a row before Williams eventually sealed his passage into round two.
"I probably should have won it a lot earlier than that. With every frame he was winning I was starting to come under more pressure," said Williams.
"At one stage I was in my chair wondering how many more he was going to pull back. I'm over the moon to scrape through."
Boos
The boos were not as ferocious as in the first session, but the Crucible fans still gave two-time champion Williams a taster of just how his comments have gone down.
"Of course. I've already apologised to the main people I've really upset - the staff and the people in the Crucible," he said. "There's not a lot more I can do really.
"It just came out a little bit wrong. It's not one of my favourite venues, (but) once it goes down to a one-table set-up it's completely different."
O'Sullivan will present a much sterner test than young Liu, who could not find the form he displayed when beating Jimmy White and then Jamie Cope in the qualifying stage.
One of the most eagerly-anticipated matches possible at the Crucible will take place on Saturday afternoon when Williams will finally look to get one over on The Rocket.
Payback
Left-hander Williams has never beaten O'Sullivan at the Crucible, and has lost out to the three-time world champion three times in the last six years.
"I've been owing him one for 10 years. Let's hope this is the time I beat him," Williams said.
Asked if he enjoyed playing O'Sullivan, Williams said: "If I said yes, and I haven't beaten him for 10 years, I'd be a bit of a liar really. You enjoy the occasion. He always plays well against me. The last time he didn't play too well but still beat me.
"I need to play better than that to have any chance."
Scotland's Stephen Maguire began his second-round tussle with Joe Perry, Graeme Dott's conqueror, and took a stride towards the quarter-finals as he moved 5-3 clear.
Maguire had to watch Perry fire in 115 to take the opening frame, but a pair of 101 breaks put the 31-year-old Glaswegian ahead, and further runs of 52, 65 and 88 followed, before Perry finished with an 82.