O'Sullivan moves three clear
Ronnie O'Sullivan stayed on course for his fourth world title by opening a 10-7 lead over Ali Carter after two sessions of the final.
Last Updated: 07/05/12 6:25pm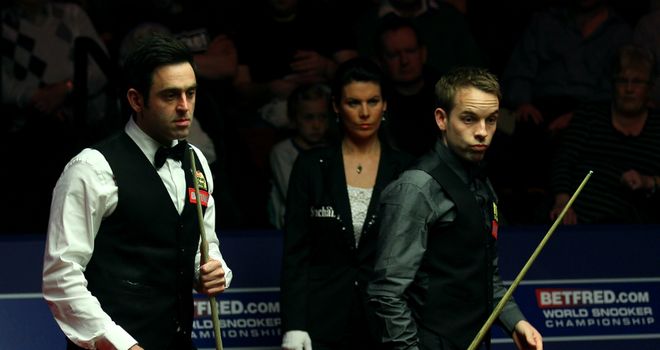 Ronnie O'Sullivan remained on course to clinch his fourth world title after opening up a 10-7 lead over Ali Carter in the final at the Crucible.
O'Sullivan, who has hinted he will follow Stephen Hendry into retirement after the final concludes on Monday, looked set to end the day five frames ahead before a missed black to the middle cost him the 17th frame.
He had knocked in an early break of 117 before Carter responded with an 84 to level the match at 2-2.
But after a series of safety exchanges, O'Sullivan finished the opening session strongly as he followed a brisk 92 with a sparkling 141 clearance to take a 5-3 lead.
Both players were short of their best on the resumption in the evening, and the next four frames were shared before O'Sullivan moved 9-5 clear with runs of 49 and 68.
Carter hit back with a break of 59, only for the three-time champion to take the next with a quickfire 62.
But O'Sullivan's missed black in the final frame of the day was punished by Carter, and the gruelling race to 18 will resume on Monday afternoon.