Shanghai slip by Selby
Defending Shanghai Masters champion Mark Selby crashed out in the first round after he lost 5-1 to Jamie Cope.
Last Updated: 18/09/12 10:40pm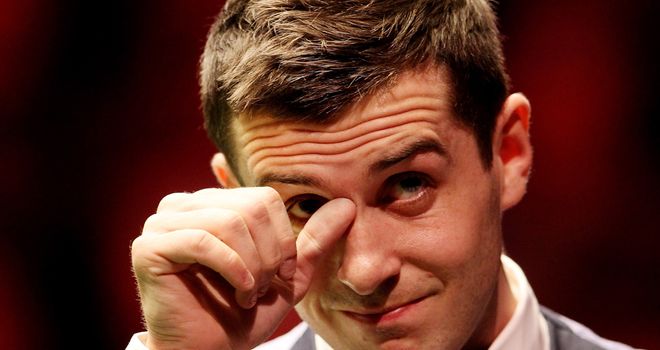 Defending Bank of Communications Shanghai Masters champion Mark Selby crashed out in the first round after he lost 5-1 to Jamie Cope.
It was the world number one's second opening-round exit in a row, while Cope will face Stuart Bingham or Tom Ford in the last 16.
Cope won the opening frame before Selby levelled with a break of 49. Cope then took control and cleared from green to black to take the third frame then added the fourth after potting a final black.
The fifth frame saw Selby miss a long yellow with Cope taking advantage to clear up and sealed the win with a 71 in the next.
"It wasn't an enjoyable match because the standard was not great," admitted Cope. "I won a few close frames which could have gone either way and that was the difference."
Selby knows he was far from his best, he said: "It's disappointing to come here as defending champion and not have a run. I played poorly and Jamie picked up the pieces.
Chances
"I had more than enough chances but couldn't take them. I have struggled this season other than winning the Paul Hunter Classic.
"My sleep pattern has not been great, which happens sometimes when we come here. I have tried different solutions but that's just the way it is. Sometimes you wake up at 2am and can't get back to sleep so you go for a practice."
Stephen Maguire is also through to the second round after beating Peter Ebdon 5-3.
The Scot was 3-2 down but breaks of 73 and 58 put him into the lead, before Ebdon accidentally potted the pink in the eighth to hand Maguire the win.
"It was rubbish, the two of us bogged each other down," said Maguire. "It wasn't a good match to be involved in but at least I've got time on the practice table now to prepare for my next match."
There were two wins for the Chinese wild cards as Jin Long edged out Jimmy Robertson 5-4 and Chen Feilong saw off Fergal O'Brien 5-2 with top breaks of 52, 59 and 55.
Home favourite Ding Junhui was also dumped out after a 5-4 defeat to Mark King, the Englishman securing the win despite losing the first three frames.
Elsewhere in the first round there were wins for Shaun Murphy, who defeated Dominic Dale, and Ali Carter, who saw off Robert Milkins by the same scoreline.