Barry Hearn says Ronnie O'Sullivan is right to take a break from snooker
Barry Hearn admits Ronnie O'Sullivan's absence is a blow for snooker but insists he needs some time out of the sport.
Last Updated: 14/11/12 6:29pm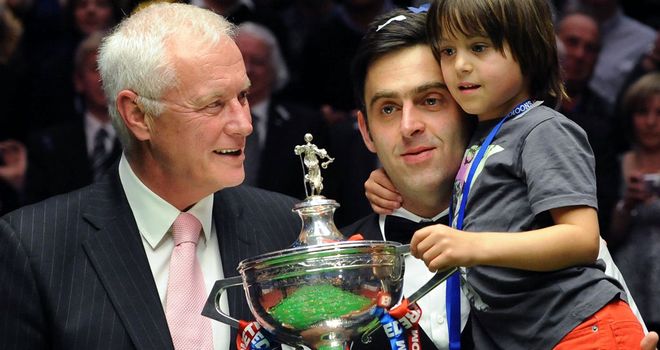 O'Sullivan will not play again on the professional tour this season as he takes some time out to deal with personal issues.
'The Rocket' has openly considered retirement before and a return next year seems far from certain, but Hearn says he is glad the 36-year-old four-time world champion is trying to sort his problems out.
"Most geniuses are tormented whether they are artists or snooker players, aren't they? And sometimes the demons that inhabit them, we have to share with them," he told Sky Sports News.
"That's just part of life, but also, we mustn't forget what they've given us - the entertainment that they have given us and the skill we have seen.
"No sport is relying on one person, but of course it is a personality-driven sport and Ronnie is a miss, we're going to miss him. How long he is out for - forever, or a few months, a few years, I have no idea.
"But what I do know is that there are bigger issues at stake in people's lives. Ronnie O'Sullivan is a great guy, I have known him since he was 12 years old - he has got to sort his life out.
"He has got a few issues he has got to deal with. And while he is sorting them out, he cannot play snooker."
Hearn added: "As the owner of snooker, I can't afford to have players enter and then not turn up. So I am very happy.
"I think Ronnie has made a mature decision - take a complete break, sort out the personal issues, see how he feels about the game. At the moment he doesn't want to play, so he is not going to do anybody any favours."