Ronnie O'Sullivan likely to defend his World Championship crown, says Ali Carter
Ronnie O'Sullivan is likely to return from his snooker exile and defend his World Championship crown, says Ali Carter.
Last Updated: 03/12/12 4:27pm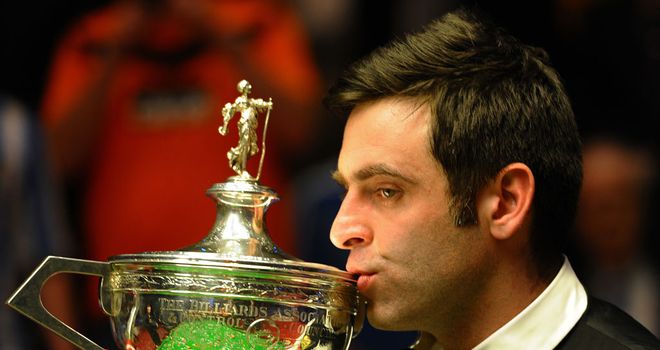 At the beginning of November, O'Sullivan announced he would not play again this season, having made only one low-profile outing since beating Carter in the world final in May.
The four-time world champion, who has regularly threatened to quit the sport, said health and family reasons were behind his temporary absence with the extensive travelling on the tour taking a heavy toll.
O'Sullivan did not sign up for the UK Championship, currently taking place in York, or next month's Masters in London, but is expected to have until February - a deadline still to be set - to decide on competing at the season-ending World Championship.
But Carter, another player who has come close to retiring in the last two years for health reasons, believes the 36-year-old will be gracing the Crucible baize again in May.
"I think he'll be back for the World Championship," said Carter, who recently played the former world no 1 in an exhibition event in Poland.
"I don't care what everyone says now. There's no way Ronnie O'Sullivan could miss that event in my opinion.
"We were in Poland and it's personal reasons that he did talk to me about, that I'm not going to discuss.
"I think he'll be back, but I don't think he knows until he wakes up in the morning what he's going to do, and I don't think he knows then."
Carter, who secured a second round spot at the UK Championship with victory over Steve Davis, admitted there was some relief not seeing O'Sullivan's name in any tournament draw.
"Of course it opens it up," said the 33-year-old, who has twice been beaten in Crucible finals by his fellow Essex player.
"Ronnie's beatable when his head's not on but it was clear for everyone to see that this year at the World Championship his head was completely on.
"He hasn't got four world titles, four UKs and four Masters for no reason."