Neil Robertson records four century breaks in win over Tom Ford at UK Championship
Neil Robertson reeled off four centuries as he thrashed Tom Ford 6-1 in the opening round of the UK Championship.
Last Updated: 03/12/12 11:51pm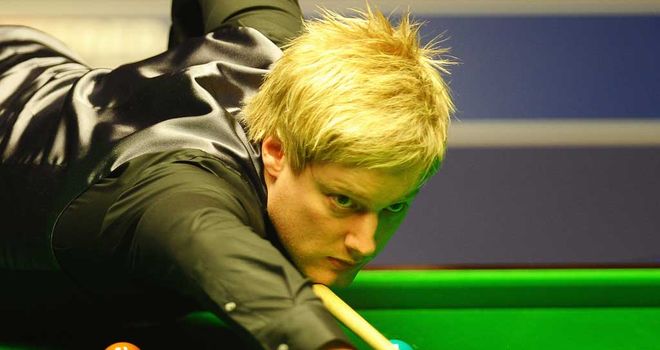 The 2010 world champion faced a potential banana skin in the form of Ford, who recently made a maximum at a tournament in Belgium, but showed imperious form as he saw off the Leicester cueman with ease.
His only notable slip came when he missed a routine red in the sixth frame when on 45, allowing Ford to slip in with a 58 to take his only frame.
But Australia's Robertson was otherwise brilliant with runs of 129, 112, 100 and 127, the latter all the more admirable as it came with the black out of commission for the large part.
"I felt mega-confident today. Practice has been going very well and I've got a good record against Tom," Robertson said.
"When I have played him previously I think it's been 6-0 and 6-1 and I knew if I could get on top of him early on then it would be tough for him."
Only seven players can list the UK, World and Masters titles on their resume, but Robertson will make that eight if he can go two better than last year's semi-final effort.
He added: "There are still some great players left in the tournament. But for me, it would be fantastic to hold the Masters and win the UK, that would be a special feeling. I have the opportunity to do that and to win all three in a short space of time would be great."
In the afternoon's other first-round match in York, Matthew Stevens claimed a comfortable 6-1 win against an under-the-weather Dominic Dale, who was suffering with a skin complaint.