UK Championship: Mark Selby eases to 9-4 semi-final win over Mark Davis
Mark Selby guaranteed a return to world number one after beating Mark Davis in the semi-final of the UK Championship.
Last Updated: 09/12/12 12:25am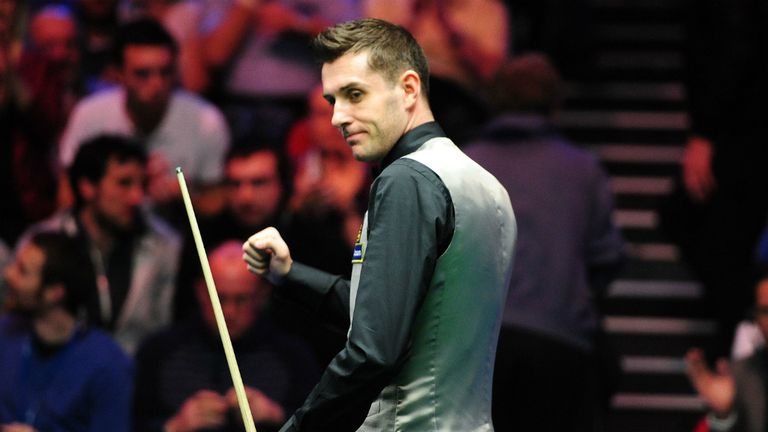 The Leicester cueman needed five frames of the evening session to turn his 6-2 lead into victory in the best-of-17 contest.
Selby, who will replace Judd Trump as number one when the rankings are next updated, faces Shaun Murphy in Sunday's final at York's Barbican Centre.
Davis, enjoying a late-career renaissance at the age of 40, failed to deliver in his third major semi-final of the season.
After a poor afternoon the St Leonards potter needed a strong start this evening and soon got his hand on the table, but he over-cut a red and let Selby in, with a 64 to the blue good enough for a 7-2 advantage.
Davis at least responded to stop a march to victory, breaking down on 50 not preventing him from taking the next, but his poor safety attempt early in the 11th yielded a double-kiss and Selby swooped to plunder a 76 to move to within a frame of the win.
That did not arrive in the next - Davis dragged the match into the interval by taking a scrappy frame - but the one after, outscoring his opponent over a number of visits to the table as pots went awry.
Selby had laid the foundations for the victory in a dominant afternoon session during which Davis was unable to find the form which he displayed in earlier-round wins over the likes of John Higgins and Matthew Stevens.
Despite scores of 121 and 80 it was hardly vintage snooker from Selby, who got his nose in front with 48 in the opener and then posted his century.
A 41 made it three, before Davis opened his account with a tidy 76, but Selby made it 4-1 by hanging toughest in a horrible-to-watch fifth, with both players guilty of missing routine reds.
Selby was slicker in the next, capitalising on Davis' failure to cover a red to the middle early on and making 35 before coming back to the table with an 81, but his failure to get past 49 in the next - he missed a mid-range brown - let Davis in for an 80 clearance.
But Selby ensured he was in total control thanks to a 51 break in the final frame of the afternoon.
Friends
Looking ahead to the final, Selby said: "Me and Shaun haven't played each other for a while but we have grown up together through the junior ranks and always been good friends.
"I always said to him that it would be great for us to play in a ranking final and now we are. For whatever reason before it hasn't happened, so it will be good."
On his semi-final performance, he added: "I was missing some easy balls today and I need to work on that tomorrow.
"I am definitely motivated. I didn't play fantastic and, although it was a good match of snooker, I need to play a lot better."
Davis was keen to take the positives from his defeat.
"I was a little bit nervous but I enjoyed it. In the first few I didn't quite get into position, but getting a 70-odd settled me down. I played poorly tonight, though," he said.
"But I'm not going to let it affect me in a bad way. I've had a great week and beaten some top players.
"Even though I've been a pro for 21 years, there have been some new things for me and I know that I will learn from it next time."