Neil Robertson and Mark Allen score first round wins in Betfair Masters
Defending champion Neil Robertson came from 5-3 down to beat Ding Junhai in the first round of the Betfair Masters.
Last Updated: 13/01/13 10:42pm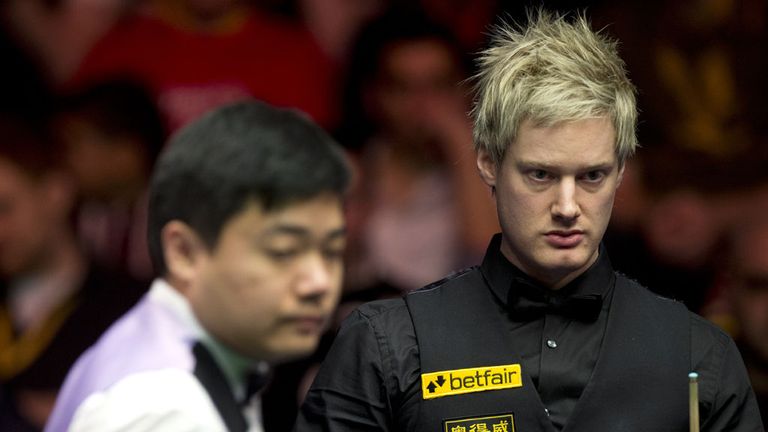 Robertson opened up a 2-0 lead in a scrappy opening but Ding took charge after that and knocked in two centuries - 103 in frame three and 127 in the sixth - to move into a 5-3 lead
Robertson replied with a 100 break to stay alive and win frame nine but the Chinese ace had a golden chance to seal it in the next.
However, after potting the blue and cannoning into a cluster of reds near the pink he was unlucky to leave nothing on and had to play safe.
Robertson came through a safety exchange and then knocked in a break of 62 to level the match at 5-5 and send it into an 11th frame decider
With the bit between his teeth Robertson duly finished the job, a long red the start of a match-winning 90.
Robertson's opponent in the last eight will be Mark Allen, who eased to a 6-2 victory over Mark Davis.
Northern Irishman Allen started with a superb 136 break although Davis responded well and the pair went into the interval locked at 2-2.
But Allen reeled off four straight frames after the resumption with his only hiccup being a 'what happened next?' moment when he dropped the long rest into a pack of reds in frame seven after potting a ball in the corner.
Despite the foul, he still won the frame on the pink and then an 80 break in the next gave Allen a comfortable win.