Stephen Maguire desperate for more snooker trophies after winning Welsh Open
Stephen Maguire is desperate for more snooker trophies after securing the Welsh Open title on Sunday.
Last Updated: 18/02/13 4:41pm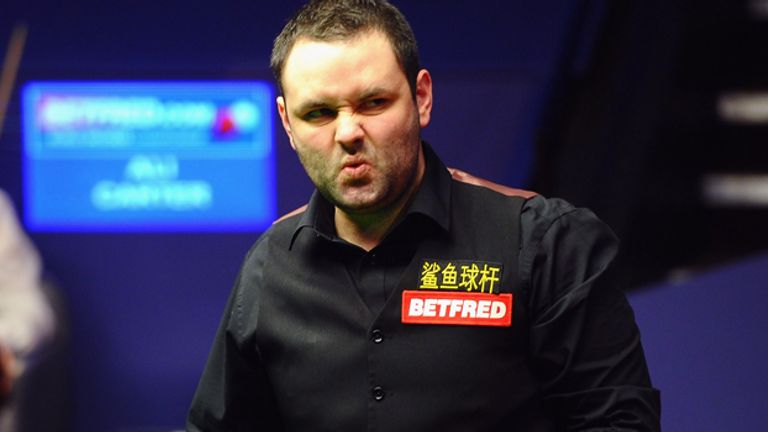 Maguire finally came through a last-frame thriller after trailing 7-5 to beat Stuart Bingham 9-8 late on Sunday night to bag his first piece of silverware since winning the China Open five years ago.
It was a moment to savour for the 31-year-old Scot who had suffered three final defeats and sets the world No 6 up nicely for the season's last three big events, including the World Championship in April.
"I feel great now and I will feel great for the next few days. But I have another tournament coming up in China very soon and I want to be able to push on from here," Maguire said.
"I don't want it to be five years before I win another trophy, that was too long and I was starting to doubt if I would ever do it again. Now I am back in the winner's enclosure it is very important I push on.
"I want to make sure I do not lose touch with the boys who have been winning tournaments. There have been guys winning tournaments who I think I am better than and it was hurting me.
"A lot can happen between now and the World Championship, there are three tournaments and I would like to win another trophy. This year's World Championship is wide open but it does not get better than winning a tournament, particularly as it is getting harder every year."
Maguire was delighted with his own resolve on the baize after looking down and out during the 12th and 13th frames, sitting in his chair with head in his hands, before roaring back and wrap up the victory with a nerveless last-frame 82.
"I was very pleased with the way I finished the match, especially after I let him get back to 8-8 after I had been leading 8-7, at that point I thought I had let it go," he added.
"I had to have a few words with myself and I was chuffed to get the chance to win it and make it count."
Bingham was devastated to fall short after being in such a strong position but the Essex player, set to climb to seventh in the world rankings, is buoyant about his form with the Crucible stage in Sheffield looming on the horizon.
The 36-year-old said: "I am gutted, it would have meant so much to secure the trophy. But it has been a brilliant week and I've pulled a few matches out of the fire against Neil Robertson and Ding Junhui.
"Maybe I am biased but I think I was the better player in the final, I came out and took the game to him in the evening session and when it went to 7-5 I had chances but I blew them.
"My game is in good shape and hopefully if I can stay high in the rankings it will give me confidence because I have had a great season."