World Championship snooker: Barry Hawkins stuns Mark Selby at Crucible
Barry Hawkins completed another shock result at the Crucible as he dumped out a woeful world No 1 Mark Selby 13-10.
Last Updated: 27/04/13 9:43pm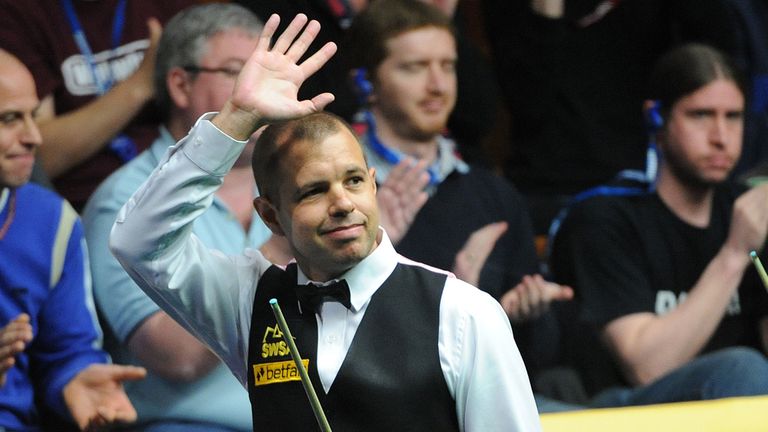 Selby staggered to a dismal Crucible defeat as his dream of completing snooker's 'triple crown' was dashed despite him holding a 9-7 lead overnight.
Selby's game fell to pieces in the final session and his opponent won six out of seven frames to take a 13-10 win, denying Selby the chance to add the World Championship to the UK Championship and Masters titles he has already won this season.
The misses just kept coming from the 29-year-old Leicester man, many of them quite staggering. Selby won a safety battle on the pink in the opening frame, and potted that ball to leave himself black for the match, but he rattled it around the jaws of the centre pocket and Hawkins made no mistake when it fell kindly in his favour.
As Selby's game continued to disintegrate, Hawkins held himself together and punched the air in delight once victory was secure, and his emotions started to flow in his post-match press conference.
"It's one of the best results of my life, I can't believe I'm getting emotional," said Hawkins. "You'd think I've won the World Championship but I'm only in the quarter-finals - what a nutter."
Selby was disappointed to end such a successful year with such a bad performance, and hinted that playing too much snooker finally caught up with him.
"I had no drive, no buzz. Anyone can accept losing but the way I played, I didn't really turn up," said Selby. "This year I've played in almost everything and I just feel as though I've burned myself out playing too much.
"I've had the best season I've ever had and to perform like that is a disappointing way to end it. I was just flat really. I don't know if it's because of the long season, travelling here, there and everywhere."
Defending champion Ronnie O'Sullivan threatened to race away from Ali Carter in their second-round Crucible clash, but had to settle for a slender 5-3 overnight lead after a good fightback.
When O'Sullivan fired in a break of 125 to lead 5-1, it seemed that Carter's terrible record against the former world number one was certain to continue.
But Carter took the final two frames of the session,, finishing with a flurry of confidence-lifting aggressive pots as he stayed in the hunt just two behind.