Ronnie O'Sullivan winning mental battle as he looks to defend World Championship crown
Ronnie O'Sullivan insists he is in charge of his emotions as he continues the defence of his World Championship title.
Last Updated: 30/04/13 12:48pm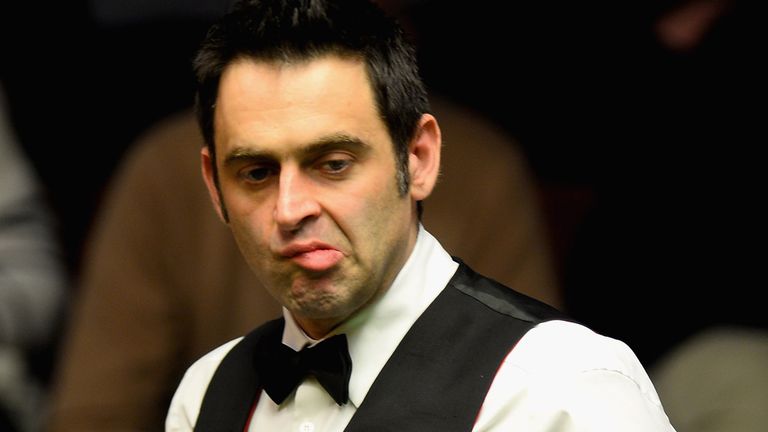 O'Sullivan has struggled with his personal demons in the past but has been working closely with sports psychiatrist Dr Steve Peters to combat his problems.
'The Rocket' is looking to secure his fifth world crown at Sheffield and has already seen off Marcus Campbell and Ali Carter to secure a quarter-final clash with Stuart Bingham.
"I'm managing my emotions a lot better now," said the 37-year-old.
"In the past there'd have been a moment in my matches against Marcus and Ali when I'd have probably thought, 'I want to be out of here, I want to go home', and I'd have not deliberately lost but subconsciously I would have given up.
"That won't happen again, none of those meltdowns will happen, no matter how frustrated I may be with myself out there. I'm able to put that on hold until the game's finished.
"Dr Steve Peters has been great to me. I've really worked hard with Steve and tried to take on board everything he's shown me and spoken to me about and obviously I'm benefiting from it massively.
"Ever since I first saw him, before the 2011 World Championship, for the whole year leading up to winning the World Championship last year, I worked really hard on trying to get hold of my emotions and my brain.
"And I'm able to not let my feelings out in front of everybody like the press and the crowd, and have people say, 'Oh, he's lost the plot'.
"Not once have you been able to see me lose the plot. Sometimes inside I feel it's tough and it's challenging, but I'm able to overcome that.
"It doesn't mean I'm going to win every match I play in. I suppose in some ways that's what endeared me to people, that I cracked up out there sometimes.
"They'd all want to make sure I'm all right, and the next tournament I'd come out and win and it'd be like a rollercoaster of 'which Ronnie's going to turn up'."
Peters has been working with O'Sullivan at the Crucible where he has been focusing on the 'chimp' theory, where he helps his patients to keep the 'chimp', bearer of strong emotions, caged in order to focus on the task in hand.
"The last two years I've changed a lot. I'm able to not let my chimp out," added O'Sullivan.
He also acknowledges he must work hard at his game if he is to retain his title after almost a year out of the game and vowed to make his opponents work hard if they are to get the better of him.
"I believe I need to up my game in order to win. But I don't know because I've nothing to go by. I don't know if I'm really playing well or not," he said.
"If someone's going to beat me, they've got to beat me. I'm going to give 100% of my best and if I find a bit of form I'll be hard to beat."