Ronnie O'Sullivan surprised to make fifth World Championship final
Ronnie O'Sullivan admitted he didn't expect to find himself in the World Championship final for a fifth time.
Last Updated: 04/05/13 6:05pm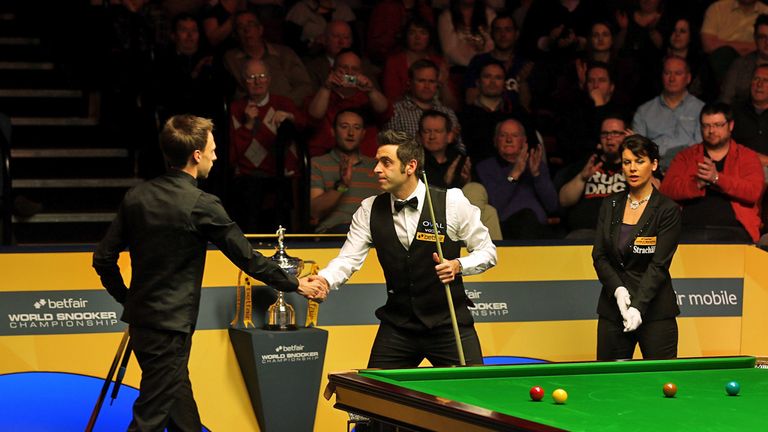 The defending champion saw off Judd Trump 17-11 to reach the Crucible showpiece again, their semi-final lacking the fireworks many had hoped for.
O'Sullivan said: "I'm quite surprised really to be talking about another World Championship final.
"It was tough because I don't think we played anywhere near our best.
"There was a lot of tension out there during the sessions. We practise in the same environment, we used to be managed by the same manager, so that creates a kind of derby match feel.
"Everyone was really geared up for it because it was the newcomer against someone who's been around a long time and wears his heart on his sleeve.
"I might say some things that frustrate people at times but my fans they always get behind me because they know I try my hardest every time I go out there."
Ticked off
O'Sullivan had been ticked off by referee Michaela Tabb for what the Scot perceived as a rude gesture during Friday night's third session of the match.
O'Sullivan lost concentration and looked bored as the 23rd frame of the match became scrappy and when he played a shot he found particularly poor he motioned with his cue between his legs and Tabb stepped in to issue a brief reprimand.
It was not a formal warning from Tabb and O'Sullivan denied trying to cause offence, apparently arguing his cue was sticky and he was trying to solve the problem.
Questioned again about the incident on Saturday, he stuck to his guns when asked whether Tabb had misunderstood his actions.
He said: "I think so. My hands are sticky, you get sticky hands through sweating, my (cue) butt was sweating maybe."