Masters snooker: Ronnie O'Sullivan beats Mark Selby 10-4 to claim fifth title
Ronnie O'Sullivan beat defending champion Mark Selby 10-4 to claim his fifth Masters title on Sunday evening.
Last Updated: 19/01/14 10:33pm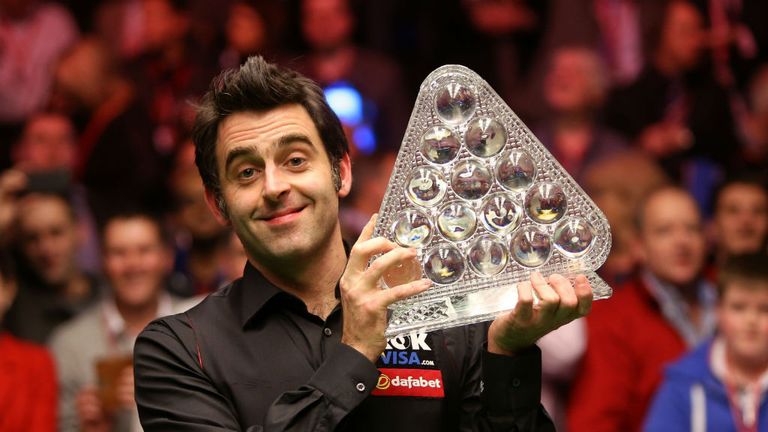 O'Sullivan is regarded by many as the greatest snooker player of all-time and his trophy cabinet is starting to reflect that, but a failure to get a grip on Selby in previous final meetings had been one thing hanging over him.
There is a clear contrast in their style and little love is apparently lost either, with O'Sullivan referring to Selby as 'The Torturer' in his recent autobiography.
He has good reason to feel that way with Selby having pipped him in three last-frame deciders in finals over recent years, but barring a flicker of a comeback, he resisted that at Alexandra Palace to record a thumping 10-4 win.
"Mark loves coming from behind, you never feel you're at the winning line," O'Sullivan told the BBC after picking up the £200,000 prize and taking the title Selby won last year.
"Ninety-nine per cent of players would give up; he's made of metal."
The damage for Selby was done in a catastrophic afternoon session which ended with O'Sullivan 7-1 in front.
In a record 10th final of the invitational event, O'Sullivan had four of those frames in the bag by the mid-session interval, with scores of 97, 70 and 96 going alongside a scrappy fourth.
Early dominance
The break did little to help Selby, with O'Sullivan taking the fifth after initially breaking down when he missed a blue designed to develop the pack.
Selby took some confidence from that and clawed back to 5-1, ruling out a whitewash - Steve Davis handed out the only Masters final one of those in 1988 - before O'Sullivan pinched the seventh.
He was 35 behind with 35 left when Selby made a hash of a safety and after clearing up, took the respotted black with a gutsy pot to the left middle. The final frame of the afternoon duly followed, with the 38-year-old outscoring his opponent by a total of 612 to 223.
Heading into the evening session O'Sullivan picked up where he had left off with a 90 to make it 8-1, before a mini revival from Selby started by a crazy 10th frame.
After a scrappy exchange O'Sullivan missed a brown off the spot for the frame, before Selby did the same with a black. O'Sullivan left the seven-point ball in the jaws and Selby tapped it in, before a highest-of-the-match 67 from Selby got him to 8-3.
With collapses to the same man in Antwerp, London and Newport over recent years, O'Sullivan could have been forgiven for fearing the worst, but he got to the interval one frame away from victory as a red into a blind pocket got him home.
Another 67 kept Selby alive in the next, but O'Sullivan ensured it was game over after that, making 72 after Selby blinked first in a safety exchange.