Ronnie O'Sullivan and Ding Junhui reach Wales Open final
Ronnie O'Sullivan and Ding Junhui will meet in the final of the Welsh Open in Newport on Sunday.
Last Updated: 16/04/14 3:47pm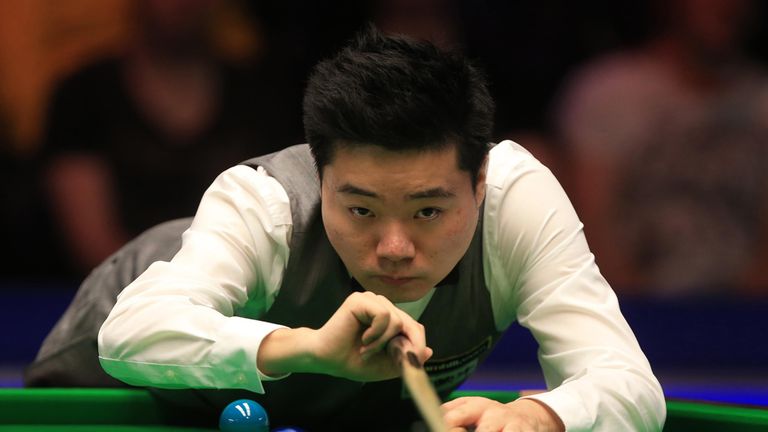 World No 3 Ding was forced to dig deep to beat Joe Perry 6-4 in the first semi-final but he will have to up his game to beat O'Sullivan based on the manner of his 6-2 win over Barry Hawkins.
The Chinese star is looking for a fifth ranking win of the season and second Welsh Open crown, but he had plenty of trouble for the second day running with Perry keeping him honest.
The Englishman, ranked 15 in the world, took the first frame before Ding settled in, moving into a 3-1 lead and piling up 114 in the second of those three straight frames.
But there was a good response from Perry, who levelled at 3-3, before Ding pulled clear again with another solid break of 88.
Perry stayed alive with a 69 break in the ninth frame but he could do nothing about what happened in the 10th, sitting disconsolate in his chair as Ding's 118 break denied him the chance to take the match into a decider.
But Ding feels he has plenty to work on before Sunday's final, as he said: "I don't know what happened with my white ball control - it always causes me trouble.
"In the last frame the black was on the spot but I had to take the yellow or green because I lost position. I think I need to do better tomorrow.
"I am confident because I have won a lot of matches this season. I don't feel too much pressure when the scoreline is close - I can handle it."
And, in O'Sullivan, there is barely a tougher test especially if he turns up in the same mood as Saturday's evening clash with Hawkins.
The Rocket made three centuries and responded well to losing the opening frame to a 102 clearance by Hawkins.
He made the most of a Hawkins mistake to take the second frame with a 67 break then piled up 114 in the third and a quickfire 124 in the fifth.
From 64-0 down in the sixth he won the frame on the black with a clearance of 65, and although Hawkins pulled one back O'Sullivan wrapped things up with a 103 break.
"I scored well but still gave him some chances, every frame he had a chance," said O'Sullivan.
"My long game was okay and my safety was alright. I felt like if I got a chance then I was going to do some damage.
"If he took some of his chances then maybe I would have tightened up, but I felt like I wanted to open up tonight and impose myself on the game. I am attacking a lot more now. It is not reckless to be attacking and I feel like I am seeing the balls a lot better."