World Championship: Steve Davis may be offered snooker Tour wild card
Steve Davis may be offered a Tour lifeline with snooker boss Barry Hearn mulling over wild cards for the game's legends.
Last Updated: 18/04/14 1:31pm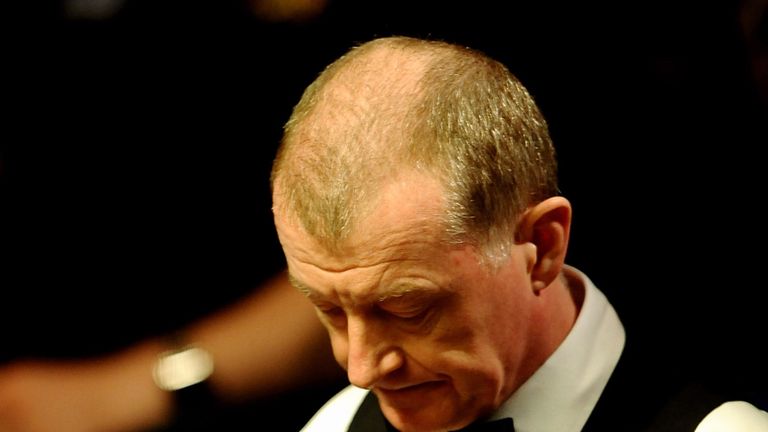 The 56-year-old lost early in qualifying for this year's World Championship, which starts on Saturday, and has fallen outside the top 64 in the money list meaning he will drop out of the paid ranks this summer.
Hearn has always insisted snooker should be a meritocracy under his leadership but on the eve of the biggest event on the calendar, he hinted he may authorise a move to hand Davis, along with seven-time world champion Stephen Hendry and six-time World Championship runner-up Jimmy White, an exemption.
Hearn said: "It's a tough call, it represents a 360-degree turn in my normal decision making process. But I've got to be flexible when common sense comes into play and it's causing me sleepless nights.
"It's a very difficult call and something I'm going to be thinking about over the next few days to see if I've opened a can of worms or whether it would be wrong of me not to repay those players' loyalty to the game by making an exception."
He tweeted on Friday: "I've been against wild cards but does the game owe these players enough to make an exception ? Always prepared to listen."
Alan McManus, the 43-year-old Scot who reached two World Championship semi-finals and won the Masters, is keen on keeping Davis on the tour.
"Some of the guys have said he should get a wild card and I'm all in favour of that," McManus said. "I would love to see him back playing."
Davis, a shock world quarter-finalist in 2010, lost to Craig Steadman in the second round of World Championship qualifying last week but there were moments where the player who dominated snooker in the 1980s showed his finesse.
McManus was an absorbed spectator in the latter stages of the match, saying: "I sat and watched him and he made 98 and it was a pleasure to watch.
"I'd just like to see him back playing. He's a class guy, class act, class player. It would be a big miss for the whole tour."
Hearn, a long time friend and agent of Davis, will run his plan past fellow World Snooker board members.
"Steve's my best mate so straight away I can't vote, I'm biased," Hearn added.
"Sometimes there are exceptional circumstances and you have to make exceptional decisions. I think it's something Steve has to think about - what does he want out of his life? Does it involve playing snooker? Does he want to go through Q School?"
Davis appears to have ruled out the latter prospect, revealing recently he would not take on the next generation in the end-of-season scramble for Tour places.
He said: "I am not retiring, it is more just working through how I would proceed. Because I am treating it almost as a hobby I don't want to stop another prospective young player who wants to make it a profession.
"So I don't want to be selfish and I won't be playing in the qualifying school this year. But I might do it as a one-off in 2017 to try and qualify for the year I am 60. And if that happened then that would be by swansong year."
Hendry, who retired in 2012, has stated he would not be coming back to snooker, although Davis said: "I don't think Stephen wants to be a full-time snooker player, but last time I talked to him he wouldn't mind playing in a few events."