World Championship: Format for snooker's biggest event to change
Snooker's World Championship will undergo changes to its format with an official announcement set for next Wednesday.
Last Updated: 19/04/14 10:11pm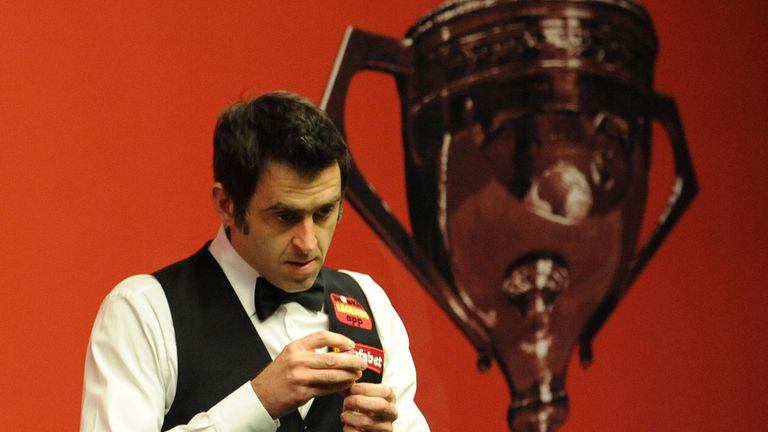 The news has sent mini shockwaves through the sport's playing elite with fears over a radical overhaul in qualification or a reduction in match lengths.
Many of the newly-introduced tournaments have been freshened up by World Snooker chairman Barry Hearn in his four years at the helm but he has always insisted the Crucible event was a "crown jewel" and would not be tinkered with.
On the opening day of the World Championship, Hearn set tongues wagging by declaring: "I'm going to discuss changing formats for next year's World Snooker Championship."
World No 14 Mark Allen, well known for not holding back with his opinions, tweeted: "What's this about the format for the world championships changing???
"I hope it's not true. Shorten the matches and comp loses its value."
Length
There have been calls from players including reigning world champion Ronnie O'Sullivan to reduce the length of the 17-day tournament.
Hearn could even act to introduce a flat 128-player draw, having until now protected 16 seeds by handing them automatic entry to the last-32 stage, with all other players entering through qualifying rounds.
The 65-year-old also confirmed a decision will also be announced on the possibility of tour wild cards being afforded to veteran players such as Steve Davis and Stephen Hendry - a suggestion he floated earlier in the week.
Hendry has been linked with a playing return, two years after retiring.
Davis, due to drop off the professional tour after a slump in form, tweeted on Saturday: "I was approached by @BarryHearn about my intention if offered a 'wildcard' and I indicated that as long as it didn't mean another player dropping off I would say yes. I don't think my views are particularly relevant."
Hearn will not vote on the wild-card issue, he has said, due to his long-standing close friendship with Davis, but has asked World Snooker board members to determine the merit of his proposal.
"We're going to continue discussing it and considering whether the game first is a loser by not still having two legends like Davis and Hendry," Hearn added.
"The question I asked my directors is: do we owe these people? Does the game owe these people? And what's the downside?"
Venue
Hearn has again ruled out the prospect of the World Championship moving to China, providing the BBC and Sheffield City Council continue to back the event.
"There's no question the people of China would pay a king's ransom to get the World Championship in China," Hearn told World Snooker.
"But for once I'm not looking at the balance sheet - I'm looking at the history. So I'm staying, but it is down to those people's support and I'm quite sure over the next few months we will announce a new long-term deal with Sheffield to make sure this great tournament carries on here."