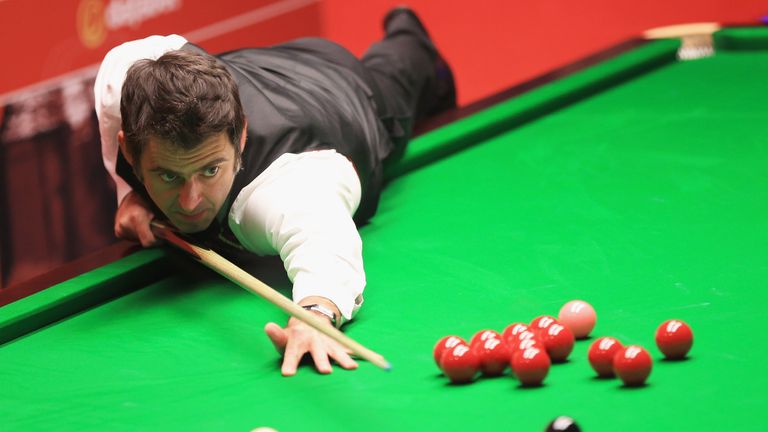 Ronnie O'Sullivan's bid for a sixth world title started with a 10-4 first-round win over Robin Hull.
Nothing about Hull, Finland's only professional, suggested he would give O'Sullivan a test. He may have beaten Peter Ebdon, a former nemesis of O'Sullivan, in the final qualifying round to earn a shot at the Dafabet World Championship title holder, but Ebdon is not the force he was when his tenacity could grind down the best.
Hull had only one previous Crucible appearance behind him, when he bowed out in the first round in 2002. He has also played only sporadically since returning to the tour in 2011 after three years in retirement which was triggered by a life-threatening virus.
O'Sullivan's no-frills victory, therefore, was about a par performance, offering few genuine clues about the state of his game. There was little spectacular from the 38-year-old, who is bidding to complete a hat-trick of consecutive world titles, having turned over Ali Carter and Barry Hawkins in the last two finals.
The last to achieve three in a row was seven-time champion Stephen Hendry, whose streak of five from 1992 to 1996 remains the benchmark for dominance at Sheffield's famous theatre. Steve Davis triumphed each year from 1987 to 1989, while Ray Reardon, before the tournament moved to its now-established home, was champion each year from 1973 to 1976, taking the title at three different venues in Manchester and once in Melbourne, Australia.
I don't really see there's a massive expectation on me. I'm just here to do a job and I go about it as professionally as I can. There's one out of the way and I just move on to the next.
Ronnie O'Sullivan
Groove
Duly O'Sullivan was straight into an ominous groove, with the contest proving as one-sided as 39-year-old Hull, the world number 122, must have privately feared.
Topping and tailing the schedule on day one of the championship, O'Sullivan ploughed in a total clearance of 124 in the second frame, adding 69, 81, 60 and 90 before heading to lunch.
Hull had his moments in the morning, most notably the 102 break that followed O'Sullivan's century and got him on the scoreboard.
It was a match that appeared to have a preordained outcome, though, with O'Sullivan able to get through in a low gear.
Yet there might have been a real moment to savour in the ninth frame. By taking seven reds and blacks at the beginning of the ninth frame, O'Sullivan had an eye on a 147 break, but he could only take blue off the eighth red and eventually settled for 90, more than enough to open his five-frame interval gap.
Hull took advantage of a safety error from O'Sullivan to go 65-30 ahead in the evening's opener, but missed a red to the green corner that would have made the frame safe. O'Sullivan forged an opening and a break of 41 inflicted a killer blow.
Hull's prospects for the evening were poor already. Suddenly he needed to win eight of the next nine frames. Surprisingly, he took the next two with runs of 52 and 68, but order was soon restored and O'Sullivan inked himself in for round two with no further fuss, finishing with a 54 break.
Joe Perry or Jamie Burnett will stand next in the firing line for O'Sullivan, who said of his opening performance: "I'm just pleased to have got through. It was a tough match, I knew I'd have to play decent snooker to win. Robin's a good scorer and strong in the tactical game.
"I don't really see there's a massive expectation on me. I'm just here to do a job and I go about it as professionally as I can. There's one out of the way and I just move on to the next."
Tight
A total of four other first-round matches got under way on day one of the tournament, including two former champions in action.
Ken Doherty, the 1997 champion, rallied from 3-0 down to cut his deficit to 5-4 against Stuart Bingham, while 2005 winner Shaun Murphy lost the last three frames against Jamie Cope to trail 5-4 overnight.
Welshman Ryan Day opened a 6-3 lead against Scotland's Stephen Maguire and two-time finalist Ali Carter edged 5-4 in front against China's Xiao Guodong.
Saturday results: Ronnie O'Sullivan 10-4 Robin Hull (Fin)