World Championship: Mark Selby through to final after 17-15 win over Neil Robertson
Mark Selby beat Neil Robertson 17-15 in a Crucible epic to set up a World Championship final against Ronnie O'Sullivan.
Last Updated: 04/05/14 8:19am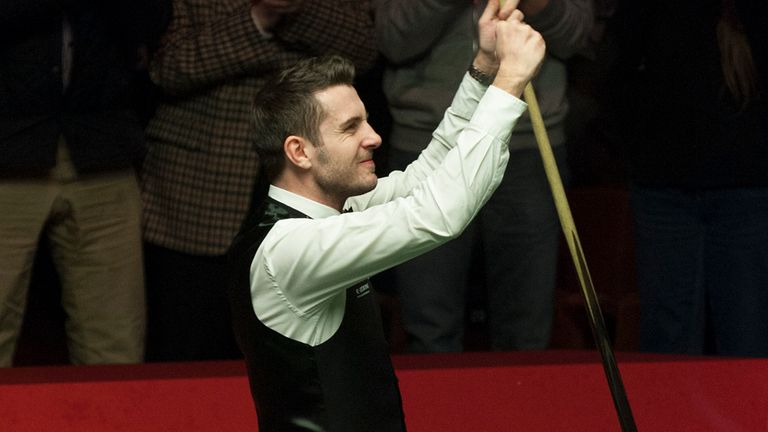 The Leicester potter lost to John Higgins in an after-midnight finish in the 2007 Sheffield showpiece and has since endured a frustrating run at snooker's most prestigious tournament, reaching the semi-finals only once.
But while O'Sullivan enjoyed a day off after demolishing Barry Hawkins with an entire session to spare, Selby set about completing the arduous task of finishing off world number one Neil Robertson.
It was a task he achieved with an impressive show of battle-hardened fortitude, fending off the Australian to take revenge for his defeat to the man from Melbourne in December's UK Championship final.
From 9-7 ahead overnight, Selby was pegged back to 12-12 after the day's opening session.
Robertson then edged ahead when they resumed at 7pm, but from 13-12 his night took a turn for the worse as Selby won four of the next five frames, helped by breaks of 79, 77 and 54, to move one away from victory.
A break of 108 - his 10th century of the tournament and 103rd of the season - gave the Cambridge-based Victorian a lifeline, but it proved short-lived as a fluent 74 from Selby in the next frame steered him through to the clash with the man chasing a hat-trick of consecutive world titles, and his sixth triumph from six Crucible finals.
"That's got to be up there with the standard of any semi-final that's ever been played here," Robertson said.
Fantastic standard
"I've played some really good stuff here in the past couple of weeks. Mark's played the best I've seen him play.
"He'll have played better against lower-ranked players when he'll have made bigger breaks. But it was the best I've seen him play, even when he's played Ronnie before. He played some fantastic stuff."
Selby agreed with Robertson's verdict, saying: "Considering the circumstances - and where we are, at the World Championship - it's got to be definitely up there."
On the danger of being weary for the final, Selby added: "I don't feel too bad at the moment. I'm sure I won't sleep because of all the adrenaline but I'm going to go out there in the final and enjoy it.
"Ronnie's a genius and doesn't fear anyone. He's played some great snooker in patches and he's missed a few balls and people haven't punished him. I know I'll get my chances, but it's a matter of whether I take them or not."
Robertson's loss means he relinquishes the top ranking to Ding Junhui, despite the Chinese player's first-round defeat in Sheffield.
The 32-year-old from Melbourne was champion at the Crucible in 2010 and his son Alex, who was born just days after that triumph, was on hand for what Robertson hoped would be another successful night.
This time, however, it was Selby claiming the honours, with Robertson perched solemnly in his seat as the clinching red went down.