Elite League: Poole and King's Lynn win their opening meetings of the season
Last Updated: 10/04/14 9:41am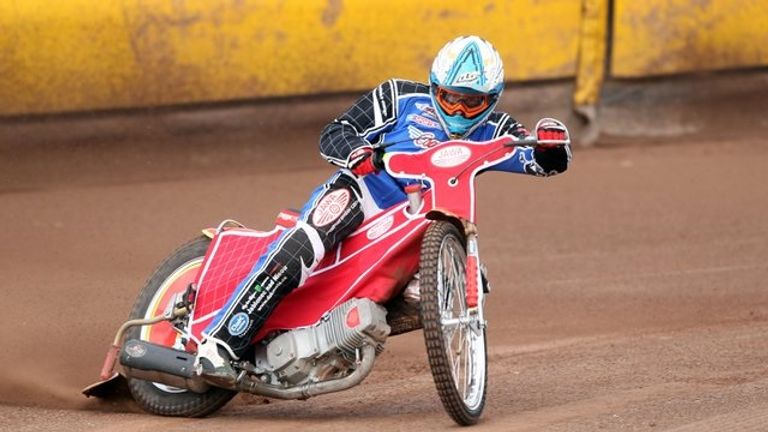 Elite League title favourites Poole Pirates and King's Lynn Stars both opened their campaigns with comfortable home wins, whilst Birmingham grabbed their first victory of the season.
Elite League title favourites Poole Pirates and King's Lynn Stars both opened their campaigns with comfortable home wins, whilst Birmingham grabbed their first victory of the season.
Defending champions Poole eased to a 52-37 win over South Coast rivals Eastbourne Eagles at Wimborne Road, whilst the Stars managed a 51-39 success over previously unbeaten Lakeside Hammers at the Norfolk Arena.
Results and scorers
Poole Pirates 52
1. Craig Cook 4+1
2. Josh Grajczonek 7+2
3. Przemyslaw Pawlicki 13
4. Vaclav Milik 9
5. Maciej Janowski 10+2
6. Kyle Newman 9+1
7. Lee Smart 0


Eastbourne Eagles 37
1. Cameron Woodward 8
2. Mikkel Michelsen 6
3. Bjarne Pedersen 8
4. Timo Lahti 4
5. Joonas Kylmakorpi 1
6. Lewis Blackbird 7+1
7. Dan Halsey 3
-------------------------
King's Lynn Stars 51
1. Niels-Kristian Iversen 15
2. Nicklas Porsing 4+2
3. Rory Schlein 9+3
4. Robert Lambert 4
5. Kenneth Bjerre 6+2
6. Lewis Kerr 7
7. Lewis Rose 6+1

Lakeside Hammers 39
1. Peter Karlsson 6
2. Richard Lawson 5+1
3. Davey Watt 6+1
4. Mikkel Bech 10+2
5. Lewis Bridger 1
6. Ben Morley 0
7. Adam Ellis 11+1
-------------------------
Birmingham Brummies 46
1. Ben Barker 3
2. Adam Skornicki 12+1
3. Danny King 11
4. Daniel Nermark 4+1
5. Edward Kennett 5
6. Simon Lambert 5+1
7. Paul Starke 6+2

Coventry Bees 44
1. Hans Andersen 11
2. Ryan Fisher 8+1
3. Kenneth Hansen 3+1
4. Kyle Howarth 9+1
5. Chris Harris 6+1
6. Jason Garrity 0
7. James Sarjeant 7+1
Poole had Craig Cook guesting for injured number one Darcy Ward, and the Great Britain star struggled with just paid 5 although he was feeling the affects from a nasty fall in the first heat - but the new look Pirates side for 2014 showed their power and why many people regard them as firm favourites for the title.
Przemyslaw Pawlicki was outstanding with 13, as was compatriot Maciej Janowski for paid 12 - but probably the most impressive display of the evening was from Czech deubtant Vaclav Milik, who reeled off three heat wins - with only a fall in Heat 6 spoiling his card.
Kyle Newman's paid 10 at reserve showed Poole have strength throughout their side.
Eastbourne battled hard with Cameron Woodward, Mikkel Michelsen, Bjarne Pedersen and Lewis Blackbird all winning heats - but they just could not live with the Pirates.
King's Lynn were as equally impressive as Poole as they were rarely troubled by Lakeside in their 12-point triumph.
Niels Kristian Iversen shrugged off his struggles in the New Zealand Grand Prix to record a perfect maximum to lead his side home.
Kenneth Bjerre was the only other member of the top-five to record a win as he claimed paid 8 although Rory Schlein was more than solid for his return of paid 12.
King's Lynn reserves Lewis Kerr (7) and Lewis Rose (6+1) showed they are probably the most impressive draft pairing on show in the league - athough Lakeside's Adam Ellis was their top-scorer and highlighted that he could yet emerge as the top reserve in the league.
Ellis aside, and Mikkel Bech shone for Lakeside with paid 12, and whilst Peter Karlsson, Richard Lawson and Davey Watt all managed heat wins, King's Lynn's victory was never in doubt as they took maximum points.
Birmingham Brummies finally managed their first points of the season with a 46-44 win over local rivals Coventry Bees - although they had to survive a last heat decider.
Hans Andersen won Heat 15 for Coventry, but the impressive Adam Skornicki and skipper Danny King filled the other scoring positions to seal the narrow two-point win, which does mean the Bees take an away point with them.
Skornicki (12+1) and King (11) were impressive for Birmingham - who were solid throughout, including their draft reserve pairing of Simon Lambert and Paul Starke.
Coventry, though will probably be disappointed they could not take an away success. Anderson (11), Kyle Howarth (9+1) and Ryan Fisher (8+1) all scored well - but they would no doubt have hoped for more from former Birmingham man Chris Harris - who failed to win a heat.
Highly-rated draft choice Jason Garrity also had a night to forget as he failed to score.