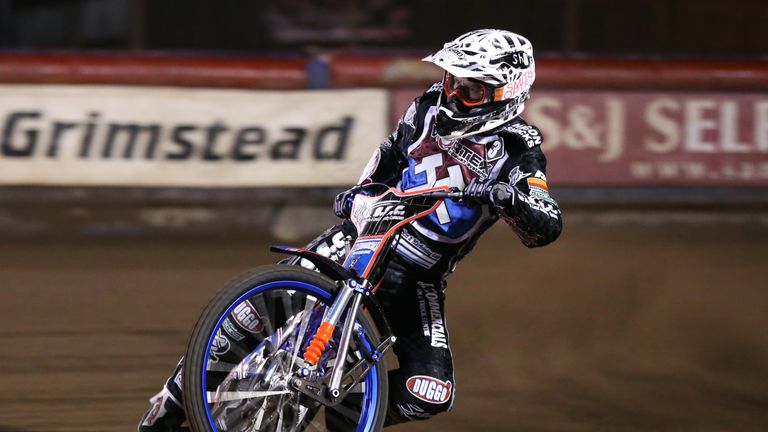 Lakeside extended their lead at the top of the Elite League as they hammered Birmingham, recording one of their biggest ever wins, whilst King's Lynn shocked Coventry at Brandon.
The Hammers' impressive start to the campaign continued at the Arena-Essex raceway in one of the most one-sided Elite League meetings ever.
Results and scorers:
Lakeside 69
1. Peter Karlsson 9+2
2. Richard Lawson 8+1
3. Davey Watt 14+1
4. Mikkel Bech 13+2
5. Lewis Bridger 10+2
6. Ben Morley 9+1
7. Adam Ellis 6+2
Birmingham 21
1. Ben Barker R/R
2. Adam Skornicki 5
3. Danny King 4
4. Daniel Nermark 5
5. Edward Kennett 5
6. Benji Compton 0
7. Simon Lambert 2
-----------------------
Coventry 42
1. Hans Andersen 4+1
2. Ryan Fisher 9+2
3. Kenneth Hansen 7
4. Claus Vissing 5
5. Chris Harris 8+2
6. Jason Garrity 7+1
7. James Sarjeant 2
King's Lynn 48
1. Niels Kristian Iversen 13
2. Nicklas Porsing 8
3. Rory Schlein 9+1
4. Robert Lambert 5+1
5. Kenneth Bjerre 3+1
6. Lewis Kerr 10+1
7. Lewis Rose 0
Lakeside won 14 of the 15 heats, with only Ed Kennett managing a win for the visitors.
The Hammers had Davey Watt (14+1), Mikkel Bech (13+2) and Lewis Bridger (10+2) all claim maximums, but there was no Lakeside rider who did not have a good evening.
Lakeside boss Jon Cook said: "It was a truly great team performance. Despite how the scoreline appears there were some great overtaking manoeuvres, and performances like this, with the team all clicking together, bode well for the rest of the season."
For Birmingham their season goes from bad to worse, and it was their heaviest defeat since returning to the Elite League. They had rider-replacement for Ben Barker at number one, but there was no getting away from the fact that Adam Skornicki, Daniel Nermark and Kennett top-scoring with five means they were way off the pace all evening.
Birmingham skipper Danny King said: "Sorry to all the Birmingham fans. This is not acceptable. You as a club deserve better and hopefully we can fix this sooner rather than later."
King's Lynn made it two wins from two as they produced a shock with a 48-42 win at Coventry.
Whilst the Stars were always regarded as one of the favourites for the Elite League this term, Coventry were also tipped for a play-off spot but this defeat will hit them hard.
King's Lynn number one Niels Kristian Iversen followed up his maximum in their season opener with another top-notch display as he claimed 13 as he dominated Coventry counterpart Hans Andersen - who came home with just paid 5.
The Stars were solid throughout with Rory Schlein (9) and Nicklas Porsing (8) showing up well as did highly-rated draft reserve Lewis Kerr with paid 11. It was a night to forget for the big Danish riders, though, with Kenneth Bjerre returning just paid 4.
But King's Lynn could even afford to have Bjerre off form as no home rider was able to hit double figures with American Ryan Fisher top-scoring with paid 11 as Coventry were limited to just five wins all evening and two of those went to draft prospect Jason Garrity.
Coventry promoter Mick Horton said: "We're not making any excuses, King's Lynn were better than us on the night and you have to accept that sometimes. We are a good team and we will bounce back."
King's Lynn boss Rob Lyon added: "I feel the team is a slow burner and we can get better. If we stay clear of any major problems we will get better and better as the season goes on."