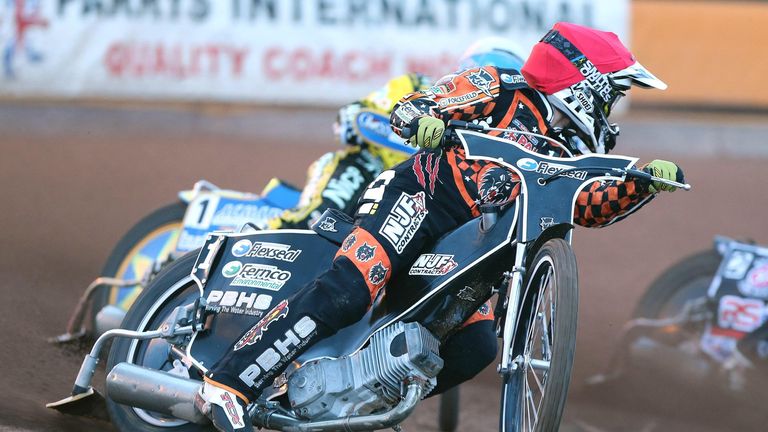 The draw for the British championship semi-finals has been made with defending champion and world number one Tai Woffinden beginning the defence of his title at one of his former tracks, Rye House.
Woffinden won the Premier League title whilst with Rye House in 2007 and he will be confident of a straight forward passage to the final at Wolverhampton on June 16.
Woffinden, who celebrated his first British crown in 2013, became the first reigning British champion since Gary Havelock in 1992 to win the world title.
As ever you can see the the British Final live on Sky Sports - where the wild card for the British Grand Prix in Cardiff will also be decided.
The winner will get the added bonus of being in Cardiff, although if Woffinden or Chris Harris win, then the next rider in line will take the spot as they are already both in the GP series.
The draw is as follows...
SHEFFIELD – Thursday April 24, 7.45pm
1. Danny King, 2. Edward Kennett, 3. Ashley Morris, 4. Craig Cook, 5. Derek Sneddon, 6. Simon Stead, 7. Leigh Lanham, 8. Lewis Kerr, 9. Kyle Newman, 10. Charles Wright, 11. Chris Harris, 12. Stuart Robson, 13. Kyle Howarth, 14. Adam Roynon, 15. Ben Barker, 16. Andre Compton.
RYE HOUSE – Wednesday April 30, 7.30pm
1. Tai Woffinden, 2. Adam Ellis, 3. Lewis Bridger, 4. Richie Worrall, 5. Steve Boxall, 6. Ollie Allen, 7. Josh Auty, 8. Lewis Blackbird, 9. Richard Lawson, 10.Ritchie Hawkins, 11. Carl Wilkinson, 12. Jason Garrity, 13. Luke Bowen, 14. Ashley Birks, 15. Scott Nicholls, 16. Stefan Nielsen.