Elite League: Coventry Bees proved too good for local rivals Leicester Lions
Last Updated: 21/04/14 4:37pm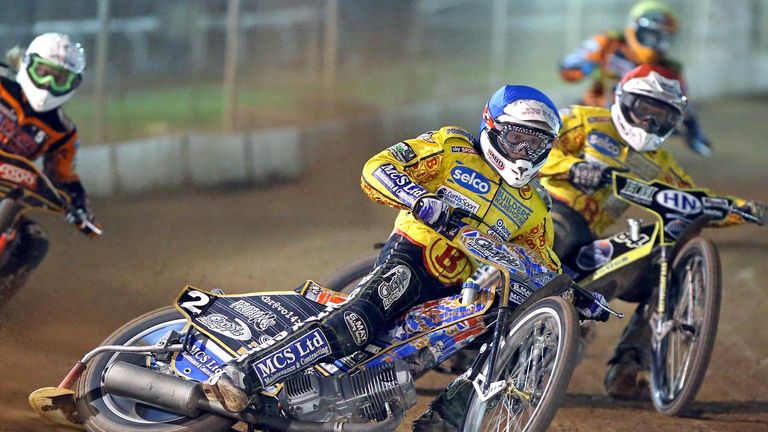 Leicester Lions continue to struggle to adapt to life in the Elite League as they suffered a second home defeat as local rivals Coventry Bees sealed a 50-40 win at Beaumont Park.
Result and scorers:
Leicester Lions 40
1. Jason Doyle 15
2. Peter Ljung 7+1
3. Made Korneliussen 4
4. Simon Stead 5
5. Adam Skornicki 3+2
6. Tom Perry 5
7. Max Clegg 1+1
Coventry Bees 50
1. Hans Andersen 10+1
2. Ryan Fisher 7+1
3. Richard Lawson 3+1
4. Max Fricke 8+1
5. Chris Harris 10+2
6. Jason Garrity 9+1
7. James Sarjeant 3+1
Even a maximum from Lions number one Jason Doyle could not prevent the Bees claiming the maximum four league points, as aside from Doyle's perfect five wins they were only cable to claim two further victories all evening.
After five heats, Leicester enjoyed a six-point lead, but Coventry hit back and were ahead by Heat 9 and after that point they powered their way to victory.
Chris Harris showed a welcome return to form with paid 12, whilst number one Hans Andersen was more than solid (10+1) as he also returned double figures.
With Premier League guest Max Fricke showing great form for paid 9, Coventry were just too strong and they also had the top draft reserve on show in the shape of Jason Garrity (9+1).

Andersen said: "We showed real character to come back from six points down at one stage, and to come back and claim all four points away from home is really good. Leicester are a good team and this is not an easy place to come to.

"I struggled a bit because on a track like this you need to put a lot of pressure in your leg, and mine just isn't strong enough, but I still plugged in a few points which was enough, so I did my bit. Everyone is having fun and this is definitely a team which can cause a few surprises."