Elite League: Lakeside too good for Swindon as they return to the opt
Last Updated: 25/04/14 11:15pm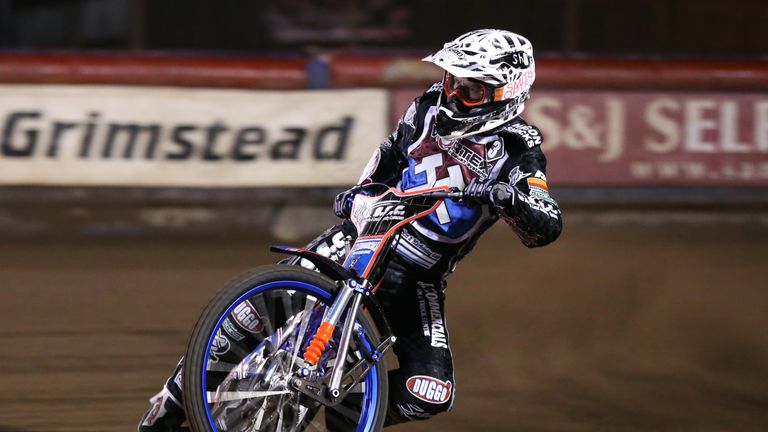 Lakeside Hammers returned to the top of the Elite League after a comfortable win 54-38 win over Swindon Robins.
Result and scorers:
Lakeside Hammers 54
1. Peter Karlsson 9+1
2. Richard Lawson 6+1
3. Davey Watt 10+1
4. Mikkel Bech 8
5. Lewis Bridger 9+2
6. Ben Morley 8+4
7. Adam Ellis 6
Swindon Robins 38
1. Peter Kildemand 16
2. Dakota North 2+1
3. Nick Morris 9
4. Simon Gustafsson 5
5. Bjarne Pedersen 2+1
6. Dan Greenwood 4+1
7. Benji Compton 0
It was the Robins' second visit to the Arena-Essex Raceway this season, they took a point on their first trip to Lakeside, but there would be no repeat as they struggled for most of the evening.
Peter Kildemand, fresh from his maximum against Eastbourne on Thursday, was again in brilliant form as he claimed four wins - including a tactial ride - to rack up some 16 points, but with only one other rider - Simon Gustafsson - able to win a race, Swindon rarely troubled the home side.
Davey Watt led Lakeside home with paid 11, but everyone in claret and blue contributed for the Hammers with 6 points their lowest return.
Swindon boss Alun Rossiter was not happy with the performance.
"Obviously we are bitterly disappointed with the performance because we wanted to try and come away with something.
"We are struggling a bit at reserve at the moment and Bjarne (Pedersen) normally would be good for a lot more than 2+1.
"It was a frustrating night but we just need to regroup and pick ourselves back up."